All updates for
October 2013
After her introduction in June, we knew this girl would be very hard to get into a chastity belt! The American swimsuit model Sarah Jain is best described as a very angry hardbodied Jennifer Aniston with perfect boobs. She just can not stand being locked in metal gear, and she will continue to fight, no matter what. In today's challenge, a completely naked Sarah Jain is fiddled (much to her dismay) with chains running up to her heavy ankle cuffs. The chains are too short for her to stand up straight, and she is given a set of 4 keys (all different) to try to unlock 3 different padlocks. Little does she know that the ankle cuffs don't come off by using the keys, plus it will be almost impossible to unlock the fiddle. Don't miss this furious naked struggle in metal, it is unique!
Please welcome the tall blonde Ingrid to MetalBondage.com! This former olympic athlete from Scandinavia thought she would have an easy job modelling several kilos of custom steel locked onto her body. But when she ended up on the floor in an extreme hogtie, Ingrid wasn't posed so happily anymore. Her wrists and her ankles are locked to the back loops on our wide custom steel belt, which is a nice tight fit on her! The very heavy collar is a tough one to deal with, she has to keep her head up to avoid getting dizzy, so it becomes a real struggle for her. Metal is unforgiving, and a metal hogtie on your first shoot… wow, we are impressed!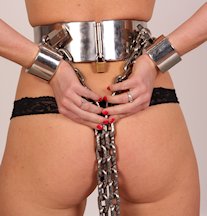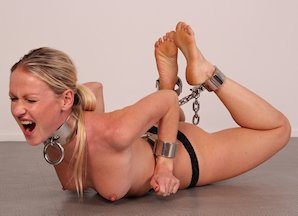 We came up with this nice variation just to make life hard on Jenni C. Don't get us wrong, she is lovely, but it is just so much fun to see her get frustrated with some heavy steel predicament! This pipe cross is seriously heavy, and it is hinged at the base, so it doesn't stay up by itself. We attach our gorgeous blonde to this contraption by her heavy neck collar and wrists, and watch her struggle to keep the weight up, off her neck. Jenni is also tightly locked in one of our custom made heavy steel chastity belts, but she doesn't really care about that at this point! She is losing this struggle and soon she will be pleading to be released from this heavy tilting cross!