Can you believe we never locked our tiny little Melissa Mendini in a RigidStock! She never experienced having her hands and neck in a device that leaves her defenseless and vulnerable in the boob area. It is an outrage! Let's fix this oversight quickly, this gorgeous girl should be given the opportunity to experience this device! Melissa (again in a chastity belt, she knows she will always be locked in when she comes over) was not so eager to try the RigidStock, she even had trouble lifting it. But once she was in it, she got a little bit more comfortable. She looks so hot in Metal Bondage! We gave her the keys just to tease her and kept her in the device for about an hour. Beautiful!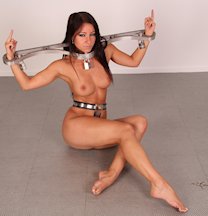 We received an email from a fan / photographer who has always been crazy about our update MB060 – Jenny having fun in our RigidSpreader. He asked if it would be possible to shoot with Jenny and the RigidSpreader, as a tribute to the past! Sure, we still have Jenny somewhere in our basements after more than 5 years… Seriously though, we managed to track her down, she still looks good and she was still interested! A little older, Jenny found herself in the good old RigidSpreader again (and a huge posture collar). Aah good old times! If you are a photographer who wants to recreate any of our sets with our models, please let us know!
Ingrid is a very sporty type. At least, that's what she told us. Well, we have just the workout for her! Completely naked and in high heels, Ingrid is chained to a treadmill. She is wearing a huge heavy waist belt and collar, her waist chained to a metal frame. At first, Ingrid is allowed to have some fun with the treadmill's controls, but then we lock her hands behind her back and we start turning up the speed. Unable to stop the machine, Ingrid does not have any choice, she has to keep walking in those tall heels! A perfect training device! *don't try this at home*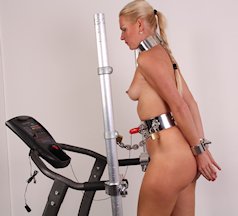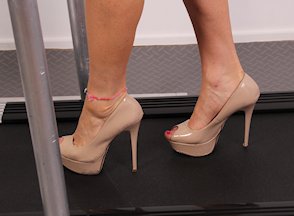 Welcome to a brand new series on MetalBondage.com! We will be doing some requests for fantasy abductions, starring some of our best models in their actual professions, being suddenly put in a heavy metal bondage situation. French model Lily has always been one of our top models, thanks to her unmatched flexibility. Lily is a professional gymnast, so the possiblities are endless! What if her quiet serene gymnast routine was suddenly changed into a horror scenario where she would find herself chained to a wall in an extreme leg split? Her feet aren't even touching the floor! Lily may be forced to hold this ultra stretching position for a long time! Can she do it? Poor gymnast girl! Well, it's her own fault for being this flexible.