All updates for
June 2017
Beautiful Sophie is back! And it is time for some nipple clamps! Unfortunately for her, she is one of the most sensitive girls ever. We told her she wouldn't get out of the chastity belt until she clamped herself. With great effort and a lot of moaning, Sophie managed to put the clamps on her nipples. She immediately wanted to remove them, so we had to lock her in the Iron Crown to prevent that. Watch Sophie deal with the clamps, it's not easy for her but she will get used to them… eventually.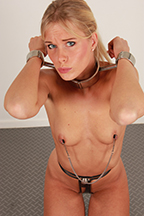 Yes, you are reading that right: we have Dani Divine! The goddess of latex and famous fire and burlesque performer, here on MetalBondage.com, locked in some seriously heavy metal restraints. Dani Divine as you have never seen her: as a slave girl, chained to the wall by a heavy collar! Her waspy corset waist locked in a heavy chain, her wrists locked to her sides. There are no keys in her reach, so all she can do is wait to be released. In the meantime, we can get a good look at this ultimate slave girl! I bet many of you would love to own a Dani Divine sub! She is so gorgeous!
What's the matter, Tracy? I mean, your legs are free, your arms are free, why aren't you moving? Oh wait, you're impaled on the One Bar Prison in high heels :) There truly is no escape from the One Bar Prison (hence the name). High heels mean a girl can't lift herself off the metal dildo and even if we give her the hex tool to adjust this device, she can't bend over enough to reach the adjuster screw. Beautiful Tracy Lindsay is on display, her stunning muscular body impaled on the pole and she can't run off. She will be stuck until we decide to let her go. She sure gives escaping a good try though, rotating around, trying to lift her butt with her hands. But there is no chance. So she is told to put her dress back on and just wait.