All updates featuring
Leg Irons
A member requested a girl on the One Bar Prison, in a RigidFiddle, and leg irons. Well, we did not just get any girl: we got Little Caprice! There should be a very very small chance of escape to make her try. But to escape, Caprice would have to get out of the RigidFiddle (something that has only been done by about 2 in every 100 models), and even then she would be stuck on the One Bar Prison. So we used the old version of the dildo pole. Should she somehow escape her fiddle, she would have to bend over and reach the adjuster knob. This all sounds very impossible, but Little Caprice… well she is as amazing as she is famous! Don't miss this!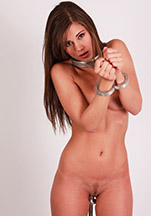 2010 will bring lots of new models to MetalBondage.com, we are sure of that! But many girls are a little afraid of posing topless in metal bondage gear. So we usually take it easy the first time. Jenny had never done any bondage or seen anything like a RigidFiddle before.She had great fun posing and trying to escape, even though the fiddle was very tight on her, hurting her wrists during her struggles! Jenny definitely will be back, so next time we will make things a little harder for her. Members can always email us suggestions… what shall we do with Jenny next time?
Let's see… a chastity belt, metal posture collar, 15 pairs of handcuffs, 1 pair of elbow cuffs, 1 pair of thumbcuffs, and 6 pairs of ankle cuffs. That ought to slow Christina down a bit. She has troubles even lifting her arms. With all of this metal locked on to her, Christina is now starting to understand what we mean by 'metal bondage'. We finish decorating her with our latest diabolical item: the unique metal 'tape' gag!