All updates featuring
Cage (dog)
We trained Satin Bloom to do everything you see in this update, and she loves to play our little metal bondage puppy! Her huge steel collar is locked on with a pin and padlock, and her chastity belt never comes off (of course), but we taught her how to put on her own wrist and ankle restraints! These heavy restraints have a unique push pin locking system, meaning you can lock them on, but they can not come off without using a tool. Satin is a perfect pet, great boobs and flexible legs! She has a bit of naughty humor, but she listens very well! She knows how to lock herself into the small dog cage, and will patiently wait to be let out again. Good girl!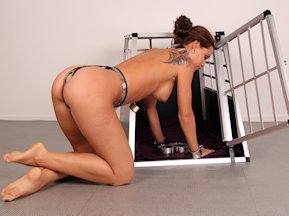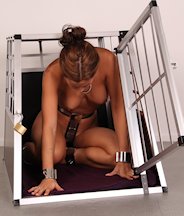 Some girls you just want to keep! Especially because they are not the type that want to be kept. Posh girl Natalia Forrest is locked into a tight chastity belt and collar. She is on a long leash, and she has been told she will be free (of the chastity belt and collar) if she obeys and locks herself into a very small dog cage. There is barely any room for Natalia to move around, but she manages to get herself in and lock the door. Of course, we did not tell her how long she would have to be in there… sleep well Natalia! And don't play with yourself ;-)
Our resident pet slave Ashley Bulgari decided to introduce yet another one of her hot friends to MetalBondage.com! The only problem is: Ashley has already been belted and so is not permitted to shoot without a chastity belt, which means her friend will be belted on her first shoot! That's kind of a hard introduction for poor Tea, but don't worry: the big boobed friends are having a lot of fun with our new dog cage this week! Putting each other in the cage turns both of them on, they both like the power play and the submissive role! Great to watch this duo play, hot picures and video!