All updates featuring
Iron Crown
Beautiful Sophie is back! And it is time for some nipple clamps! Unfortunately for her, she is one of the most sensitive girls ever. We told her she wouldn't get out of the chastity belt until she clamped herself. With great effort and a lot of moaning, Sophie managed to put the clamps on her nipples. She immediately wanted to remove them, so we had to lock her in the Iron Crown to prevent that. Watch Sophie deal with the clamps, it's not easy for her but she will get used to them… eventually.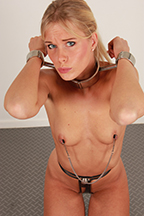 Tiny teen Gina Gerson! She is hard to lure into bondage shoots, being all famous and busy, but we got her! Her amazing slender muscular body is so perfect for bondage! We should start by something really simple that will give us an unobstructed view of her toned body. The Iron Crown is perfect for getting those arms and hands out of the way, without any hope of escape. We never realised this, but the Iron Crown is actually pretty heavy for someone as light as Gina Gerson. She struggles beautifully, and we think she likes bondage gear. Next time, we should definitely step it up, any suggestions?
To keep girls like Nelly from touching themselves, you have to locked them in a chastity belt. Then, because they are very impatient and frustrated, they start tugging at the locks and prying at the secondary shield. So you have to lock them in the Iron Crown to keep their hands away from the belt. But then they start protesting and moaning all day, so you have to gag them. Don't they just realise they are making things harder and harder for themselves!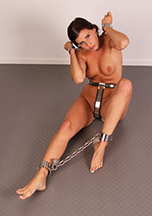 Wow, Satin Bloom is pretty agressive! She is also very hot, gorgeous face and super fit body… time to lock her into one of our custom devices: the Iron Crown! Satin hated it of course, but there was not much she could do with her hands locked to the sides of her collar! We tried to improve her mood by giving her the keys, but it without any help it took her a long time to figure out how this device worked… which made her even more angry!
Sarah Jain is SO agressive! She keeps screaming and cursing and threatening, we are getting nowhere with her training… Let's just add some evil nipple clamps just to piss her off even more! Of course, she would rip those off in seconds, so we lock her into the Iron Crown to prevent her from saving her pinched nipples! Just like we thought, this infuriates Sarah Jain to the point she is literally going mad, struggling like crazy to get the nipple clamps off, but to no avail. She keeps complaining about the chastity belt too, so we guess we will just have to leave her like this for a while, maybe she will cool down… probably not…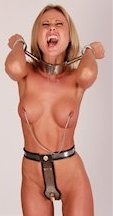 Please welcome the spectacular Honeyhair to MetalBondage.com! Getting ready for her first shoot, she decided to wear a tiny latex thong and very high heels! A perfect opportunity for us to get her hands out of the way to get a good view of her prized assets! Honeyhair was surprised by the Iron Crown, thinking it wasn't that bad at first. But when we chained her ankles to her waist so she could not even get up anymore, she started to hate her predicament more and more. Tossing her the keys, and watching a frantic struggle of boobs and chains, we decided she was a keeper! This is a girl we would love to see in a chastity belt, and more metal. A lot more metal! Welcome, Honeyhair!
Petite UK girl Kayla Louise was looking for a photo shoot, so we invited her over and gave her an experience she won't forget very easily! She did some bondage work before, but never did she see a device like our Iron Crown collar. It is so simple in its design, we just had to shoot Kayla completely naked to emphasize the helplessness of this device. Her hands are pinned in lady size manacles perched on little bars attached to her collar. Everything locks with padlocks, so there is no chance of escaping, and especially no chance of defending any private parts. Watch Kayla's hot body wriggle around in metal bondage, you'll like it!
Remember this upper class lady? Roswell Ivory thinks she is royalty! And we happen to have the perfect custom metal gear for a true lady: the Iron Crown firmly locks wrists to the sides of the neck. It is a replica of a medieval design, very rarely seen, but it actually existed! Now this posh lady is powerless in her tall heels, trying to get out of this evil contraption. She is of course belted, so nothing can happen to her, but it seems she still wants to get out. As an afterthought, we decided to ballgag her with a huge 2 inch ball, not very lady-like, but hey… Roswell can take it!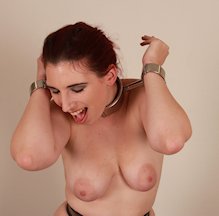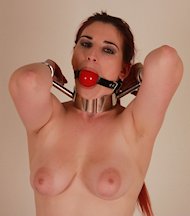 Inga decided to come back, after hesitating for a long time. She thought her first shoot was scary. She knew she would be belted if she returned, and right away this was a problem for young Inga. After the chastity belt padlock snapped shut, she announced she could not take being belted for much longer. So we used our old distraction trick on her: we locked her wrists and neck in the Iron Crown, and gave her the keys to try and escape. Of course, Inga did not manage the escape, but without realising she had been belted for over an hour. But what's more: after we took off the Iron Crown, she did not even ask to be released from the chastity belt anymore! It's all about mind set!
Yasmine was belted in a huge metal diaper experiment last time, but now we finally managed to lock her into a real chastity belt! Even though she claims to like chastity belts, she is still tugging and prying like mad. We understand, it is her first time, but we would like to teach her to keep those hands away from that belt. So the Iron Crown is brought in, and Yasmine is powerless… Or is she? Watch Yasmine do something incredible in the video :)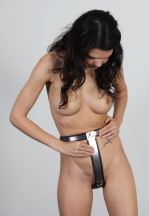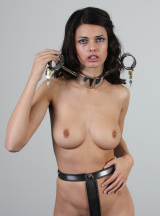 Judging from your comments on her first appearance, you seemed to think that AnnaBelle Lee was enjoying herself far too much. Many requests have been flooding in for this cute little redhead to be chastity belted. And today is the day: AnnaBelle Lee is facing the biggest frustration she could ever imagine: a chastity belt. For a girl who gets turned on by the feel of metal on her skin, it is the absolute worst that could happen. The belt is tight, but to be sure we keep her tiny fingers away from it using the infamous Iron Crown. Lots of struggling and complaining is what happened next…
It is still hard to teach our girls to stop trying to get out of a chastity belt. A belt is made for 24/7 wear, but most of our girls don't even like it for a few minutes. Fortunately, we have some great metal gear to stop the girls from tugging at their belts. The Iron Crown is probably the most perfect device for chastity belt training. This replica of an age old design keeps the wrists locked to a collar in a very rigid and vulnarable way. Our tallest girl Penelope is definitely not happy in this position, but we think she should be glad she is wearing a chastity belt! Who knows what may happen to her when the Iron Crown leaves all her sensitive areas fully exposed!
The iron crown returns! This time it takes Vanessa by surprise. The tightly chastity belted girl does not seem to like this device much. We don't understand, we love the iron crown!! What is not to like about having your wrists rigidly connected to your neck, leaving every part of your body completely vulnarable? We made this replica of a medieval restraining device for educational purposes, of course. Iron crowns had almost vanished from memory, so we had to keep history alive! Vanessa just thinks it is a stupid piece of metal, and she is not happy. Little does she know how fabulous she looks, like a queen… wearing her crown :-)
We have built another replica of a medieval restraining device!! This time it is the 'iron crown', which keeps the prisoner's hands in a very awkward position, rigidly attached to her collar. You can also imagine this leaves our slave girl Hailey quite vulnerable and unprotected in certain areas. There is really nothing she can do to stop you from touching her. Fortunately for her she is wearing a chastity belt :-) The new iron crown is locked by three padlocks, so we thought we would throw Hailey the keys, see if she can escape this device. It turned out to be very hard work!