All updates featuring
Gags
Swedish fetish model Pling is such a cute girl! She genuinely loves bondage, and she is one of the few models who actually come to the studio in their OWN tight chastity belt. She usually doesn't even bring the keys, so we just have to shoot with the belt on! Pling loves to try all of my heavy metal gear, and she had been wanting to be locked in the heavy stocks for a quite a while! Well, okay… if you insist… Pling puts up a lovely struggle, her long long braid swinging around as she tries to get comfortable in this steel predicament! Nice!
Yvette Costeau likes to call herself 'Yvette Extreme'. Well, let's test her a little to see if she can live up to this title! One of the toughest bondage girls in German, Yvette is used to being contorted in all kinds of rope bondage positions. But metal is different. It is unforgiving, and heavy. We built our favorite hogtie frame again and chained Yvette to it. Ankles, wrists, elbows, and her head. The heavy collar is a real challenge, because it is a bit too tall and heavy for her head to be tilted back by the suspended harness gag. This is the perfect storage device for 'extreme girls'. Let her struggle and drool (a lot!!) for a while. She will get tired eventually.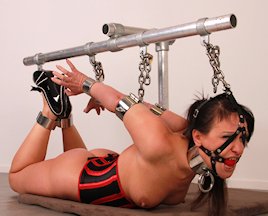 Long haired Pling was feeling a little playful (must be the chastity belt that she now wears almost permanently)… very playful even! Toying and hanging around the Globe Cage, we think she just asked for it: a nice afternoon in this steel round prison! A whole afternoon? Yes, why not? Pling loves bondage, and we love seeing her in bondage, so we gagged her, locked her wrists to the cage, locked her ankles outside the cage, and she was all set for an afternoon of fun! Well, maybe she didn't like sitting on hard metal and drooling after about 2 hours, but that's not our problem! Enjoy watching Pling trying to plea her way out with her sad eyes and whimpering!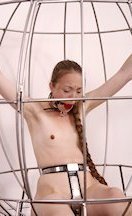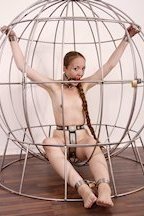 Naughty little Venezuelan girl Ruth Medina is back! Last time we locked her into giant metal stocks. And a chastity belt. On her first shoot. That was just amazing, this girl can take anything! So we just had to gag her this time, and for a challenge, we put her in the RigidFiddle model 'oo' with her wrists in line to her neck. This makes it extra hard to escape. We throw some keys on the floor and tell her the gag will only come off if she can get out of the fiddle. She doesn't know that there are 4 different keys, only one of which fits the padlock. She doesn't even know that there's only one girl who has ever escape the RigidFiddle 'oo'. Who cares! It's just fun to see a gagged Latina in a chastity belt struggle around! On-screen gagging in the video!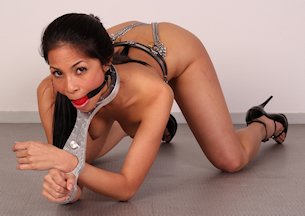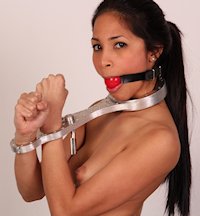 Young redhead bondage talent Alexia Valentine is tough! And it is hard to keep her still, she is always wriggling and struggling about, even in metal bondage. So let's see how she will do in our improved metal hogtie frame! Locked in a chastity belt and chastity bra, and gagged with a nice harness gag, Alexia patiently awaits what we have in store for her. Lying on her stomach, we attach her ankles, wrists, elbows, and head to the metal frame. But she is still wriggling too much, so we raise her wrists and elbows to a hard strappado position in an effort to keep her still. It seems to work, Alexia is almost completely immobile! Almost…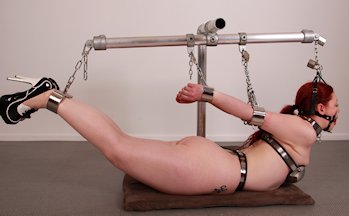 Ariel Anderssen returns for our 200th update! 200 sets of hot girls in cold steel! Time to do something special with this bondage goddess: make her kneel like she never did before! Locked in a tight chastity belt and chastity bra, Ariel is forced to kneel because her wrist and elbows are clamped to a metal cross. The finishing touch is to padlock her harness ballgag to a pipe above her head, forcing her to keep her head up. She can pull on the harness gag, but it only makes the ball go deeper into her mouth. Desperately, Ariel tries to find a more comfortable position than being on her knees, but she has to return to the kneeling pose every time. This is steel bondage at its best, let's go for the next 200 updates!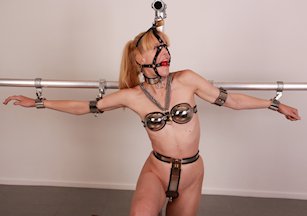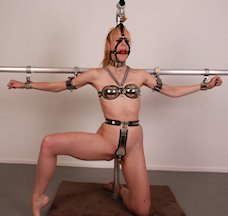 Finally, Alexia Valentine returns to shoot with us! This young upcoming bondage talent really loves a challenge and we have got one for her today! Locked in a tight full chastity outfit AND sexy lingerie and heels, Alexia will attempt to deal with our evil sliding gag predicament! We padlock her wrists and elbows behind her in extreme metal bondage gear, so she can not use her arms at all. Then we gag her using a huge ballgag, padlocking the gag to a metal pole. The evil bit? Well, of course we can adjust the position of the gag on the pole to make her kneel and stand up. But if we just let the metal eye slide freely, Alexia's gag will slide ever so slightly down the pole. Her awkward angle makes sure she can only slide it down, not up, eventually forcing her face all the way down to the floor! So much fun to watch the inevitable!
Remember this upper class lady? Roswell Ivory thinks she is royalty! And we happen to have the perfect custom metal gear for a true lady: the Iron Crown firmly locks wrists to the sides of the neck. It is a replica of a medieval design, very rarely seen, but it actually existed! Now this posh lady is powerless in her tall heels, trying to get out of this evil contraption. She is of course belted, so nothing can happen to her, but it seems she still wants to get out. As an afterthought, we decided to ballgag her with a huge 2 inch ball, not very lady-like, but hey… Roswell can take it!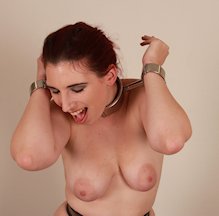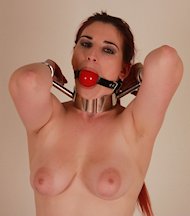 Yes, it is really her: the famous bondage queen Ariel Anderssen was lured by our collection of metal, curious and looking to be challenged. Of course, we had to come up with something very special to welcome Ariel, it is not easy to impress this experienced bondage girl! This is what we came up with: we fixated her (naked!) to a standing metal frame, using 10 heavy and tight steel restraints. She is locked by her neck, upper arms, wrists, waist, thighs and ankles with very heavy chains. She was completely stuck, although she managed to lift herself off the ground, hanging from the thigh and waist bands! Now this is serious device bondage! We can't wait to play with Ariel Anderssen some more, she needs a chastity belt sooooo bad!!
Natalia Forrest needs so much training… she is a spoiled English girl, complaining about even the easiest bondage. Granted, this time we made things a little hard for her. She is locked into the very heavy solid chastity belt, a big cold chain running down her ass. It is very tight on her. The giraffe collar might be a bit too tall for her, but we lock it on anyway. Natalia complains about not being able to breathe, she wants out, and she simply does not stop screaming. We have a very simply solution for that. It is called a ring gag. It worked, and it is a great way to get a good look at Natalia's heavy gold double tongue piercing ;-)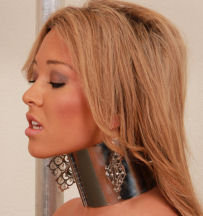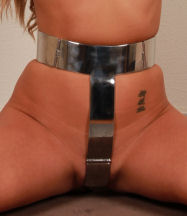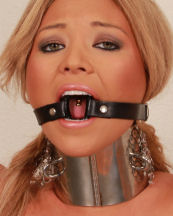 Last time we invited Davon Kim and her girlfriend Ting, they could not keep their hands (and mouths) from each other. So we locked them in chastity belts as soon as they came through the door. It didn't help. These Asian girlfriends are just so horny they try everything to get some satisfaction, even exploring the chastity belt's anal openings. So we had to take more extreme measures, locking Ting in a RigidStock and Davon Kim in a RigidFiddle. Still there was no stopping them, they just used their tongues and mouths to lick and suck each others boobs. Two shiny tight red ballgags put a stop to that, but did we stop love? Nope, these two just continued their sexual games, even trying to hump each other to get off on the belt's friction, while drooling a lot!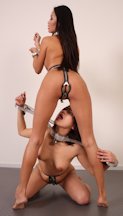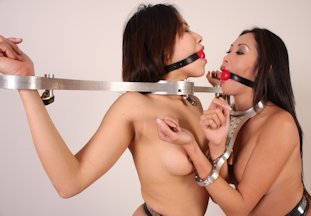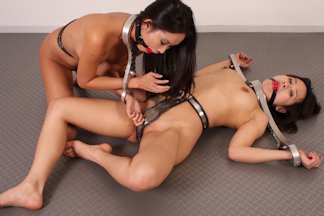 The most famous Dutch fetish porn star, Leyla Gold, has been on our website for some time now. She has been trained by us to prolong her ability to wear a chastity belt, a ballgag, and even nipple clamps! This time we tell her she will be wearing nothing at all! Just a little bit of metal we like to call six-point restraints. Leyla thinks it will be an easy shoot, but we have a devious plan: we lock her wrists to her waist band and then we add a shiny tight red ballgag. She can not reach the gag, so she is powerless yet again!! What would you do with her if you found her like this?
Locking petite bombshell Cory Spice into a tight chastity belt was incredible. Cory is known for her free spirited sexual personality, and to see this tiny big boobed girl in a tight chastity belt is a real stunning image. Her pussy lips are neatly locked inside the secondary shield, as members will see in the downloadable picture set. Of course we added some frustrating heavy bondage, because we still needed to discipline Cory for escaping the RigidFiddle last time. Cory is kneeling, ankles locked together, unable to stand up. Her arms are stretched high over her head by steel cuffs and a heavy chain. We add a shiny red ballgag to keep her quiet, so this time Cory is a perfect slave, no escape, no talking, not able to protect herself from groping hands…