All updates featuring
One Bar Prison – Custom Design
Giant boobs and a One Bar Prison. Katerina is back and she will be impaled today! At first, she was very playful and she thought it was funny. But once she was stuck on the One Bar Prison, she found out she couldn't escape because she was wearing high heels. She couldn't take off the heels either, that would be very unwise and painful. She had to admit she was completely stuck. We wanted to keep her impaled for a while, so we kindly pointed out that the dildo was actually a vibrator. We gave her the remote to play with, so she wouldn't get bored standing there. It's a beautiful sight, Katerina knew we were not going to let her go for a while… dont miss this!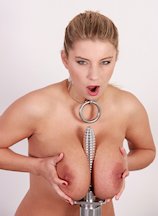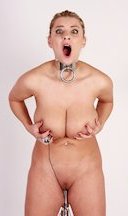 We finally managed to get the famous bondage model Nyssa Nevers to our headquarters for some metal bondage! Nyssa is up for anything, or at least that's what she told us, so we got out the One Bar Prison to challenge her. The missile dildo and her high heel shoes kept her firmly in place. She could turn around, but that was about it. Nyssa was very determined to escape and she moved a lot, which is a bit dangerous on a One Bar Prison. So we locked her into some very special (custom made) handcuffs. These handcuffs are very futuristic, and they can be attached to the One Bar Prison! Now Nyssa had to stand still and accept her fate, until we gave her a key for an escape attempt. Of course, with her hands firmly locked to the dildo pole, this was impossible. But it was a lot of fun to see her try!
Wow, Cindy Dollar is back! We didn't see her for a few years, but she still looks exactly the same! And better yet, she brought a friend! Nicole Vice was a bit concerned about Cindy so she decided to tag along to see what goes on in a MetalBondage shoot. Well, we had planned to put Cindy on the One Bar Prison, but since Nicole was with her, we might as well impale her too! One Bar Prisons are better with friends! Nicole didn't blink, she even helped to impale Cindy before being put on her own One Bar Prison. No escape for those two! Well, we gave the allen key to Cindy for a moment, but she is very flexible so we quickly took it away and told the pair to turn around for us and get dressed. Perfect helpless mannequins! We just let them stand there for a while…
There are still people who don't believe the One Bar Prison is an inescapable bondage device (when used with high heels of course). So we need to keep demonstrating this to you. With different girls preferably. For Samantha Bentley, it is a bit of a harsh welcome to MetalBondage.com. It's her first time here, and already she is impaled on the One Bar Prison with the missile head attachment. She is so stuck she can't even move. She can not bend over, so we hand her the tool to lower the device but she can't reach the adjuster screw. Samantha got really desperate, standing in her tall heels, held in place by a metal dildo. We just told her to put her little black dress back on… and that we'd be back later…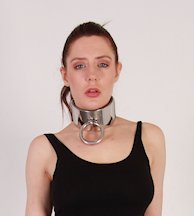 Stella Cox is so cute! She wants to try everything in our studio! Really everything? Yep, she loves it all. She had seen the One Bar Prison with the solid missile head, and she really wondered if it was inescapable. Stella asked if she could have a go, and we were happy to let her try. But not without a few modifications though! We changed the missile head for a much larger (and longer) 3-ball dildo. And we also added a spreader bar with heavy ankle cuffs to make sure Stella wouldn't go anywhere. Actually, the ankle cuffs were not needed of course, it is a One-Bar-Prison! There is no escape, even without any other bondage going on! Stella loved it, she exclaimed: "I'm impaled!!". That's a good thing apparently.
What's the matter, Tracy? I mean, your legs are free, your arms are free, why aren't you moving? Oh wait, you're impaled on the One Bar Prison in high heels :) There truly is no escape from the One Bar Prison (hence the name). High heels mean a girl can't lift herself off the metal dildo and even if we give her the hex tool to adjust this device, she can't bend over enough to reach the adjuster screw. Beautiful Tracy Lindsay is on display, her stunning muscular body impaled on the pole and she can't run off. She will be stuck until we decide to let her go. She sure gives escaping a good try though, rotating around, trying to lift her butt with her hands. But there is no chance. So she is told to put her dress back on and just wait.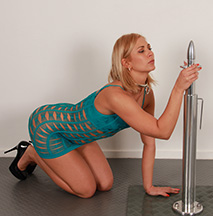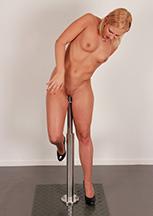 We took our heavy One Bar Prison with the missile dildo to an empty office building to shoot something different. We just needed a reluctant model for this idea, and there was no one more reluctant than the famous and gorgeous Tina Kay! She wasn't sure what we wanted to do, but she likes anything with dildos so she went along with it… at first. Once we got her stuck on the One Bar Prison, she found out that there was no way she could get off. Because she was wearing high heels, she was completely stuck, impaled on a heavy steel pole. We told her to put her dress back on and moved her closer to the window. Now Tina was displayed for everyone to see, standing in front of the window, but she couldn't move. And no one could tell she was stuck. Awesome!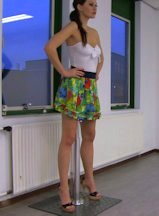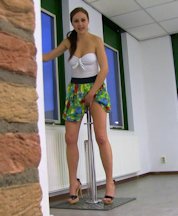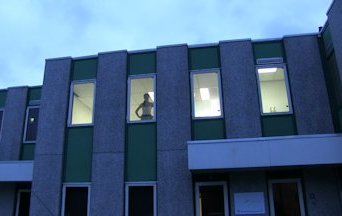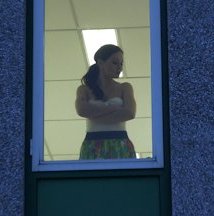 We have known Satin Bloom for a very long time. And we did some crazy things to her! But never something like this! We told her about our One Bar Prison: it is impossible for a girl to escape this device (if she wears high heels), but Satin did not believe us. Nor did she want to try it. After a few weeks of teasing her, telling her she was just afraid she couldn't escape, she finally had enough and wanted to prove to us she would easily escape this device. If she couldn't, she would have to put her dress back on and stay there for 30 more minutes. Guess what happened?
Big boobed Alais from the UK seemed like the perfect girl for our Breast Press! We haven't used that device in ages. But the real fun started when we impaled poor Alais on the One Bar Prison. She could not get off it and was getting seriously worried we might leave her standing there for hours. This girl is so much fun to tease! We pretended to walk away, leaving her all alone, stuck on the One Bar Prison, and then we came back and asked her about her predicament. She was not so happy, but the One Bar Prison really is inescapable for a girl in heels. Poor Alais!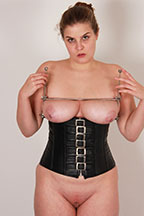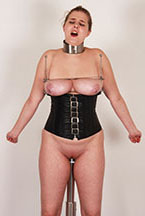 There's only 1 requirement for the One Bar Prison: the model has to wear high heels, otherwise it does not work (the model could simply stand on her toes to get enough height to escape). With high heels, you are already on your toes, and the One Bar Prison becomes inescapable, a fact that no one seems to believe. No bondage, no restraints, but inescapable. Lola heard of this challenge, and she wanted to try it! But when she showed us her ballet boots, we were a bit worried for her safety! It is hard enough balancing in ballet boots, imagine the muscle strength required to be impaled on a One Bar Prison! Still, this was highly requested by several members, so here we go… Lola takes on the One Bar Prison in ballet boots!! Madness! Do not try this at home!
Here it is!! The new heavy duty version of the One-Bar-Prison! Super heavy base plate, heavy sliding adjustable pole, various metal dildo shapes, and hex screw locking! This one is scary! Young Vina was curious though. Is it really impossible to escape? We made a deal: if she couldn't escape she would have to put her dress back on and stand there – impaled – for at least 45 minutes. You can see from the previews: Vina lost. The One-Bar-Missile wins. Yes, this is bondage, this device is inescapable. If you don't believe it, come to the studio and try!!