All updates featuring
One Bar Prison
A member requested a girl on the One Bar Prison, in a RigidFiddle, and leg irons. Well, we did not just get any girl: we got Little Caprice! There should be a very very small chance of escape to make her try. But to escape, Caprice would have to get out of the RigidFiddle (something that has only been done by about 2 in every 100 models), and even then she would be stuck on the One Bar Prison. So we used the old version of the dildo pole. Should she somehow escape her fiddle, she would have to bend over and reach the adjuster knob. This all sounds very impossible, but Little Caprice… well she is as amazing as she is famous! Don't miss this!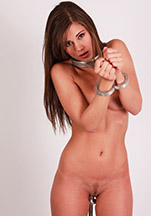 Tall Dutch blonde Mandy Slim found out about our One Bar Prison challenge on Twitter. Like many girls, she did not believe that one bar can be enough bondage to hold a girl in place. So she came over to take the challenge! I told her to bring her tallest heels, and she looked awesomely fierce! She was so curious about the One Bar Prison, touching it and lubing it up, so we got right down to business. The special metal plug was inserted very carefully, with Mandy halting the progress a few times to find her position. All she could do was stand up very straight. She tried and tried, but she could not escape this evil device! Another victim of the One Bar Prison!
Our One-Bar-Prison is generating a lot of buzz in the female bdsm community!! Is it really true? Can one bar hold a girl in place without any additional restraints? Is it really inescapable? Body builder submissive girl Angelica drove all the way from Germany to find out. This German girl is tough! She wanted to take on the challenge, and see for herself, as she was convinced she could escape from this device!! We just told her to bring her tallest heels (required for this challenge) and go for it! Angelica failed, and she really truly could not escape. She was stuck, and we told her to put her dress back on, so she could stand there for a while, like a life size mannequin.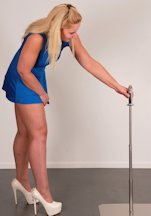 For years, we have been hearing rumours about a way to restrain a girl using only 1 steel bar!! So we finally decided to build this device, to see if it is true that a girl can not escape this diabolical contraption. We needed a large metal dildo on an adjustable pole, and a girl in high heels. Natalia Forrest happened to be hanging around our studio, so we grabbed her to test this new device. She didn't believe that it would hold her in place, and neither did we. But amazingly, Natalia was unable to escape from the One Bar Prison! She couldn't get off it. Wearing high heels meant that she was already on her toes, and the dildo was in too deep. Her hands were cuffed behind her back to prevent her from reaching the pole's adjuster. We left a camera running and sneaked into the other room. Her reaction was priceless! It is true! One bar can hold a girl!