All updates featuring
Small Padded Wrist Cuffs
Training Jenni C and Melissa is always hard. Still, there is some progress! When they recently visited me for some shoots, they already assumed they would be locked in chastity belts all the time (they stayed for 4 days, locked in their belts). You can read more about this here on ChastityBabes.com. But I wanted to add something more. A bit of bondage, so they had to cooperate more, which would take their minds off the chastity belts. I connected their necks using the Connect-A-Model System (TM), which is pretty heavy metal bondage. It is also very rigid, meaning they had to move at the same time, and this is especially funny since Melissa is a little shorter than Jenni!! This is how you make friends! They can't get away from each other!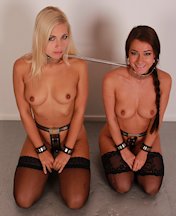 And now… cute little AnnaBelle Lee will show you how it's done! Haha, this tiny girl really loves the feel of heavy metal, as we found out a few months ago. This time she is enjoying herself with a piece of equipment that is super heavy, especially for AnnaBelle. She squeals for joy as she is showing us how to lock on this huge diaper shaped piece of steel onto her waist and crotch. Pulling the chains tight, she locks all padlocks into place and then goes on to pose for us in a playful manner. She tries touching herself, but there is simply no way!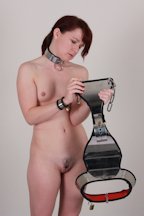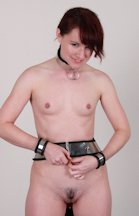 She has been voted 'most popular pet slave' on this website. By you, our visitors and members. She has been coming back again and again. We have sparked her interest in bondage and chastity. The lovely Jenni C now deserves her own custom made chastity belt! She has been wearing one of our chain style belts until now, but this belt (HER belt) is more rigid and more secure. Most importantly, it has been made to fit Jenni perfectly. A proud Jenni shows you her chastity belt today. She is still tugging and prying at the belt (like she always does), but this one is super tight, with detachable secondary shield and anal hole for long term wear. Jenni C has choosen this path in her life, there is no turning back now… Congratulations!
Poor little pet slave Janna is still a little shy. We decide to leave her alone for a while, to get used to her new life in metal bondage. She is in a tight chastity belt and a steel cable chastity bra. A tall posture collar and a tight ballgag make sure she doesn't forget her position as a pet slave. We have to lock her wrists to her belt of course, so she can't take off her gag. The bondage prevents her from getting comfortable, but she still tries, a little scared and hesitant. It's so much fun to just sit back and watch this girl come to terms with her metal chastity bondage!