All updates featuring
Cobie
Our custom made heavy stocks are really HEAVY. Cobie could barely lift them. So we were kind enough to lock her into the stocks, because the weight is divided much better when you are actually IN them. Cobie struggled a little, but there was no way to get out of the stocks. We added a ballgag so Cobie wouldn't protest to our next evil idea: adding heavy chains and clamps to the stocks (making them even heavier). The evil part was: the chains were too short for Cobie to stand up straight. She would have to bend over or kneel down, trying to balance the weight of all this steel. All she could really do is kick off her high heels to make things a little easier. But Cobie was stuck in a real heavy metal bondage predicament!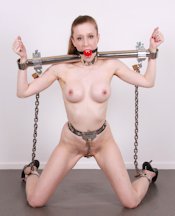 We thought it would be fun to lock heavy metal onto Cobie's slender arms until she literally couldn't move them anymore. Cobie thought that would be fun too, but after a few minutes she realised that this wasn't an easy predicament. We placed the key inches away from her fingers, but she simply couldn't move her arms to grab the key. The metal was tight and heavy, handcuffs alternated with custom wrist cuffs, and a pair of handcuffs on her elbows plus heavy elbow cuffs above those. Cobie is easily flexible enough to have a regular pair of handcuffs on her elbows, and to be honest, that would have been enough to restrain her without hope of escape. But we like overdoing it, and Cobie loves it too!
Only 2 bondage models have done this before!! Of course, when Australian bondage model Cobie saw this, she really NEEDED to try this as well! It is brutal! Cobie's arms are pulled up so high she can touch her collar's padlock! There is absolutely no way for her to escape this predicament, and it is exhausting to even be in this position. Cobie can not move her arms at all! Of course, I gave her the keys to frustrate her a little bit more! This is hard metal bondage! Enjoy watching Cobie's struggle and don't forget to read her chastity adventures at ChastityBabes.com!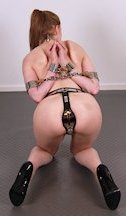 While I had the incredible Cobie from Australia locked in a NeoSteel chastity belt for 13 days, I figured: why not shoot her for MetalBondage too? I mean, she was already locked in metal and she was staying at my place anyway! Cobie is exceptional: she is famous for her ability to withstand extreme elbow bondage, so (at her own request) I took things a step further than ever: this is the most extreme metal elbow bondage ever done on this site! Instead of a padlock, her elbow cuffs were bolted together, which made them rigid with a minimal distance between them. Cobie's wrists and ankles were locked to her belt, she was really suffering, it was so tight! Yes… she loved it!