All updates featuring
Ingrid
Aah our custom built stocks! Just how MetalBondage.com stocks need to be: heavy, shiny, and tight! Poor Ingrid will have the challenge of her lifetime trying to get out of these! We give her the little keys to the padlocks and see how far she will get! Probably not very far, because we locked the padlocks on the backside. Ingrid won't escape, but she will probably get very tired and frustrated! Just how we like it!
Ingrid is a very sporty type. At least, that's what she told us. Well, we have just the workout for her! Completely naked and in high heels, Ingrid is chained to a treadmill. She is wearing a huge heavy waist belt and collar, her waist chained to a metal frame. At first, Ingrid is allowed to have some fun with the treadmill's controls, but then we lock her hands behind her back and we start turning up the speed. Unable to stop the machine, Ingrid does not have any choice, she has to keep walking in those tall heels! A perfect training device! *don't try this at home*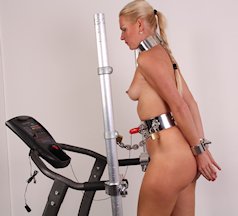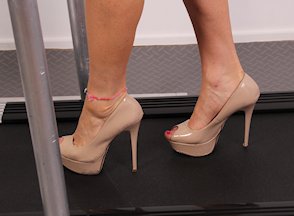 Please welcome the tall blonde Ingrid to MetalBondage.com! This former olympic athlete from Scandinavia thought she would have an easy job modelling several kilos of custom steel locked onto her body. But when she ended up on the floor in an extreme hogtie, Ingrid wasn't posed so happily anymore. Her wrists and her ankles are locked to the back loops on our wide custom steel belt, which is a nice tight fit on her! The very heavy collar is a tough one to deal with, she has to keep her head up to avoid getting dizzy, so it becomes a real struggle for her. Metal is unforgiving, and a metal hogtie on your first shoot… wow, we are impressed!