All updates featuring
Jenni C
Training Jenni C and Melissa is always hard. Still, there is some progress! When they recently visited me for some shoots, they already assumed they would be locked in chastity belts all the time (they stayed for 4 days, locked in their belts). You can read more about this here on ChastityBabes.com. But I wanted to add something more. A bit of bondage, so they had to cooperate more, which would take their minds off the chastity belts. I connected their necks using the Connect-A-Model System (TM), which is pretty heavy metal bondage. It is also very rigid, meaning they had to move at the same time, and this is especially funny since Melissa is a little shorter than Jenni!! This is how you make friends! They can't get away from each other!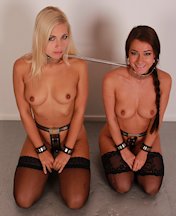 250 updates! To celebrate, let's try to fit two of our most popular models in the metal bondage frame! We are going to need a LOT of metal to connect Jenni C and Melissa to this frame… and to each other. Exactly the way we like to see two hot naked girls! Before connecting them to the frame, Jenni and Melissa are locked into 6 point heavy restraints: wrists, ankles, neck, and waist. The huge collars look so awesome on these stunning girls, wearing nothing but heels and stockings! After chaining them both to the frame, we let them struggle for a while, taking pictures and video… we can relax, they are not going anywhere, so let's enjoy and celebrate 250 updates, almost 5 years of girls in heavy metal bondage!
Join now to download EVERYTHING we ever did for only 1 month's fee! Now that's cheap!
We came up with this nice variation just to make life hard on Jenni C. Don't get us wrong, she is lovely, but it is just so much fun to see her get frustrated with some heavy steel predicament! This pipe cross is seriously heavy, and it is hinged at the base, so it doesn't stay up by itself. We attach our gorgeous blonde to this contraption by her heavy neck collar and wrists, and watch her struggle to keep the weight up, off her neck. Jenni is also tightly locked in one of our custom made heavy steel chastity belts, but she doesn't really care about that at this point! She is losing this struggle and soon she will be pleading to be released from this heavy tilting cross!
We love Jenni C! She keeps coming back for more bondage, even though she knows it is always going to be a very hard afternoon for her. The blonde hair, blue eyes, perfect ass girl is curiously attracted to being restrained, you can find her on bondage websites from all over the world now! But no website will put her into the heaviest custom steel gear like we do. Even the chains are seriously heavy. Jenni C looks wonderful in our chastity belt, her wrists chained to her collar. All the gear weighs down on her, with the collar, cuffs, and chains combined weighing well over 4 kilos, so it is just a matter of time before the fun turns into an endurance challenge!
The simplest bondage can be frustrating, even torturous. Let's say we locked Jenni C in the super tall 'giraffe' collar. And then get the heaviest chains we can find to attach it to four metal posts. Everything padlocked, no escape. It is brilliant and simple. There are no wrist cuffs, ankle cuffs, waist bands, or gags. It's just Jenni C frustrated as hell, because she can not move at all, and the collar is so tall it hurts her chin when she moves her head down. Getting comfortable is just impossible. That will teach her! How long do you think she should be kept like this?
We had this unique custom posture collar designed so it could be fitted with two different types of gags: a steel muzzle and a 'tape' gag. Browsing back, we noticed we only used this tape attachment once! That is a waste of custom gear, so we had to use it again, even though all models seem to be afraid of this device. We don't know why, maybe because it looks scary, but it is actually quite model-friendly! The models can still speak (somewhat) and there is nothing inside their mouth. The hard part is that it is attached to the posture collar, so it does not move at all, as Jenni C finds out… she can not even turn her head. Oh… and eating is impossible, that could be a problem for long time wear ;)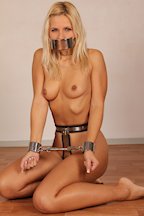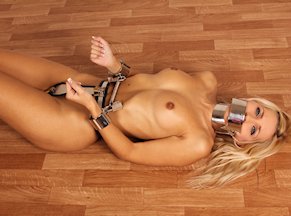 A very popular member request today: the radiant blonde girl Jenni C locked into (her own!) chastity belt, and a chastity bra! She is also locked in a very heavy collar and a set of chain linked manacles. The belt was especially made for Jenni (the crotch piece is not adjustable, it is Jenni size), and it is very tight between her legs. The small metal bra is squashing her boobs, making sure she can not touch herself at all! Jenni C is a super slave girl, she looks like a captured princess on some kind of slave market! We would definitely buy her, who wouldn't!?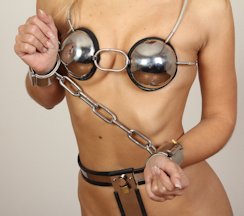 Another unique piece of metal bondage gear you will not see anywhere else on the internet: we are very excited to introduce our latest custom built contraption: the Sleepless Collar! Jenni C is less excited however, because she will be the first of our lovely slave models to test this huge heavy collar. Perfectly belted as always, Jenni was actually relieved at the start of this shoot that we were only going to feature a collar. No bondage? Well, wearing the tall posture collar with solid (heavy!) spikes for more than 5 minutes is bondage in itself. Jenni was locked in our newest item for over 2 hours, and she was getting tired. Then she found out why we call this the 'Sleepless Collar'. Can you guess why? Watch the video clip to find out ;-)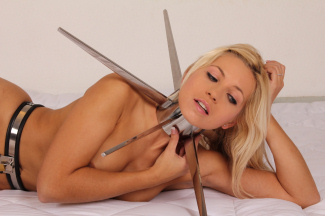 Jenni C is still locked in her very own chastity belt! Watch the perfect fit in this set, you can see the belt remains tight on her skin, no matter which way she moves. We would like to keep Jenni forever! And we have just the thing to do that: a heavy metal cage (it is actually heavier than Jenni). We lure this girl inside with a soft floor padding, and we get her to close the door padlock herself. However, she refuses to lock her neck in the built-in collar, so we just force her, grabbing her hair and clicking the padlock shut. This is great, we can now keep Jenni C forever!
She has been voted 'most popular pet slave' on this website. By you, our visitors and members. She has been coming back again and again. We have sparked her interest in bondage and chastity. The lovely Jenni C now deserves her own custom made chastity belt! She has been wearing one of our chain style belts until now, but this belt (HER belt) is more rigid and more secure. Most importantly, it has been made to fit Jenni perfectly. A proud Jenni shows you her chastity belt today. She is still tugging and prying at the belt (like she always does), but this one is super tight, with detachable secondary shield and anal hole for long term wear. Jenni C has choosen this path in her life, there is no turning back now… Congratulations!
Sigh… it is hard to keep models belted, especially spoiled girls like Jenni C. She hates being in a chastity belt and she will simply not stop tugging and prying the belt. Of course, the belt is locked on with a high security radial lock, but we just don't like this behavior. So we decide to keep Jenni's hands away from her belt. One of the ways we can do that is by putting her into a RigidStock, which looks so great on Jenni that we never want to let her out again. Let her live her life like this! Jenni does not share our enthusiasm, she wants out of this heavy contraption as soon as possible, so we give her the keys to calm her down. Well… that didn't work…
Our quest to get Jenni C in a chastity belt has ended! Jenni C has now agreed to be a proper MetalBondage pet slave. That means wearing a chastity belt. And a collar of course. To celebrate, we built a little contraption that will hold Jenni's perfect body in a strict metal hogtie. We don't think she liked the chastity belt very much, but that was soon forgotten after about 30 minutes in this position. It seems Jenni decided she hates hogties more than chastity belts. Oh well… we just love both! And we have got it all in this week's update. Plus Jenni CB, what more can we ask for :-)
Jenni C is back! We tried to put her into a chastity belt, but she refused. Something to do with her being one of the top glamour models on the internet today and what-might-people-say. Hmm… so we have to take it a little easier on her, gently getting her into that chastity belt, bringing her closer to accepting it every shoot. A tight solid metal waist belt is a good start! And lots of other pieces of heavy metal and chain might also help to ease the transition into a MetalBondage.com pet slave. Jenni C as a slave girl, who hasn't dreamed of that? There's also some hands-on collaring in the video, a much requested scene! Let's hope Jenni will be back to take it a little further!
Yes, we managed to get Jenni C to model for our website. Sometimes we just get lucky! Jenni C is a well known face in glamour modelling, men's magazines and nude art photography. Have you looked at those girls and wished they would do metal bondage modelling? Well, we have :-) So here's Jenni C in her first ever metal bondage experience! Our new 5-point metal spreader bar is padlocked to Jenni's collar and cuffs, but still she lights up the room! This girl is just radiating energy, she's such a delight to work with. We have to get her back soon! Chastity belt anyone? ;-)