All updates featuring
Yvette
Coffee anyone? :-) Most of you seem to agree that the beautiful Yvette needs some more training. And you are right, she is too cheerful and shows lack of respect. We lock her in to a special tall collar with two front attachment points and chain a metal serving tray to her belly. The heavy locking collar will hold up this tray, and as long as Yvette stays perfectly straight, she will hopefully not drop the coffee cups. We lock her hands behind her back and shut her up with a chrome strap ballgag. Now Yvette will fulfill a number of task, like crouching down, standing up, walking and serving coffee. Let's hope she does not lose her concentration!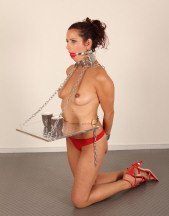 Added January 29, 2012 ---- 83 pictures + 4:01 minutes of video
A new bondage woman on MetalBondage.com this week! Metal and bondage are not new for Yvette so we decide to give her an upgraded challenge. It is almost impossible to escape a RigidFiddle, but we give Yvette the key and tell her to try as hard as she can. The catch is: she can only try to escape if she gags herself with a metal mouth spreader. This way she will train self gagging, and the focus on escaping the fiddle makes her forget the spreader (and drool!). Watch Yvette trying to work out how to reach the padlock, with her mouth spread wide open! Great stuff. And of course, if she returns for a second shoot, a chastity belt will be waiting for this redhead bondagette!