Search Results For
"stork"
I showed Cindy Dollar my custom built Metal Stork device. It is extremely heavy, especially with the solid spikes added to the collar. She tried to lift it and immediately said 'no'. She said she was sorry but she had something else to do and wanted to get out of there as soon as possible. There was no way she was going to model this thing!
Of course, several minutes later, Cindy found herself locked in the stork, with a tight ballgag in her mouth to stop her from protesting. She was completely nude with painful clamps on her nipples. All she could do is sit there. She gave me the evil stare, but it wasn't helping her. Even the key right next to her on the floor was pointless. Is there such a thing as reluctant modelling?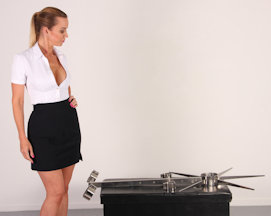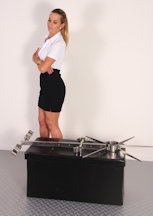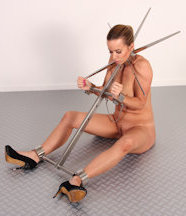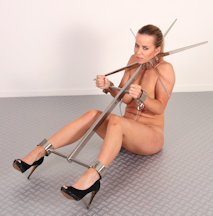 We received many requests for more Aubrey shoots! She is very popular, and we can see why: Aubrey is stunning and a bit reluctant to try all of our heavy gear. That's a perfect combination! The amazing Heavy Stork is indeed very heavy, all bars and spikes are solid (not hollow), so it weighs a lot. It is a very uncomfortable position to sit in, especially when you're wearing nipple clamps and a dog bone gag! Aubrey hates clamps and gags! We put the hex key right next to her, to her frustration. There was no way she could even more, let alone grab the key to try and escape!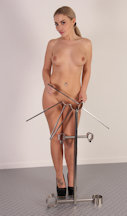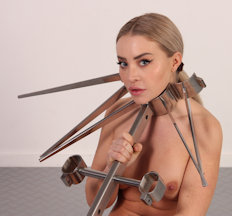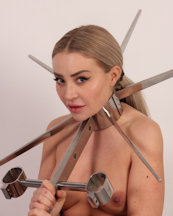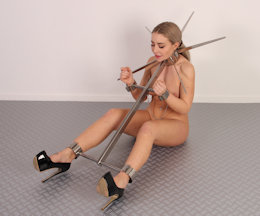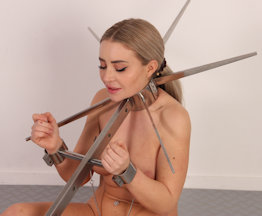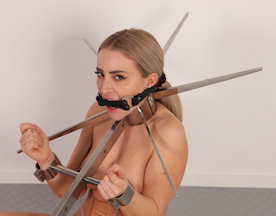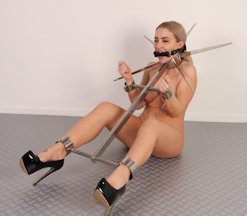 This device is so over the top! Not just because of the massive spikes on the collar, but mainly because everything is solid steel (not hollow), which means it is extremely heavy. Most girls can't even lift it. We have used it before on Kerry (who loved it!), and Sophia Smith (who didn't love it!), and now it is time for a brand new girl to try it. She has never done any metal bondage before, Scarlett Hope is going straight into one of the heaviest, most uncomfortable devices on her first shoot! We put the keys next to her, but there was no way she could reach them at all. Scarlett said: 'all I can do is sit here', which is exactly the point of a stork device! Have fun Scarlett!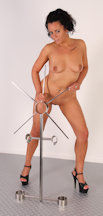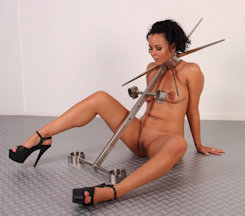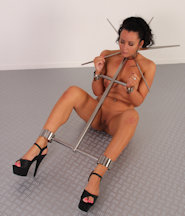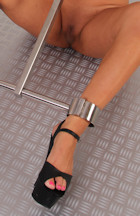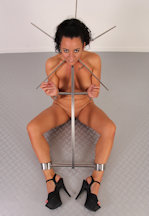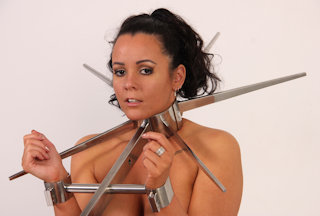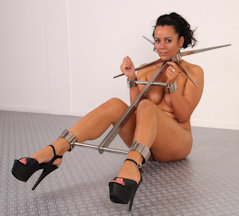 Remember our Connect-A-Model system? It is a model system of heavy steel cuffs that can be used to create anything from a fiddle to a blowjob machine collar. We used it as a 'stork' or 'scavenger's daughter' in this update with Ariel Piper Fawn, and this update with Sophie. Models always have a lot of fun rolling around in this inescapable device, but no one had as much fun as our newest model Lara Tinelli! Her awesome smile says it all: she had a blast being locked in this steel contraption! Enjoy watching her struggle and laugh in this fun update!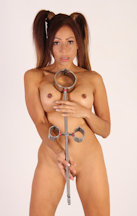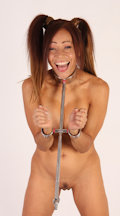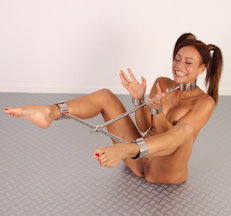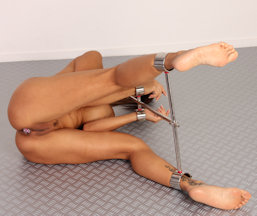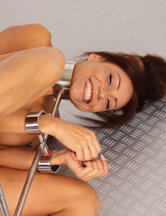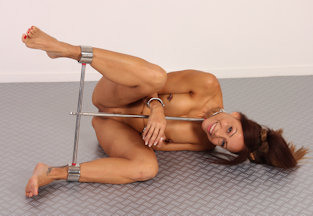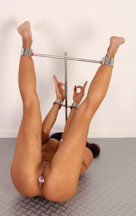 Remember Kerry in the Heavy Stork device? Get ready for some more over-the-top heavy metal bondage with a pretty girl, because this time we have managed to convince the gorgeous Sophia Smith to try this device! It is an insanely heavy device, because all pieces are massive (not hollow), the bars, the collar spikes.. Sophia couldn't even lift it. We placed the key next to her, but all she could do is just sit there. The collar spikes prevented her from falling over sideways, so her hands would never get near the key. Just sitting there in this heavy uncomfortable device, that's what they were originally designed for!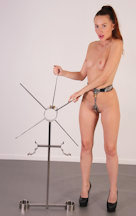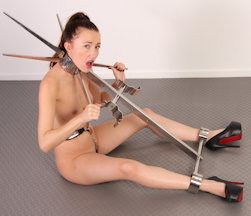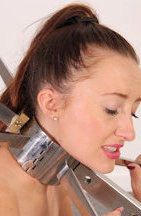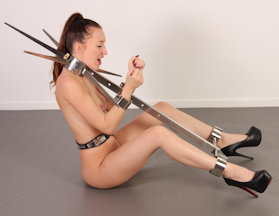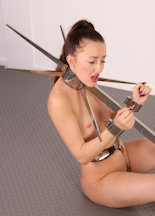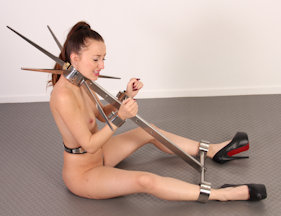 We have done some stork (or scavenger's daughter) devices in the past, but in a true MetalBondage.com fashion, we needed to upgrade it a little bit with some heavier steel. And more spikes! More spikes are always good. Cute girl Kerry just happened to be around so she was the first one to be locked in this extremely heavy contraption. There was absolutely no way for her to move (at all). All she could do is sit there. Which is not easy in a chastity belt either. We even added a ballgag, Kerry was completely helpless! She loves it, don't worry. It was a very frustrating and HEAVY experience, according to Kerry, who has already contacted us to come back for more extreme immobilization soon! She is so awesome!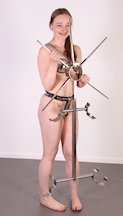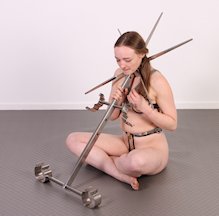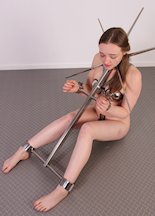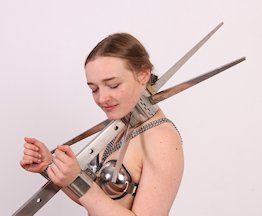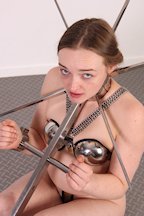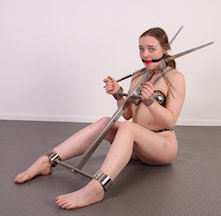 The lovely Ariel Piper Fawn returned to our studio for another shoot, and she went straight for the white chastity belt! It was locked on before we knew it. How's that for training? :) Today, we will show you more of our custom Connect-A-Model metal bondage system. We tried building a replica of a medieval classic: the stork (or scavenger's daughter). Locking it on Ariel was quite a job, but in the end she was fully restrained and unable to move an inch. The awkward sitting position was causing some discomfort because of her chastity belt, but she was a real trooper. It was a perfect creation, except for one little flaw… find out more about Ariel's fascination by watching the video!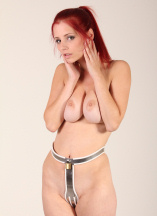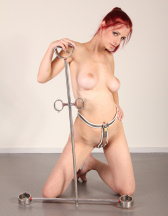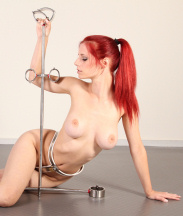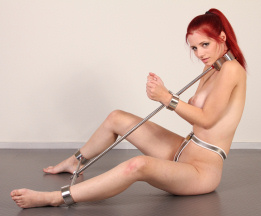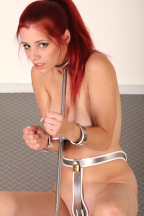 Denise is in the studio, she is a model agent who was supposed to book a model for me. But her model is very late and Denise is going crazy on the phone, trying to get her model here in time. No one showed up, so there was only one thing I could do: Denise would have to fill in. She was definitely not happy with that! The shoot I had planned involved the heavy stork device, nipple clamps, and a huge ballgag. Well, it's her own fault, she should have arranged it better. Now Denise will have to take the model's place.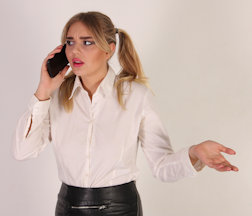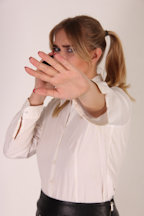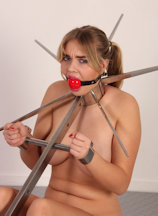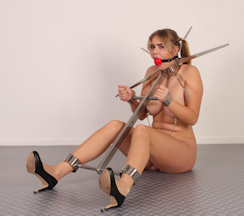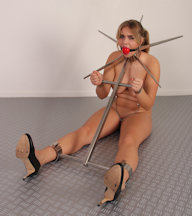 Beautiful tall Sophie in her chain style NeoSteel chastity belt! She was doing some challenges for ChastityBabes.com, so we figured we could lock her in some metal devices to give her something to do! We locked her into the collar, wrist cuffs, and ankle cuffs of the Connect-A-Model (TM) System. The red parts you can see are rubber bushings to make the connections more rigid. Sophie had no clue what was going to happen. We connected her wrists to her neck, and still she did not guess what position she was going to end up in. Only when we connected all 5 points into a stork (or scavenger's daughter) device, Sophie realised that it was not going to be easy to spend any time in this, sitting on the floor in her chastity belt!