All updates featuring
Bagno Arm Screw
Poor Polina! She is the most flexible girl we have ever seen, and the only one who can do reverse elbow bondage! She also HATES nipple clamps. Which is quite unfortunate, because she can not reach the clamps when we keep locking her in tight elbow bondage devices. The Bagno arm screw makes her elbows touch, and a double hinged handcuff locks her wrists into place. Now it is time for the nipple clamps again, with an added padlock for weight. Polina soon starts crying. But don't worry, she asked for this training herself! She wants to improve!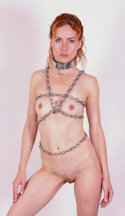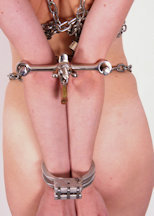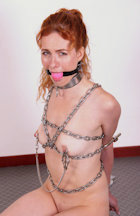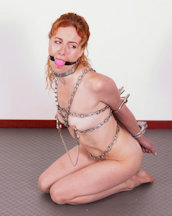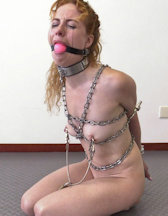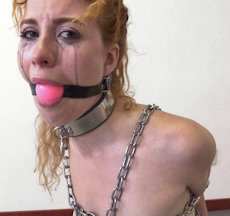 You have probably not seen this before! When Polina was doing her Chastity Deal at www.chastitybabes.com, we noticed something unusual about her. Polina is super flexible and one of the rarest bondage talents we have ever seen! This is only the second girl we ever shot who can do elbow bondage with her PALMS OUT!! This incredible skill does not even seem to take any effort from her. She is so relaxed with her arms twisted in this tight, almost impossible position. We use a Bagno arm screw for the elbows, added butterfly cuffs for upper arms, Irish 8 for her wrists and thumbcuffs to keep her from rotating her wrists back. You have got to see this picture set and video! Don't try this at home!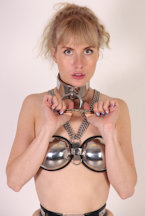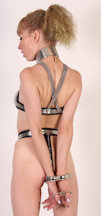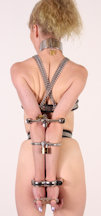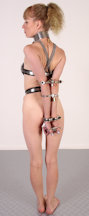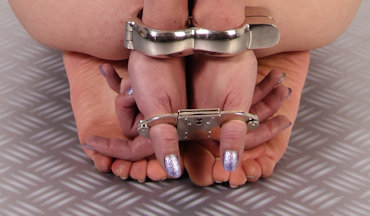 The gorgeous Sylvie is back in full chastity (bra, belt, and collar) and she is super curious what we have in store for her today! Well, we think she is going to regret her curiosity when we present her with two new items that are very extreme! First, we squeeze her arms into the Bagno Arm Screw, a classic design made for wrists, but we use it to push her elbows all the way together! Tight metal elbow bondage!! And then, to make sure she doesn't run off, we introduce our Ultra Heavy Ankle Cuffs to her: these cuffs weigh in at about 2 kilograms each without the heavy chain! Sylvie is stuck and going nowhere… unless we help her a little.