All updates featuring
Padded Small Collar
Remember Bella? The girl who is afraid but curious? This time our brave slave girl does some research on our RigidSpreader. And she is doing an incredible job! It may not look like it is hard, but the RigidSpreader puts a girl into a sitting position that does not really work when you are in a rigid chastity belt! Bella does not seem to mind, she keeps rolling over and stretching her legs out in the air. Investigating the RigidSpreader's escape possibilities is not so successful, however…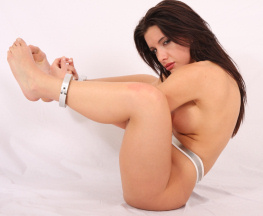 Wow, Leyla wants to take two steps at once! We told you she was very eager to be a MetalBondage.com model (see her first update here), so she wanted to get to the chastity belt stage in the second shoot already. And if that is not enough, she was really curious if she could handle nipple clamps. Not the weak sliding pinchy things, but the real deal: clover clamps! We decided to let her test them for herself. Watch as Leyla finds out how much these clamps hurt her huge boobs. Will she be able to keep them on her nipples for a while? Great stuff!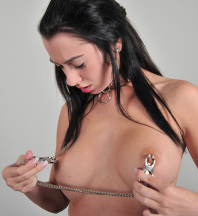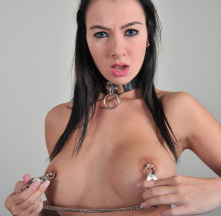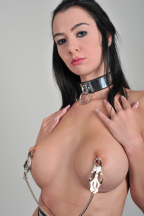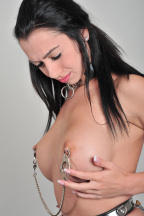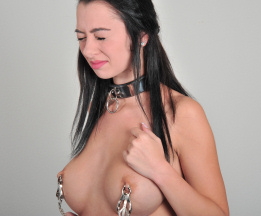 Our quest to get Jenni C in a chastity belt has ended! Jenni C has now agreed to be a proper MetalBondage pet slave. That means wearing a chastity belt. And a collar of course. To celebrate, we built a little contraption that will hold Jenni's perfect body in a strict metal hogtie. We don't think she liked the chastity belt very much, but that was soon forgotten after about 30 minutes in this position. It seems Jenni decided she hates hogties more than chastity belts. Oh well… we just love both! And we have got it all in this week's update. Plus Jenni CB, what more can we ask for :-)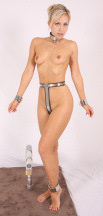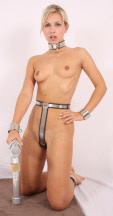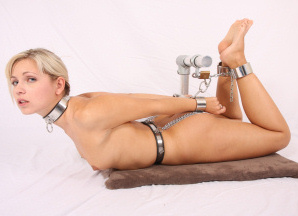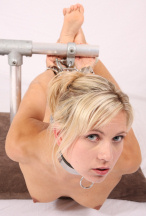 Yes! They are back! Tracy and her trusty tanned friend Ashley Bulgari decided to visit us again! These girls can't stop touching each other. with all this kissing and fondling each others boobs, we thought it would be good to give them a MetalBondage.com obedience training. This means chastity belts, of course, and matching locking collars. It also means kneeling and patiently waiting for your master. Well, that's where it all went wrong… The bar separating these two pet slaves wasn't long enough, and they soon found out they could just reach over enough to kiss. And fondle. And giggle. And struggle in their collars. Sigh…. We guess more training is needed…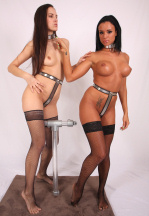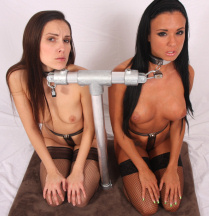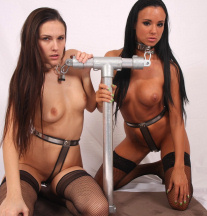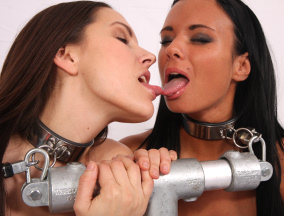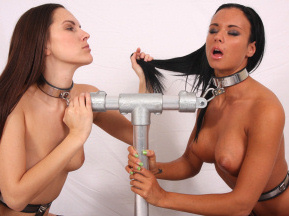 A member request: we tell our pet slaves Tiffany (blonde) and Vera (brunette) to go into the waiting room, undress and padlock their collars to the double obedience training pole. Tiffany and Vera are fairly new to MetalBondage.com, and this is actually their first time in their chastity belts and locking collars. Still, they do as they are told and they seem to be perfect slaves, kneeling and waiting for what will be next…. for about 3 seconds… It turns out they become bored very quickly and they start moving around, pulling on their collars, trying to stand up, and everything else that can hardly be described as obedient… So far for lesson 1….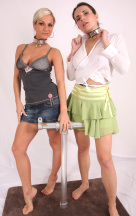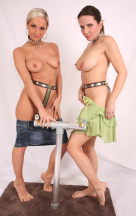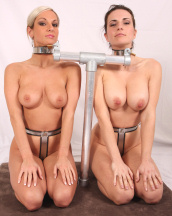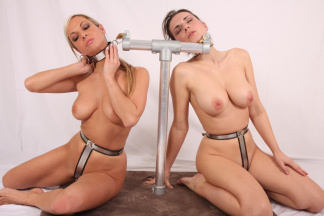 We have another new toy AND we convinced shy girl Deborah to come back and test it for us! Now, there are 3 positions you can do in this RigidSpreader. Sitting down, lying on your back, and on your stomach (a RigidHogtie!!). Not everyone can do the last one, you need to be very flexible and even then the pressure on the wrists and ankles is very painful. To her credit, Deborah managed all three, as you can see in the pictures. For the video, we just wanted to find out if our new spreader is escape proof… did we mention Deborah looks hot in a harness gag?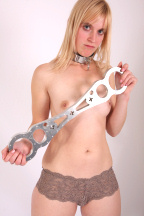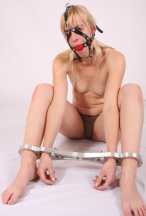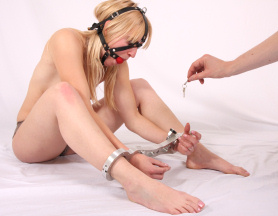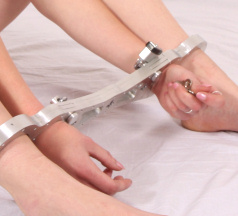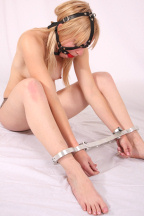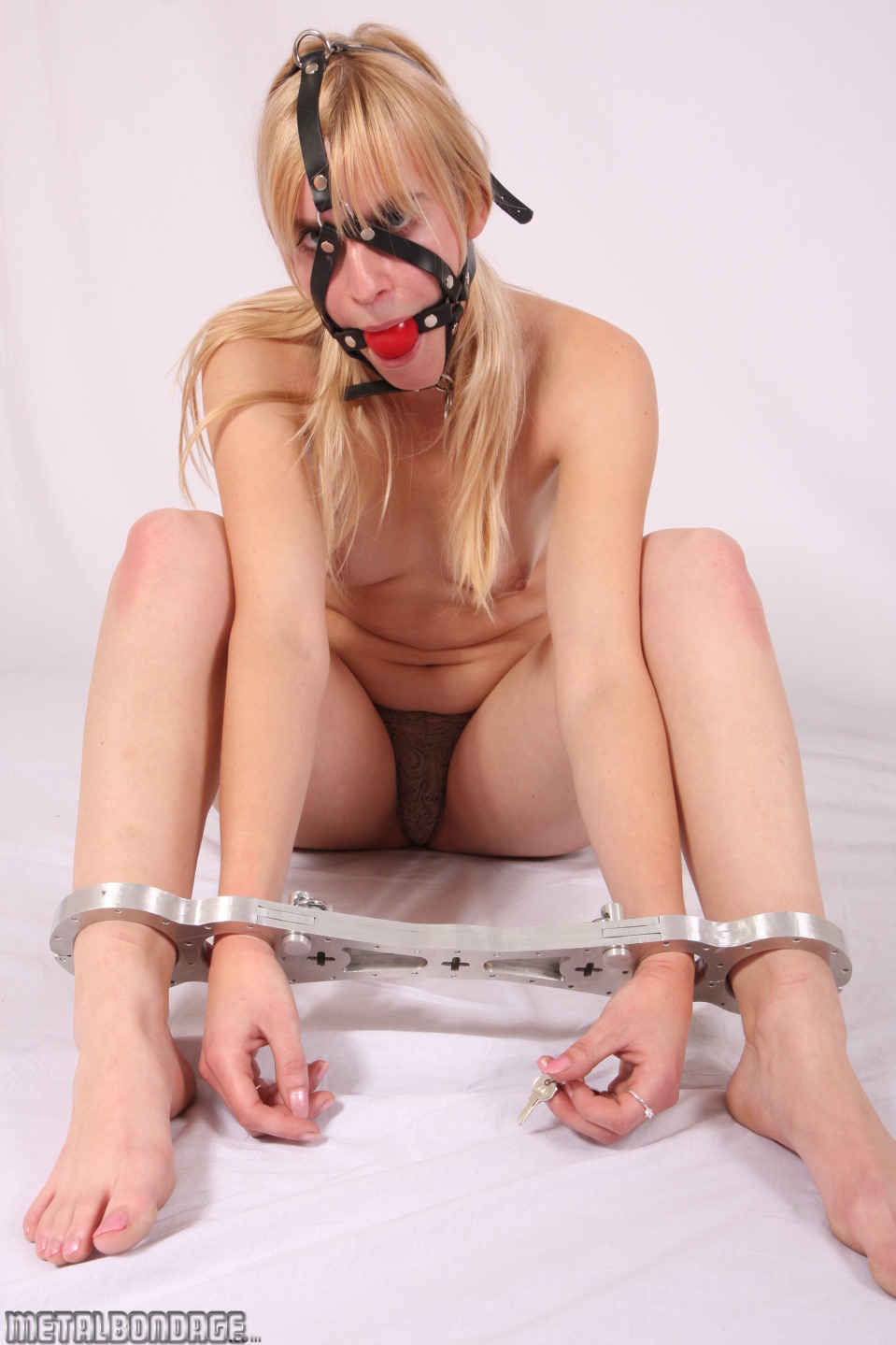 Her upper body wrapped in chains, Milena shows her submissive side. After 3 previous shoots, she is learning how to behave like a good pet slave. Her heavy iron restraints are attached to her waist chain and she is gagged with a harness ring gag. Milena starts drooling as she struggles gently, but she knows there is no escape for her. Milena´s training is complete.