All updates featuring
Wide Solid Steel Boxing Belt
Liz Rainbow is back! Check out all of her legendary updates, we sure like to test this girl! She hates nipple clamps, so that's exactly what we are going to use today. But in order to prevent her from taking them off, we built a frame to hold her in chains with as little movement as possible. Over the top? Yes, of course! We love lots of steel on nude girls! Liz is chained by her ankles, waist, and head (scold's bridle!), while her wrists are clamped to the frame by pipe clamps. All she can do is moan as we play with her nipple clamps.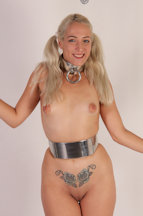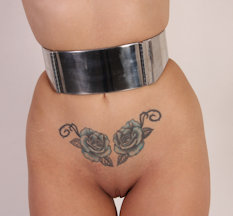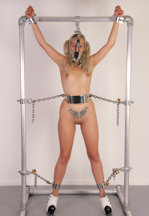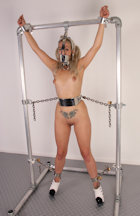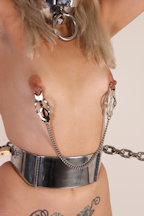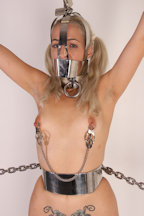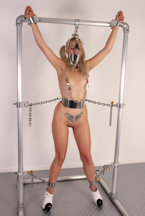 We found a new model with a perfect body for metal bondage! Arabella is a stunning red head diva, with some very unique bondage skills. Her small waist, super flexible arms, and her ability to open her mouth really wide are surely going to be a lot of fun for tight belts, extreme elbow bondage, and huge gags. But her most fun feature are her natural boobs that can be cuffed and locked! Arabella did not expect her boobs to be cuffed in this update. In fact, she did not know what to expect at all. But with her boobs chained to an overhead frame, balancing precariously in her super high heels, Arabella must have been wondering what she had gotten herself into!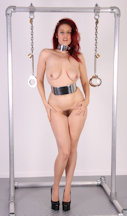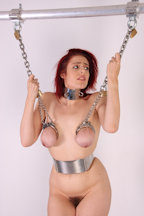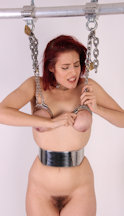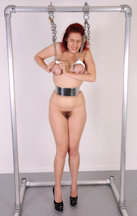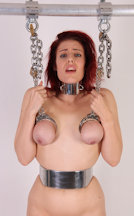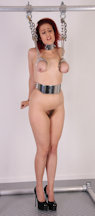 A member request featuring Penny Lee! This time, the request was not for a specific bondage position or gear, but for a specific UK page 3 model to be locked in tight metal bondage. 'Can you get Penny Lee?', a member asked. Sure! We lured her to the studio and quickly had her all naked, locked in the tightest metal we could find. The waist squeezing wide boxing belt is super tight because it has cut outs for the hips (allowing it to be even tighter). And Penny's wrists were pulled all the way across her back to the opposite sides, very strict, she could not move her arms at all! Poor Penny Lee, spotted on Twitter by a fan and now naked and in metal bondage, struggling to get free! If you are a member, don't hesitate to suggest a model for us!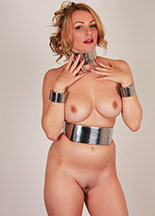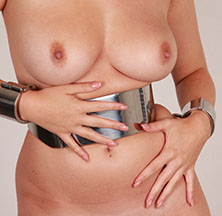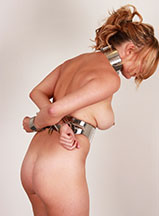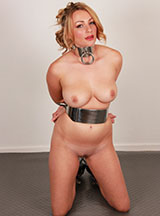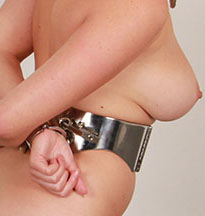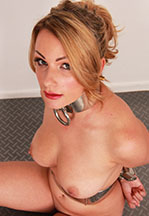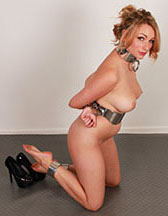 We received an email from a young girl from India, named Emily. She was really curious about being locked in metal, especially since her other bondage experiences had all been quite disappointing. She loves to test her bonds, and she has escaped from ropes, leather, and even handcuffs before. So Emily was looking for something more… solid. The tiny Emily looks so incredibly cute locked in our big heavy metal gear! Her big eyes tell us that she will never give up struggling, not even when there's a few kilos of steel locked onto her! We ring gagged her, but that didn't really last long… this girl is clever! Next time we have to make things extra secure! And add a chastity belt, of course! Welcome, dear Emily!!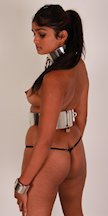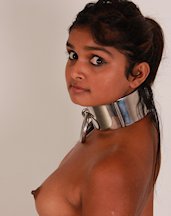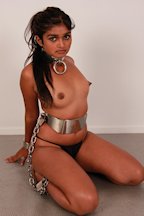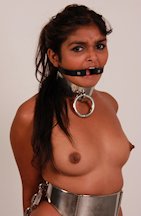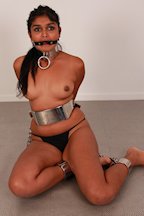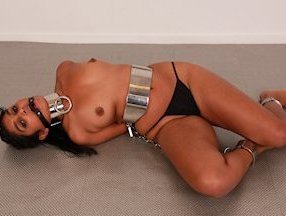 Natalia Forrest is facing a huge dilemma. We have her completely naked, locked in very heavy restraints. Her wrists are chained to the back of the extreme 'boxing' belt, and her pretty neck is locked in a big tight metal collar. She just wants to get out of these things. The spoilt British girl is used to having everything her way, and now she is even begging to be released. So we make her a deal: she will be released after she nipple clamps herself, one of her worst fears in the world. Natalia has super sensitive nipples, and the clamps we give her are the worst kind: Japanese clover clamps. Watch Natalia go through her ordeal, leaving her nipples marked after a very painful clamp removal. It may be the last time Natalia has modeled for us…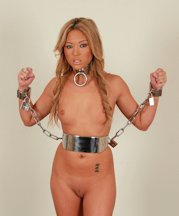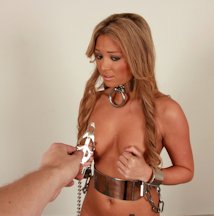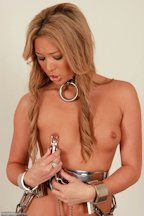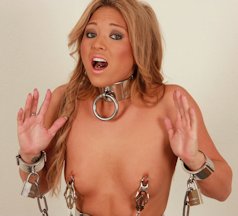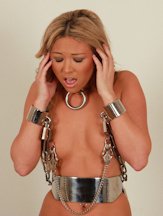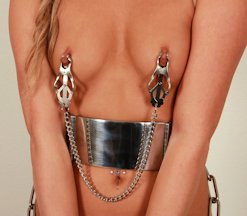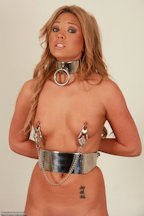 Time to punish this spoiled rich Japanese woman again! She suffers so nicely that we just like to add more and more metal to her, just to see her complain and moan about it. Our newest custom steel item is another waist belt. But not just any waist belt: it is the widest heaviest locking belt ever. It is so wide we had to notch the side to allow room for the hip bones, just like a huge boxing belt. We squeezed Miu into this thing and locked it. Then we added thigh bands, a huge collar, and wrist cuffs with a spreader bar. Miu thought we overdid it this time. Ready to hear her complain? :-)