All updates featuring
Arienh
With Steel Pipes, you can build anything! Like a small frame for the tiny submissive Arienh, so she can lie down with her wrists and ankles locked, legs up in the air. And you can build a magic wand holder. And then just switch it on and watch Arienh reaching her climax, without being able to stop it. Steel and girls, there is so much you can do with them, we just love creating new positions and devices every week! Enjoy this video of a hot girl in cold steel!!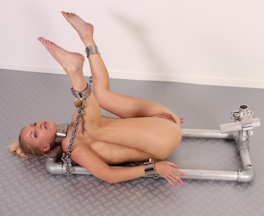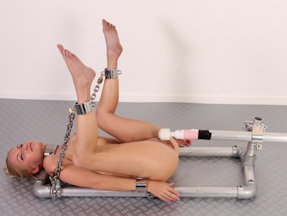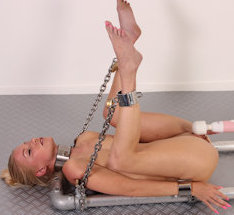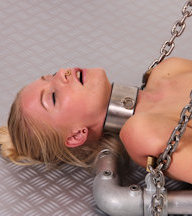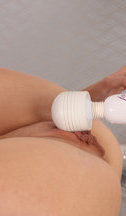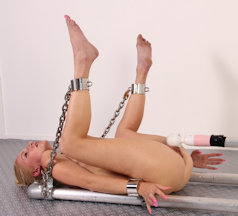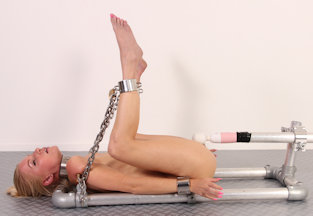 Arienh is such a pure submissive! She does not need any bondage, she is so obedient! But this is MetalBondage.com, so we need to restrain her in some way today. At first, we locked her collar to a post, so she had to stay on her knees. Arienh patiently waited, her wrists locked together. It wasn't very exciting. Until we got the idea of locking her permanent nose ring to the post! Now Arienh was restrained by just her nose piercing! And to prove how obedient she is, we did not even click the padlock shut for a while (but Arienh didn't notice that). We just know she will sit there and wait, like the perfect sub she is.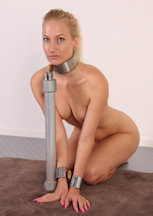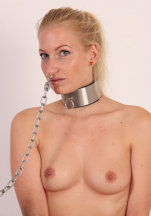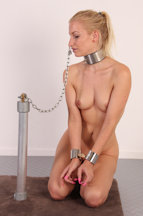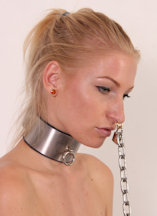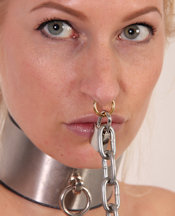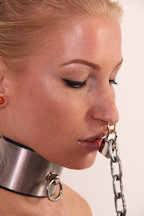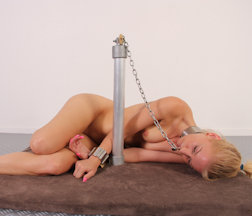 The lovely lifestyle submissive Arienh is currently doing a Chastity Deal at www.chastitybabes.com as the resident slave girl over there. We thought it would be nice to give her some more challenges to make her time in chastity a little bit more interesting! She is a very flexible girl, and we have never tried the RigidFiddle predicament with the legs through the arms yet! We are going to have some fun seeing her struggle like this, we even throw her the keys to see if she can reach them and attempt an escape. Probably not.