All updates featuring
Darina Nikitina
When I introduced these girls to each other, they quickly became best friends forever! Denise and Darina like each other very much! I decided to put their new friendship to the test, with the famous nipple clamps balancing act. Their wrists tightly locked behind their backs, I clamped their nipples to an overhead frame so they would have to stand on their toes. If one would go down, she would pull hard on the other girls nipple clamps! Communication was hard because of their ballgags. Would you stay on your toes to save your friend? Watch the video to see what happened!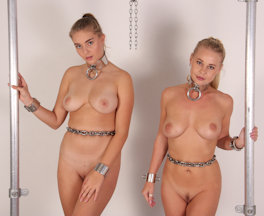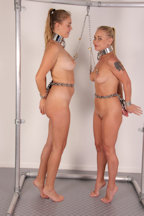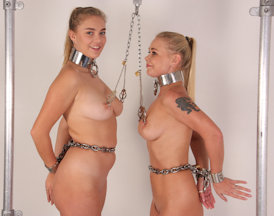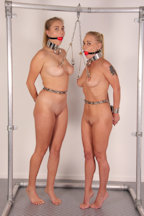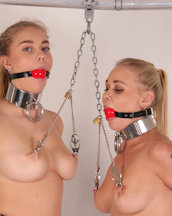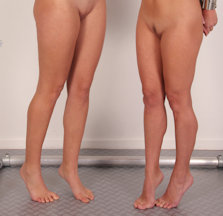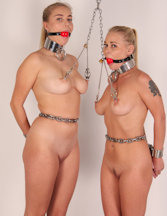 The fun loving Darina Nikitina is back! And I have created a new challenge for her! It's the One Bar Prison, but with a twist! The inescapable dildo pole with rocket shaped attachment is on top of my newest device: the Rotating Display. Darina wears her tallest heels so there will be absolutely no chance of escape. She simply can't lift herself up standing in these heels. As long as she doesn't have the hex key for the One Bar Prison, she is impaled and very stuck. The platform started rotating and Darina became a living display. I wish all shops had these! I would be shopping every day! I even told Darina to put her dress back on. She is the perfect mannequin!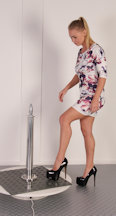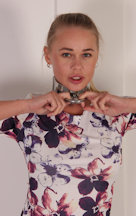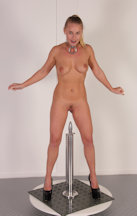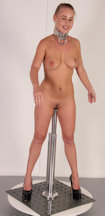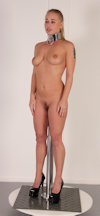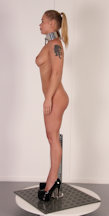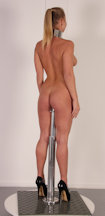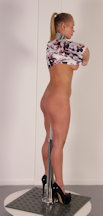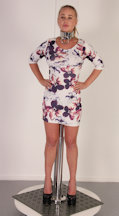 Time for a new invention! The Blowjob Machine! It might be an even better trainer than the spring loaded predicament! Darina Nikitina is the first one to try it: it is a fucking machine with a collar attached to it, instead of a dildo. The dildo is mounted a little higher, and Darina will be on her knees with her wrists and ankles locked so there is nowhere to go. She doesn't even have to do anything! The machine moves her neck back and forth and Darina is giving a blowjob whether she wants to or not. We can even regulate the speed of the machine, it will go on forever and Darina is unable to stop it, she just has to keep sucking!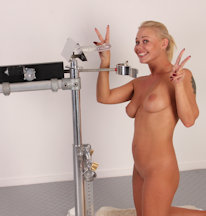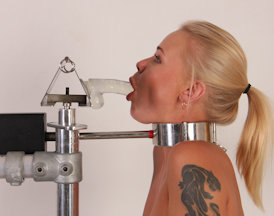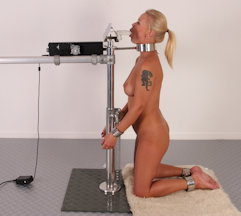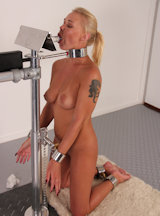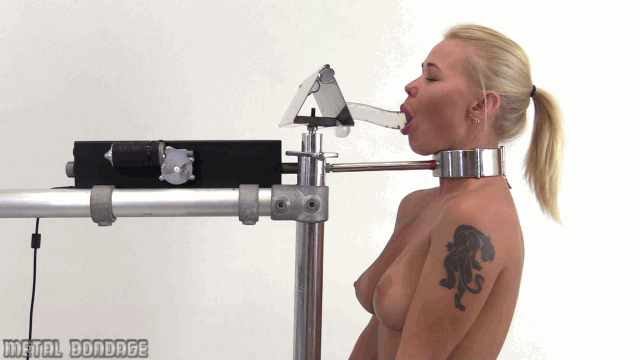 A new challenge for Darina: we told her to sit on the steel pipes, so we could attach her ankle cuffs to them. She was sitting there with her legs spread when we gave her the control box to the fucking machine. Darina smiled, she loves this machine! We let her play for a while, but she had way too much fun, so we decided to cuff her wrists to the wall, so we could operate the controls. Much more fun!!! Darina went for a ride, and she loved it!! Don't miss this awesome update!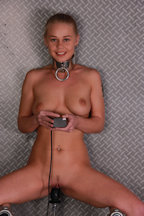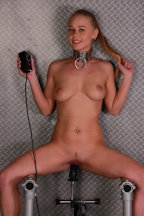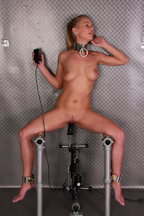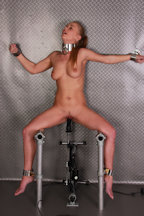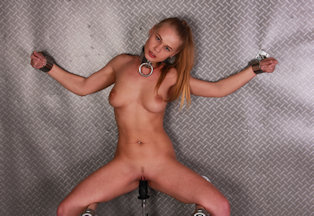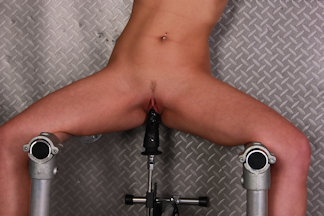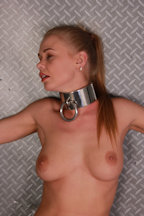 Darina is now used to getting locked in a lot of restraints, but what we have in store for her today was a bit too much, even for her! She could barely move! We used two pairs of SteelBound wrist cuffs, and then a regular pair of handcuffs in front of those and a pair of heavy Clejuso handcuffs behind them. Darina was struggling to lift her arms, it was a lot of steel. Then we added the ultra heavy ankle cuffs, flanked by two pairs of leg irons for good measure. With her heavy steel collar and all these restraints on her arms and legs, all Darina could do is sit there and wait. It was exhausting just trying to move!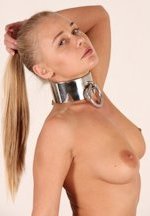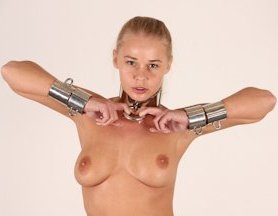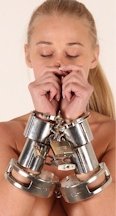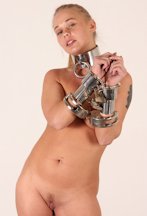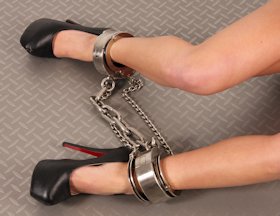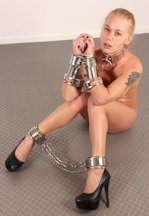 We proudly present (after many requests): the One Bar Prison with vibrator attachment! Now… a little warning here: don't try this at home! Using a strong vibrator on an impaled girl in high heels is not very safe! But that said, we are still going to show it to you, as so many people requested this and our model Darina is a real pro who can handle some stimulation without falling over. It is the ultimate simple bondage: a One Bar Prison and high heels. Girls can not escape from that. They just have to stand there until someone helps them, it can get a bit boring and frustrating. But at least now Darina has something to play with! She can just about grab the wire of the control unit and try all the different vibrator settings and modes. Darina had lots of fun!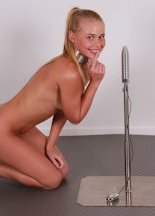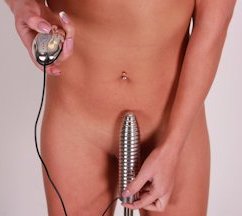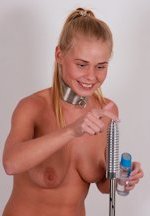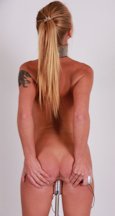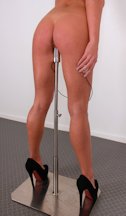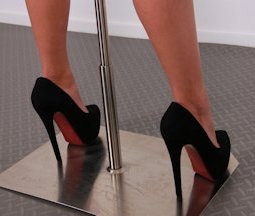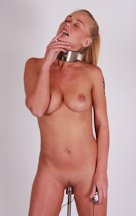 The flawless blonde Darina Nikitina! She is a young free spirit, and she is up for anything. She loves heavy metal and chains and locks, so let's display her in a metal frame today! Her ankles, wrists, waist, and neck chained to the frame, there is no way Darina can get up, so she is stuck on the floor, spread out and helpless. Maybe she will escape if we drop a key nearby? Let's find out and see how determined she is!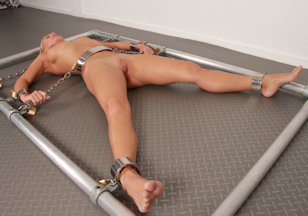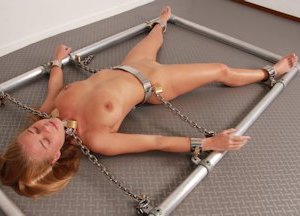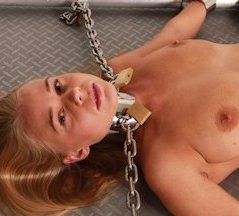 Uh oh! Darina is in some trouble! Well, that's how these 'peril' websites would describe it. We would just say: Darina is locked into a lot of heavy metal restraints, chained to the wall, with a magic wand vibrator pressed against a strategic spot. This isn't peril, or trouble, this is awesome! Darina's neck is firmly fixed to the wall, her arms and legs spread out wide. There is nothing she can do to stop the magic wand from doing its job. Maybe she doesn't want to stop it, we can't really tell. It looks like she is having a good time, what do you think?