All updates featuring
Lolly Anne
In update 666, the tattooed friends are back! Remember Lolly Anne and Dandelion, the alternative girlfriends trying to work together in the Rigid Escape Challenge? They will have to cooperate again today, as I prepared a very special challenge for them. With their wrists cuffed behind their backs (to a waist chain), they will be clamped with connected nipple clamps! The chain runs through a pipe above them. Lolly Anne and Dandelion have to stay on their toes or they will pull on their own and each others nipple clamps! It's hard to balance and it's very painful on their nipples. Gagged with huge ballgags, they can only communicate in moans of pain. It's not easy when you realize you are hurting your best friend's sensitive nipples!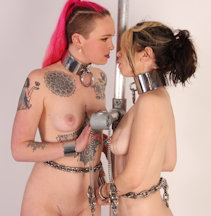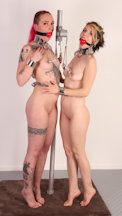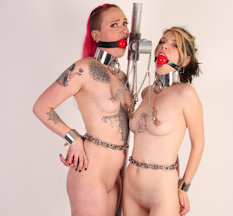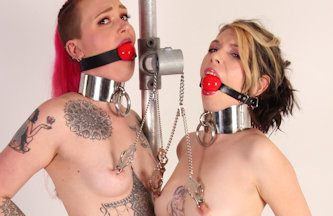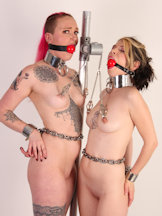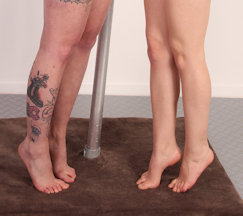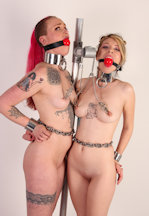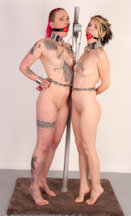 Remember the insane escape challenge I did with Chinese girls Ting and WeiWei? It's been a while since I had a duo escape challenge, so when Lolly Anne asked if she could bring her girlfriend, I immediately thought of this hard predicament. It's more fun because Dandelion is very new to all this. She gets thrown in straight away when her wrists get locked in the RigidStocks that are on Lolly's neck. They sit down and then Dandelion's ankles get locked in the RigidSpreader together with Lolly's wrists. Complicated? Yes. It takes a while to figure out how to move, everything has to be coordinated. The key is pretty far away to start with, so let's see if they can beat this challenge!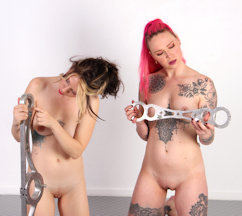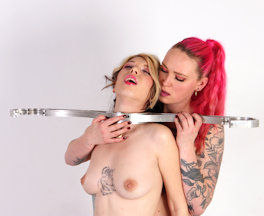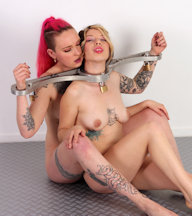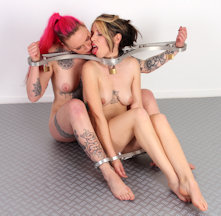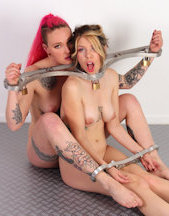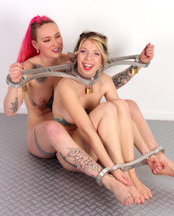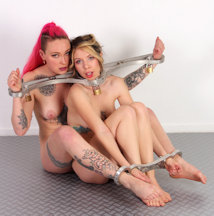 Lolly Anne has never seen any steel bondage items, so she was very intrigued to find a locking mask chained to the wall. There was also a pair of steel mitts which interested her, even if she had no clue how all of this worked. Of course, moments later, she found herself waking up locked in the super tight mask, with her hands secured in the steel mitts. Her clothes were gone, and her nipples hurt a LOT from a pair of nipple clamps. Poor Lolly! She did not tell us about her extremely sensitive nipples, and her mask was so tight she couldn't even speak. Lolly tried everything she could to remove these evil clamps with her fists secured in metal, a painful ordeal!