All updates featuring
Muriel
Muriel loves steel bondage so much! She is going back into the dungeon for another challenge, she will be locked in a lot of steel for the afternoon. But even when she is waiting for what is going to happen, one pair of thumbcuffs already changes her breathing. She is almost moaning in anticipation for more heavy metal. Soon, a lot of gear is locked onto our lioness girl. First, her neck is locked in metal stocks and chained to the ceiling. Then a RigidFiddle is added to her neck and wrists. Muriel is getting more and more excited. A spreader bar keeps her legs apart, and finally a chain is locked from her fiddle to the bar so she has sit in an awkward position. But it's awkward for Muriel at all, she's loving it!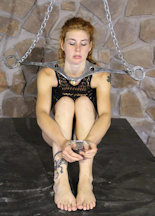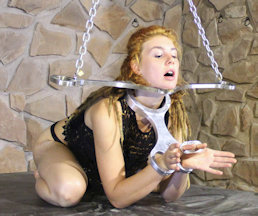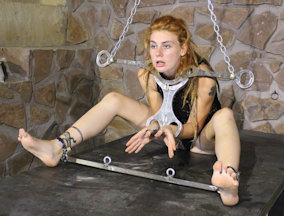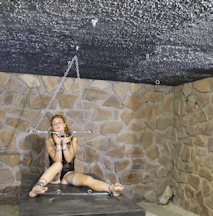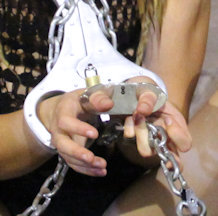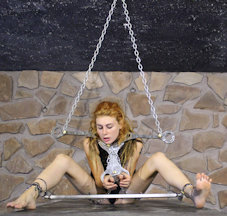 The lioness is back! Bondage addict Muriel from Germany is here again to get tested. This time we put her in a metal bondage predicament that is not as easy as it looks! Her arms are bent and locked to her tight steel belt and her elbows are chained together. Wearing a tight ballgag, Muriel must attempt to escape this position, but it is already hard to reach the keys on the floor! She tries to take out the gag, but she can't reach that either. And then, when she gets close to her escape, we sneak in and take the keys away. This will be a fun struggle to watch!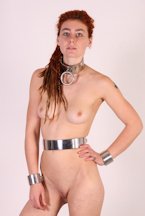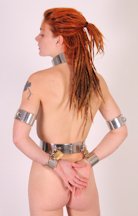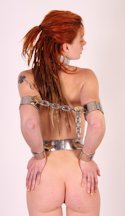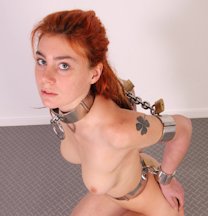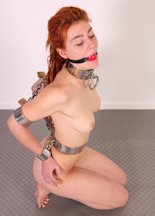 Remember Muriel's visit to the dungeon? Her friend Nova wanted to get chained up too! So they both went back to the dungeon to get chained together. It was a great experience for both, two nude friends, together in metal bondage. Muriel was locked in chalet cuffs and Nova was restained with long spreader cuffs. Nova's wrists were behind Muriel, so they were stuck together. They got ankle cuffed, and then a heavy crotch chain was added and locked to the ceiling. One girl's movement would definitely be felt by the other girl. Trying to keep still wasn't as easy as they thought!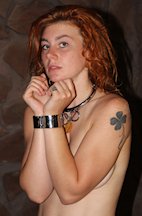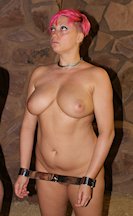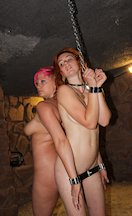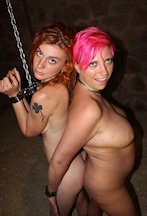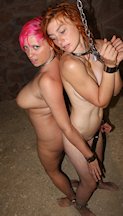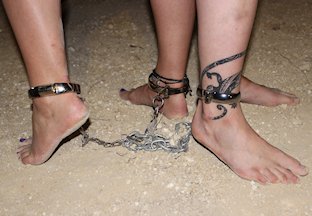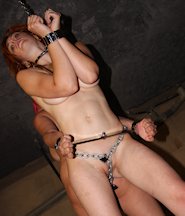 We have the gorgeous German bondage model Muriel again! And we took her into a newly built dungeon to do some raw photography and video. Muriel loves bondage so much, she couldn't wait to see what we had in store for her. She was a bit disappointed when we told her she just 'had to stand there'. Little did she know that standing can be a very harsh predicament. We added chains to her collar and cuffs, then chained her neck to the ceiling. Her feet were chained to a huge rock and her wrists were pulled up behind her back. Standing like this, with no option to rest or sit down, will become a very intense punishment very quickly! Muriel discovered that during this afternoon of fun!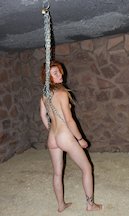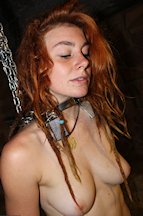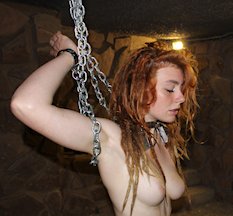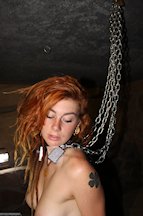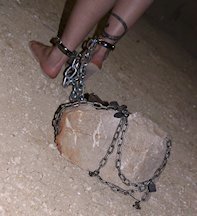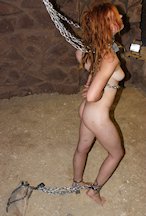 A new girl on the block! Quite literally, because Muriel is new to our website and she has never been locked into a heavy Neck Block before (no one has, because it's a new piece of gear). But Muriel is not new to bondage. In fact, this German girl is an experienced bondage model and she loves to try new things! Well, we have just the thing for her today. This new Neck Block has a very small opening so it is going to be very tight. But most importantly: it is super heavy. Muriel discovered she can't really lie down to take the weight off, but she was doing quite well… until we locked her wrists to the sides of the block. Now it was a challenge!