All updates featuring
Nina
I have several pairs of stainless steel high heels, as I have commissioned different manufacturers to make a pair. It was never perfect, but it is interesting to see the different designs. Stainless steel heels are awesome torture devices. They can be locked and they are very hard to walk in. Nelly and Nina didn't know that, they were happily coming in for a shoot, joking around, until they got locked in these devices. They tried to stand and walk, and pose in these brutal heels, but it wasn't easy. But Nelly and Nina are always cheerful, so I got some great shots of these two! It's a beautiful day when I get to shoot two naked collared girls in steel high heels!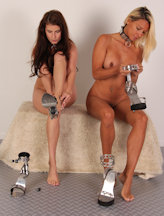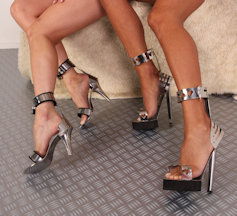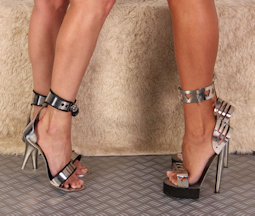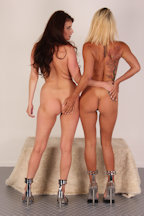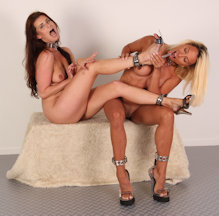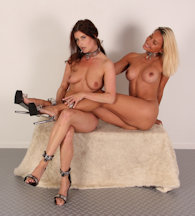 Nina and Nelly are back! These girlfriends can't stop touching each other, so we locked them in chastity belts (of course). As you may remember, last time they kept trying to kiss each other, we had to separate them by locking their necks to the slave post. Today, we have a better solution: two Scold's Bridles! Now they can try to kiss all they want, but their masks are locked on and can't be removed without the keys. Nelly is locked in a Carrara Locking Mask, and Nina is locked in our own Scold's Bridle. We neck cuffed them together, which was even more frustrating. Now they are stuck together but their chastity belts and masks prevent any intimate contact! Very unhappy metal girls!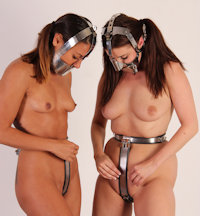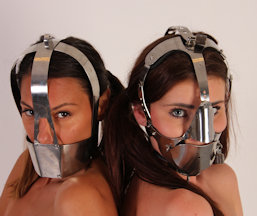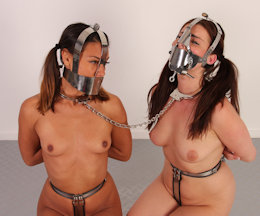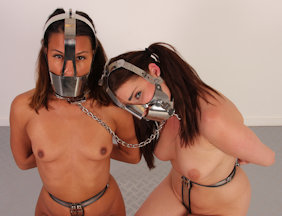 Nelly has a new girlfriend! We saw pictures of them together on social media, and Nina looks like a fun girl. We decided to invite them over for a duo shoot, we just love female couples. It is fun to think of ways to separate them in a very frustrating way. These hot girls just can't stop touching each other. Fully nude, Nelly and Nina were locked into heavy locking collars, and cuffed with 4 pairs of handcuffs each! Then we told them to padlock themselves to the slave bar. They didn't realize they would be JUST too far apart to kiss. So close and frustrating!