All updates featuring
Roswell Ivory
The lady Roswell Ivory is back! Unfortunately for her, we aren't going to treat her like a lady. We are going to lock her in a RigidStock! Naked! Surely, she will protest, this is no way to treat a lady! So we will gag her as well, with a big ballgag. But we are not all bad, we will leave the keys to the RigidStock on the floor. Roswell does not know there are three different keys for the three padlocks. So even if she can reach a lock (which is virtually impossible), she may not even have the right key! Let's see this lady struggle for a while!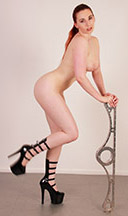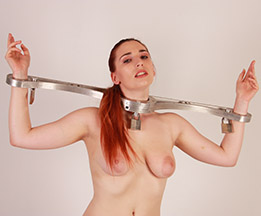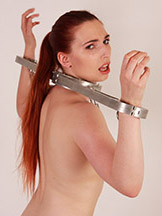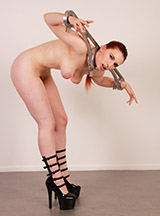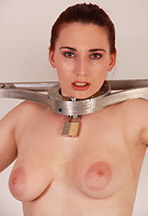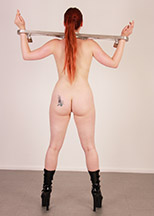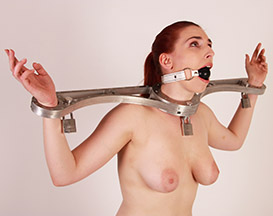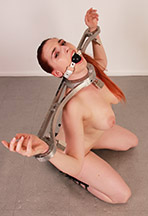 What if we put the Lady Roswell Ivory in some metal, chained to a frame by her ankles and harness gag? She needs her hands to support herself and her wrists are locked together. Still, Roswell is able to do some creative posing, even managing a planking position, which is quite a good workout! We are not sure if she is completely secure, this pose may need some changes! Members, please let us know how you would change this to make it even more interesting!! In the meantime, enjoy a naked Lady!!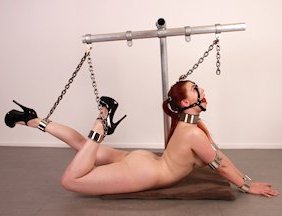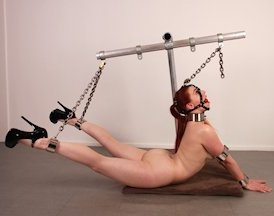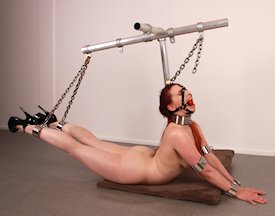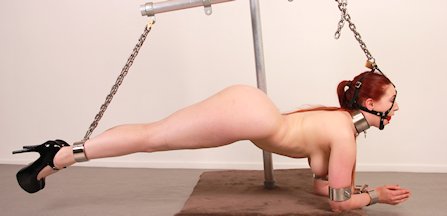 Lady Roswell Ivory can take huge ballgags! I had a brand new shiny 2 inch gag waiting for her, but I know she is a stubborn lady. She would take it out after a few seconds, because it would stretch her jaw too much. That's not proper gag training! So I turned her into a slave girl once again, big heavy collar, chastity belt and chain breast harness. The lady is hard to tame, she just isn't used to being treated like this! To prevent her from removing her gag, I enclosed her hands in steel mitts! The huge gag was stretching her jaw for over half an hour! Watch the helpless lady try to remove her gag, it's a beautiful sight!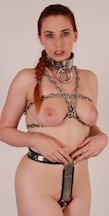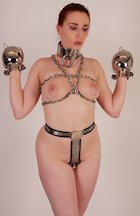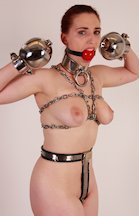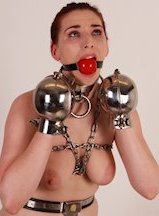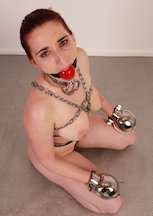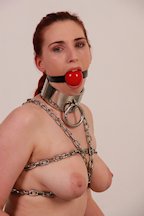 Lady Roswell Ivory is so composed and graceful! That's why it is such fun to lock her into a chastity belt, naked, and padlock a very heavy collar on her neck. Not at all lady-like, although she still will try to pose in a dignified way. Let's see if we can make her a little more submissive and worried… Some members have suggested we should try this locking breast press. We didn't build it, we bought it, and that was probably a mistake. It doesn't work really well, as the arch of the metal press plates is too big. But it is locking in the back, and it does work well enough to make Lady Roswell a little concerned about turning those wingnuts more and more… We will have to build one of these ourselves!!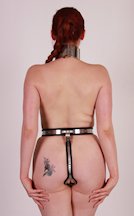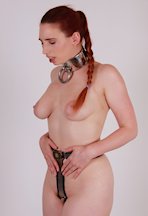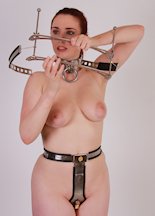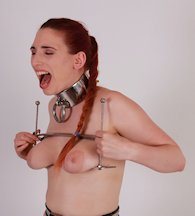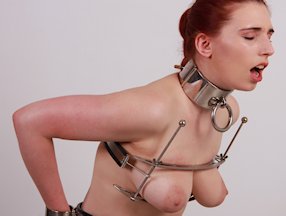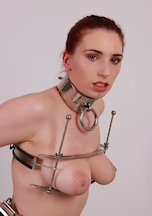 The Red Lady returns! Even though she says metal bondage is beneath her, she keeps coming back for more! Maybe she secretly likes our heavy gear? That's what we tried to find out in today's update! Looking at Roswell Ivory's curves, we realised she might be a perfect fit for our Steel Hobble Dress. The dress is super heavy, and once it is bolted on, it is primarily held up by the waist belt, the smallest part. It looked incredible on Roswell, her boobs are just the right size for the dress. Of course, she complained about having to hold up the dress to relieve pressure on the top of her boobs, so we helped her by padlocking her wrists to her waist, so she could support the weight whenever she liked. There are some incredible pictures and a video for you to study the fit of the dress on Roswell's body! Don't miss this one!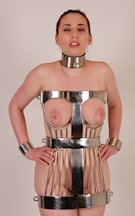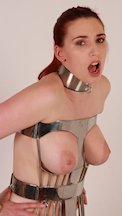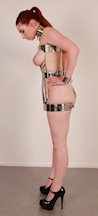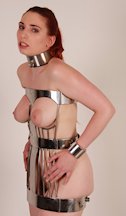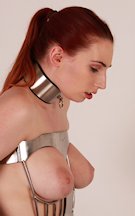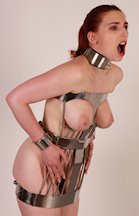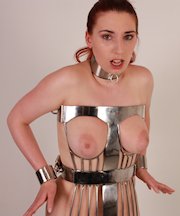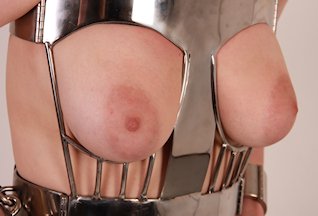 Remember this upper class lady? Roswell Ivory thinks she is royalty! And we happen to have the perfect custom metal gear for a true lady: the Iron Crown firmly locks wrists to the sides of the neck. It is a replica of a medieval design, very rarely seen, but it actually existed! Now this posh lady is powerless in her tall heels, trying to get out of this evil contraption. She is of course belted, so nothing can happen to her, but it seems she still wants to get out. As an afterthought, we decided to ballgag her with a huge 2 inch ball, not very lady-like, but hey… Roswell can take it!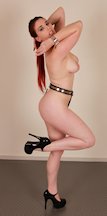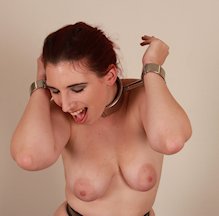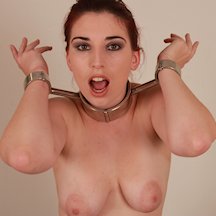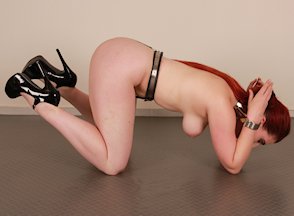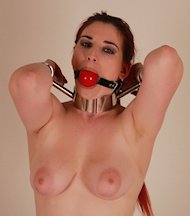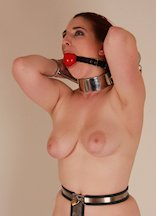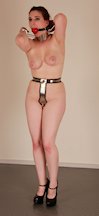 Roswell Ivory is back, and there is no excuse this time: she needs to belted as per popular member request. We barely give her time to get used to the metal chastity belt, presenting her with her next assignment: to lock herself in the cage and its built-in collar. The padlocks are provided, the keys are not. Once she locks the heavy cage door and then the collar around her neck, there is no escape until we release her. But Roswell Ivory is a very tall lady, will she fit in the cage? It will definitely not be comfortable, belted, on her knees, neck locked in unforgiving metal. And then we cuff her hands out of the way… What a lovely view, we are not going to let her out for a while, that is for sure!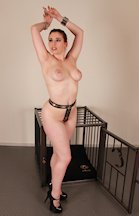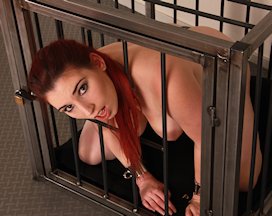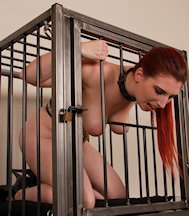 Please welcome the Lady Roswell Ivory to MetalBondage.com! She is quite a high class British woman, but don't be fooled by her posture and posh accent, Roswell is a true submissive bdsm player! We make her feel right at home by locking her into the biggest and heaviest collar we could find. Naked, Roswell Ivory is presented with the RigidSpreader and left to figure out how it works. She eventually works it out and pleads us to lock her into it, because it looks like fun. After about 30 minutes, all fun is gone however, and Roswell is behaving rather un-lady-like…