All updates featuring
Sophie
Beautiful Sophie is back! And it is time for some nipple clamps! Unfortunately for her, she is one of the most sensitive girls ever. We told her she wouldn't get out of the chastity belt until she clamped herself. With great effort and a lot of moaning, Sophie managed to put the clamps on her nipples. She immediately wanted to remove them, so we had to lock her in the Iron Crown to prevent that. Watch Sophie deal with the clamps, it's not easy for her but she will get used to them… eventually.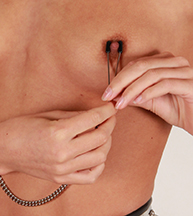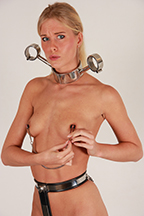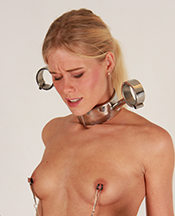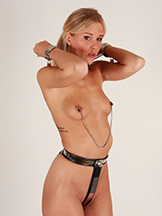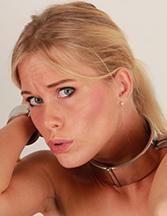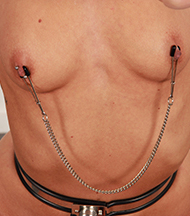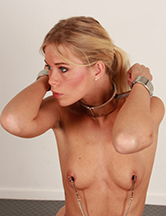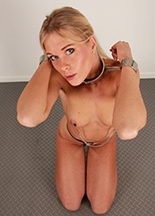 Beautiful tall Sophie in her chain style NeoSteel chastity belt! She was doing some challenges for ChastityBabes.com, so we figured we could lock her in some metal devices to give her something to do! We locked her into the collar, wrist cuffs, and ankle cuffs of the Connect-A-Model (TM) System. The red parts you can see are rubber bushings to make the connections more rigid. Sophie had no clue what was going to happen. We connected her wrists to her neck, and still she did not guess what position she was going to end up in. Only when we connected all 5 points into a stork (or scavenger's daughter) device, Sophie realised that it was not going to be easy to spend any time in this, sitting on the floor in her chastity belt!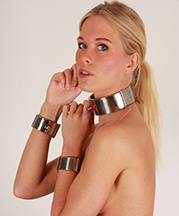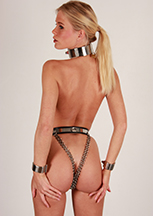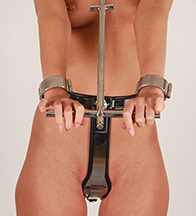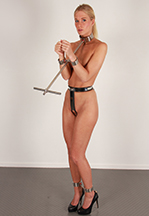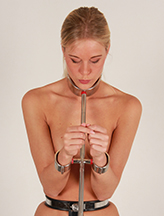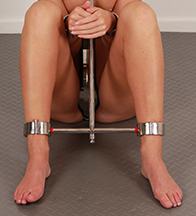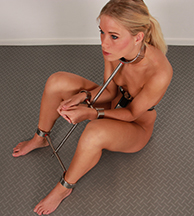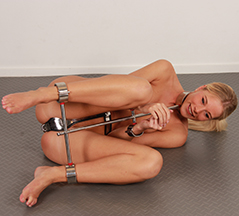 We were doing some tests and Challenges with the gorgeous tall blonde Sophie, and while we were at it, we decided to lock her into the super heavy custom stocks for a while. Just because they look so good on a girl. Yes, it's a heavy device, but carrying the weight is a lot easier when it is locked on (as Cobie found out last week). It's nice and tight on tall Sophie, and in her chastity belt, heels, and stockings she looks so good we may never let her out again. Actually, we had her in these stocks for a long time! She is a sub and her Master told us to challenge her for a few hours!