All updates featuring
Sylvie
The gorgeous Sylvie is back in full chastity (bra, belt, and collar) and she is super curious what we have in store for her today! Well, we think she is going to regret her curiosity when we present her with two new items that are very extreme! First, we squeeze her arms into the Bagno Arm Screw, a classic design made for wrists, but we use it to push her elbows all the way together! Tight metal elbow bondage!! And then, to make sure she doesn't run off, we introduce our Ultra Heavy Ankle Cuffs to her: these cuffs weigh in at about 2 kilograms each without the heavy chain! Sylvie is stuck and going nowhere… unless we help her a little.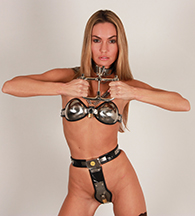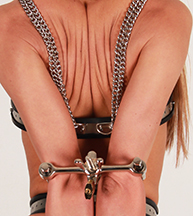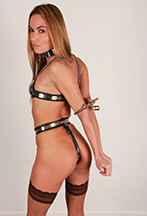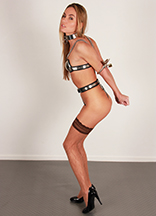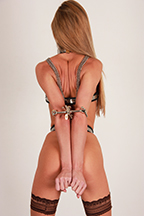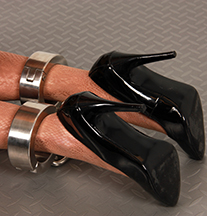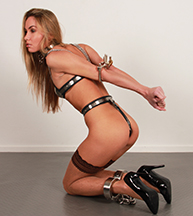 The super gorgeous fashion model Sylvie is back! She is so delicate and tiny, a tight chastity belt looks big on her! But she definitely needs a chastity belt, she is so naughty! She also needs nipple clamps. But Sylvie would take them off after a few minutes, because they hurt her poor nipples too much. So we need to get her hands away from her boobs. The usual RigidStock was locked onto her neck and wrists (a bit heavy for tiny Sylvie but hey), but much to our surprise she could still reach the clamps! So we had to take more extreme measures: we locked her hands into steel mitts! Geez, it's hard to make this tiny fashion model suffer a little!!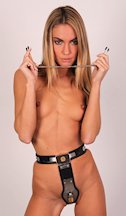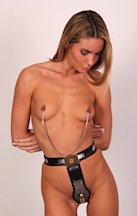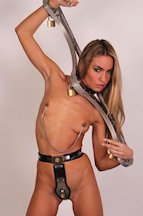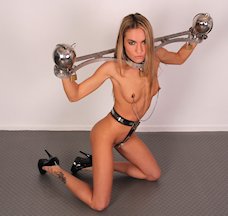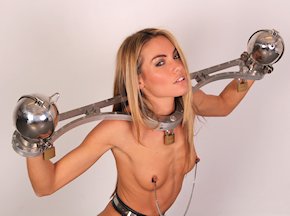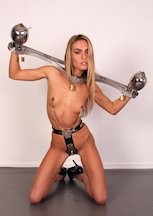 Another fantasy feature update! Wouldn't it be great if you could own a fashion model pet! As it happens, we know one of the most beautiful professional fashion models in the world! The gorgeous Sylvie has travelled to almost every country, modelling for big brands at the most amazing locations! And now she is modelling her pretty dress for us… such a spoiled rich girl! With her tall slender body she would make a lovely pet to have around the house for 24 hours a day! Let's kidnap her!! She can keep her fancy jewelry and lingerie, we just removed her dress and locked her neck in a heavy tight metal collar! Chained to the wall, her only company a pet water bowl, Sylvie wakes up in a completely different world…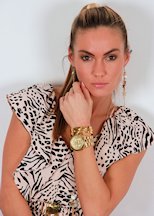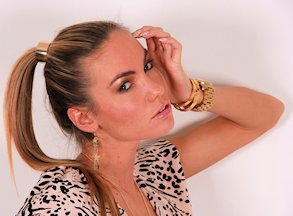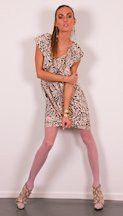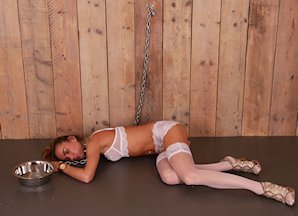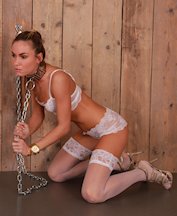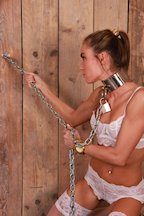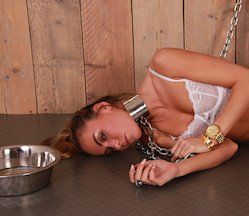 The gorgeous Sylvie returns! Possible one of the most beautiful faces on this planet, the tiny framed Sylvie is not afraid to try anything! We have her locked in a chastity belt and chastity bra, and she is going to take on the extreme Posture Fiddle!! This is going to be good! This custom built tall heavy fiddle is locked with two different block padlocks. The height and the rigidness are severely limiting, it is hard even to turn from side to side! We can leave Sylvie with the keys, she won't be able to escape… it will just be a lot more frustrating!!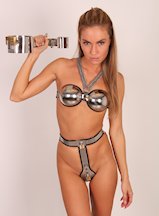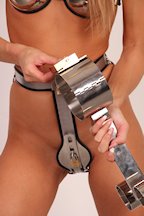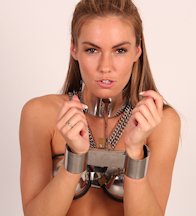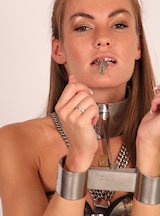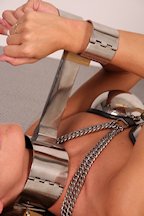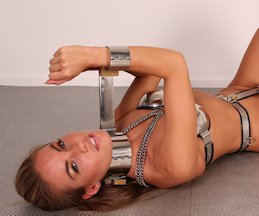 For years, scientists have tried to find a solution to this age-old problem: how can you get a girl to wear a chastity belt AND a waist belt at the same time? We even did quite a few shoots without chastity when a metal waist band was required for the bondage position. But now, with the help of the stunningly tiny fashion model Sylvie, we think we found a solution! We figured if we just use elbow cuffs and attach them to the waist band, it will keep the waist band high enough to allow for a chastity belt to be fitted. The problem is, the elbow cuffs and waist will drop down inevitably… so we solved this by keeping the arms slightly bent with a spread bar! Brilliant! Take that, scientists!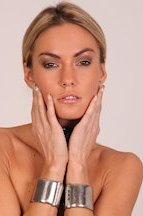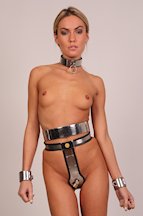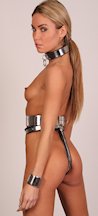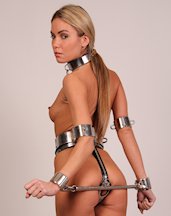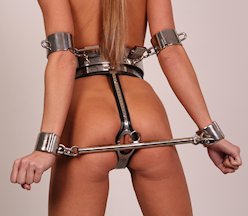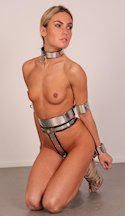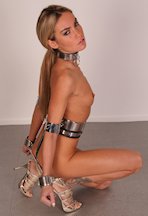 New girl Sylvie is perhaps the most beautiful girl we have ever seen! She is very tiny, with a perfect slim body. Usually we allow the model to wear some underwear on her first casting shoot, but we just HAD to belt her (sorry Sylvie). Sylvie looks incredible in a chastity belt! Of course we let her take the fiddle challenge to see if she is MetalBondage.com material, but we already know it doesn't matter if she escapes or not: we want her back!! Actually, there are only 2 models who ever escaped from a fiddle, and for beginners like Sylvie it's just plain impossible. But wow, does she look good struggling in a chastity belt and RigidFiddle!