All updates featuring
Valentina Bianco
I built a Sybian seat! And Valentina Bianco is the first one to try it. I didn't like it when models could touch the floor with their knees or feet, because then they had control over how hard their clit was pressed onto the Sybian! With the Sybian seat, models will have their full weight on the most powerful vibrator in the world, without being able to lift themselves up. It will be awesome! Once you are locked to the seat (wrists, collar, and ankle spreader bar), you are in for the ride! Models on the Sybian seat have no control at all! Check out the video and picture set to see what happened to poor little Valentina!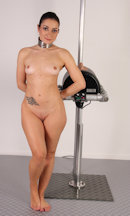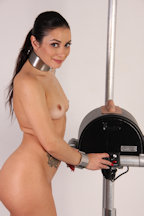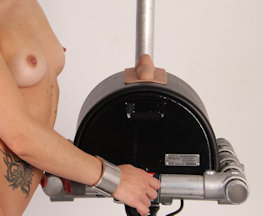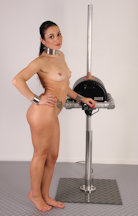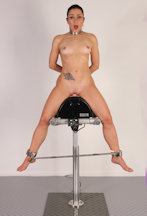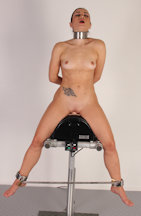 Of course, it is a tribute, but I hope you will forgive me. I just HAD to try this out! With the cooperation of a rather bemused Valentina Bianco, I tested my first prototype for the Portable Fucking Machine! It was pretty epic! Of course, many things need to be tweaked still, but I couldn't resist showing this to you. It will have better angle adjustment, a battery pack (of course), and a better body harness. The goal is to be able to wear it under clothes (skirt and top). Imagine walking around doing your daily tasks GETTING FUCKED ALL THE TIME. I was so excited, I forgot to collar Valentina. I hope you like this special 600th update of MetalBondage.com!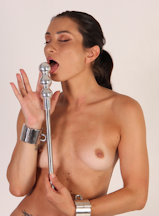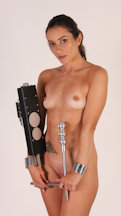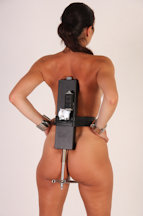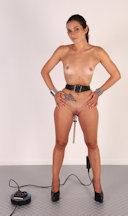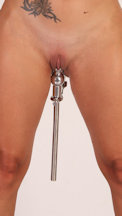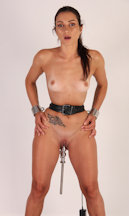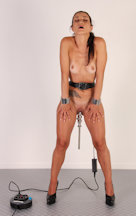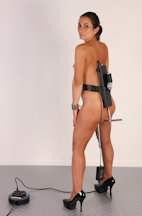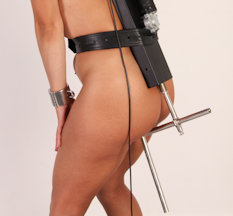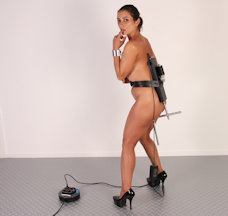 Please welcome Valentina Bianco to MetalBondage.com! This tiny girl loves to play with herself, so she should really be locked in a chastity belt. But let's be nice for once and give her what she wants. She won't be able to play with herself though, and it may be a little bit more than she asked for! The metal frame locks her in a fun position with her legs up and her wrists stuck to the steel pipes. A magic wand is placed right on top of her clit, and the fun starts! Watch how she stops struggling when the magic wand is turned on! This girl has got her priorities straight!