All updates featuring
Honeyhair
The incredible Honeyhair returns! This famous fetish model has a certain doll-like look, which makes us want to put her in a really immobilizing postion, like a doll would be packaged! We have done frames before to lock a model's wrists and ankles in place, but what about the neck? We found the perfect solution by using our custom built stocks to rigidly restrain the gorgeous Honeyhair in place. She couldn't move an inch! She started to protest a little so we had to gag her. This is a statue everyone would like to have at home! Especially if the keys to her chastity belt are included!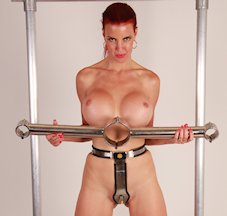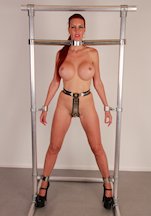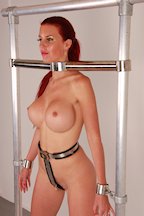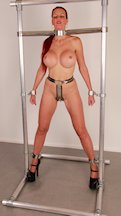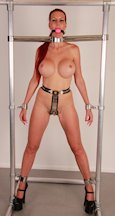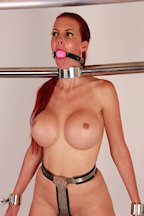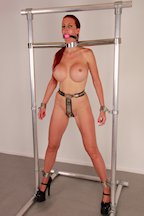 Honeyhair is a very unique model! Not only does she possess massive boobs, she is also super flexible, which is a rare combination. She is like a life size bondage doll, and we love experimenting with her, just to see how far we can go. Locked in a chastity belt (of course), massive collar, elbow cuffs, and wrist cuffs, Honeyhair is stunning, like a statue. We locked her wrists and elbows together, and added a spreader bar to keep the cuffs in place. This is very extreme, Honeyhair's arms are so rigidly bound in metal, it is almost like they are welded together. There is no chance of escape. Hats off to this girl for pulling off this position, there are only a few girls who can do this, and none of them have huge boobs!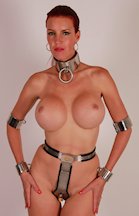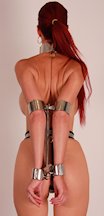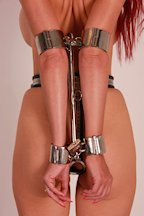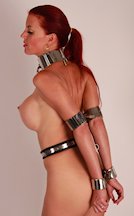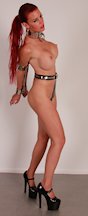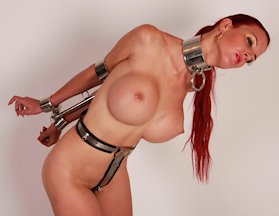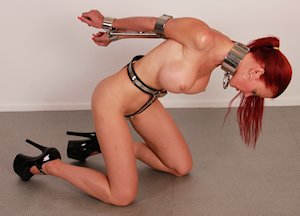 Finally, we have belted the incredible Honeyhair! It is her second shoot, so she had to wear the belt. And to get out of it, she has to do something very interesting: self clamping with Japanese clover clamps, which are among the most powerful clamps out there. But Honeyhair has a problem: her nipples are super sensitive for two reasons: her boob job and her nipple piercings made her nipples so sensitive she doesn't even let anyone touch them. And now she has to clamp them to get out of a chastity belt! Life can be cruel!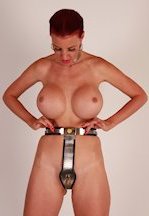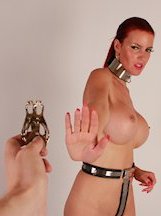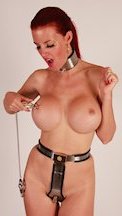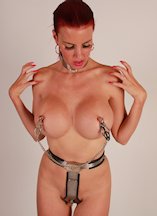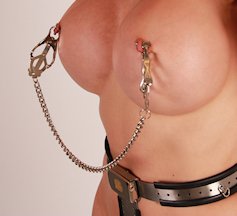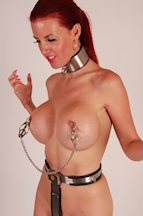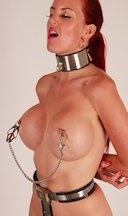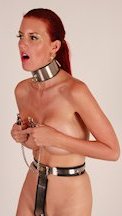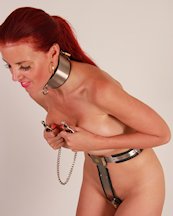 Please welcome the spectacular Honeyhair to MetalBondage.com! Getting ready for her first shoot, she decided to wear a tiny latex thong and very high heels! A perfect opportunity for us to get her hands out of the way to get a good view of her prized assets! Honeyhair was surprised by the Iron Crown, thinking it wasn't that bad at first. But when we chained her ankles to her waist so she could not even get up anymore, she started to hate her predicament more and more. Tossing her the keys, and watching a frantic struggle of boobs and chains, we decided she was a keeper! This is a girl we would love to see in a chastity belt, and more metal. A lot more metal! Welcome, Honeyhair!