All updates for
July 2014
After a lot of designing, fabricating, and polishing, we came up with a way to make a very rigid metal box tie! MetalBondage.com proudly presents: the Rigid Box Tie Device! This modular device connects the neck to the waist with an adjustable heavy steel plate (for girls of different heights), and has a heavy steel adjustable waist belt. In between, there's a solid heavy box with two small wrist cuffs inside, which will keep the arms in a perfect position. This device is inescapable, as our test model Yu found out. Even with the keys, she couldn't do anything at all. Naked and angry, Yu looks awesome in our new device! The front view is so minimalistic with its clean collar and waist belt! A perfect posture training device!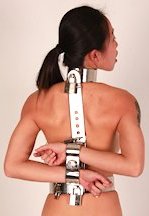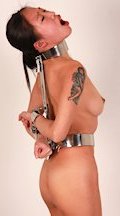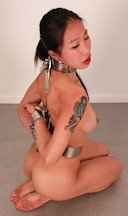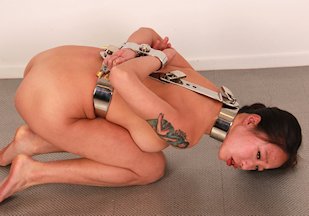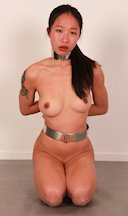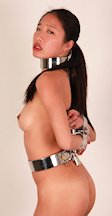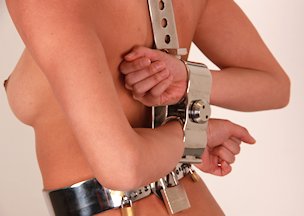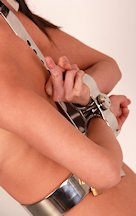 Another new model at www.metalbondage.com!! This girl combines a pretty face with incredible curves! Bridget came all the way from Italy to model for us, even if she did not really know what it would be like. We don't expect her to come back any time soon, so she had to be belted on her first shoot. We wanted to sculpt her into a figurehead-like statue, because of her incredible boobs! We cuff her to a frame by her wrists AND elbows for extra security, and attach her ankles to the frame as well. High heels gave her a nice posture, but it was not enough. We added a back bar to push her chest forward, making her boobs stick out all the way! If we ever buy a MetalBondage.com ship, this should definitely go on the bow! What a great figurehead!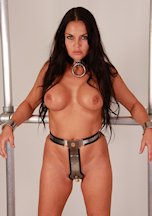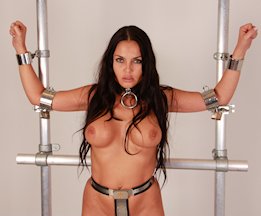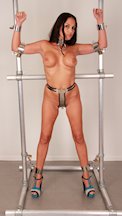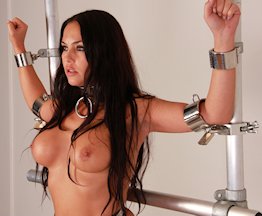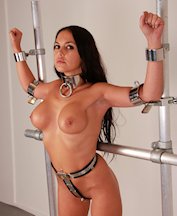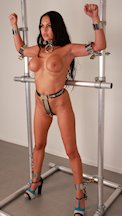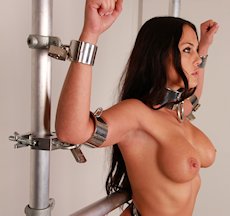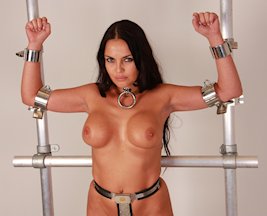 Even Germany's biggest bondage star, Yvette Costeau, was getting curious about 'this metal bondage website'. We are very proud to have her, she doesn't do many shoots other than her own! This is one of the toughest girls around, so we decided to show her our custom made Ballet Stocks. Yvette was intrigued, with all of her experience she had not seen anything like this before. We quickly locked her into it, and it was a very tight fit! It's a hard position, but Yvette liked it, until we nipple clamped her… because that's just the most frustrating thing to do to a girl in Ballet Stocks! Turns out Yvette does not like nipple clamps at all! Well, tough luck, try to get them off yourself! And stop swearing in German ;-)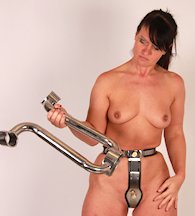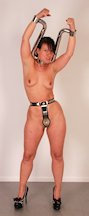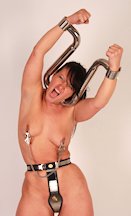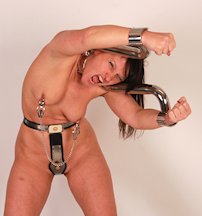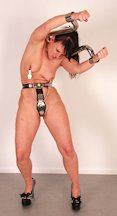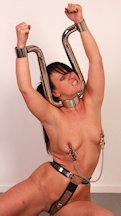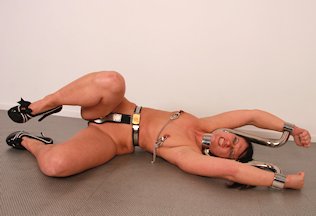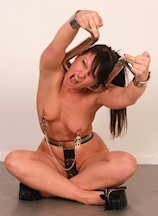 Please welcome the cute young Julia to our website! She is a little shy, hesitantly asking if she could try metal bondage… Of course! We wasted no time locking her into a chasity belt and bra, and wow does she look great in that gear! We cuffed her hands behand her back with heavy manacles and showed her a metal pole with a single neck cuff dangling from it. Julia was curious and afraid. As soon as we locked the neck cuff onto her, she understood what her challenge would be. The cuff was sliding ever so gently down the pole, and if she let it go, she would have to go down with it. Eventually, Julia's neck reached the floor. Surely she was completely helpless now? Or was she? This girl is so talented!!