All updates for
July 2017
Misha! The fitness babe who loves (and hates) chastity belts! She just looks incredible in her tight NeoSteel belt, her muscular body is just asking to be restrained in lots of sturdy metal! We have an extreme position for her today: her arms are completely immobilized in a reverse prayer! Her biceps are straining against the elbow cuffs, and the chain prevents her from even moving an inch. Her arms are perfectly pinned behind her back with no movement at all. We can even see her fingertips over her shoulders, it is that tight! When we throw the keys on the floor, Misha can't even reach them. She is helpless in this extreme heavy metal bondage position!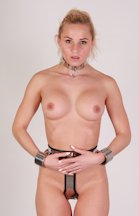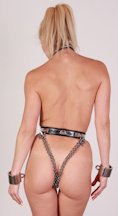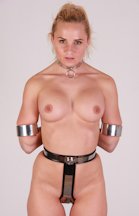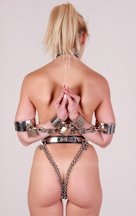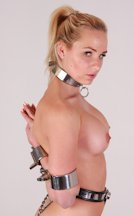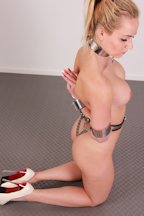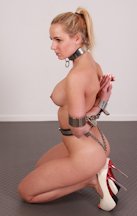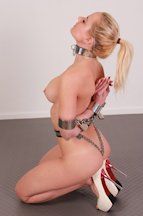 The flawless blonde Darina Nikitina! She is a young free spirit, and she is up for anything. She loves heavy metal and chains and locks, so let's display her in a metal frame today! Her ankles, wrists, waist, and neck chained to the frame, there is no way Darina can get up, so she is stuck on the floor, spread out and helpless. Maybe she will escape if we drop a key nearby? Let's find out and see how determined she is!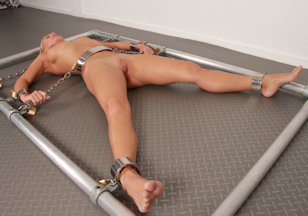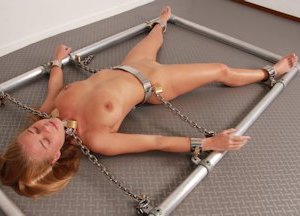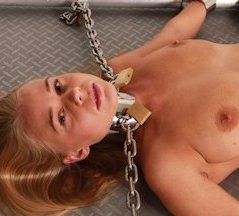 One RigidStock and one RigidSpreader. And two crazy Chinese girls. Let's see if we can make the most of this opportunity! Ting and WeiWei love strange things, but being locked together in heavy metal is new to them (well not entirely, but this time it's very rigid). It's so confusing, it takes a while to figure out how they intertwined they are if you look at the pictures. Ting's neck is in the RigidStock, WeiWei is sitting behind her with her hands in the same RigidStock. Ting's hands are in the RigidSpreader, while WeiWei has her legs wrapped around Ting with her feet locked in the same RigidSpreader. All 5 padlocks face away from their hands. There's a key, but they will have to cooperate very closely to move around and get it. And even then… they probably can't get out.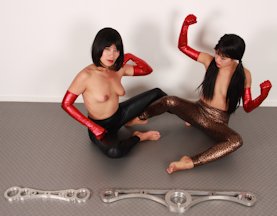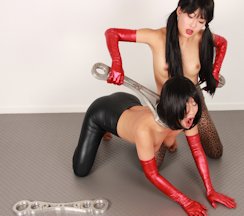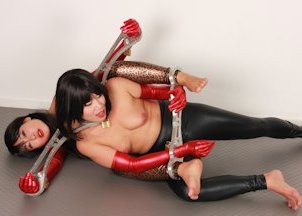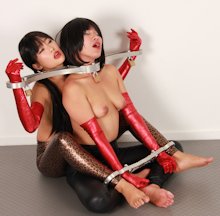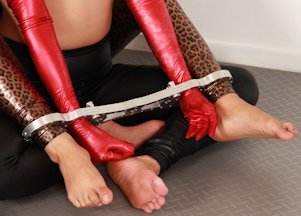 We finally have them! Stainless steel high heels! Often requested by our members, these torturous shoes are an amazing piece of engineering! We are still in the process of tweaking them though, as Tiffany finds out. She is the lucky girl who gets to test these heels for the first time ever! The heels lock very tight around her ankles (perhaps a bit too tight), so it is hard for her to stand up. It is all very rigid. Tiffany is an expert in walking in high heels, but she stumbles around in these metal high heels as they are very rigid and uncomfortable. Well, no one said it was going to be easy! We will continue working on some other designs, but we think this is a very good start!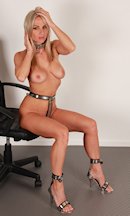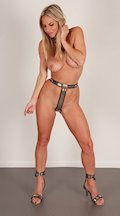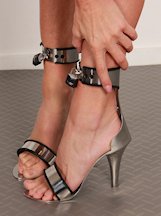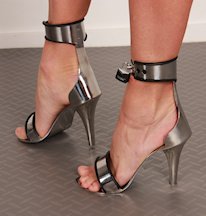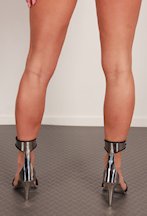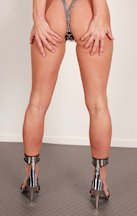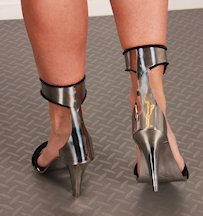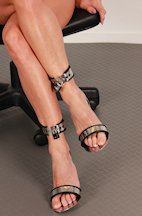 When the fabulous Stella Cox was over for a ChastityBabes.com challenge (check it out!), she got really frustrated and horny, so we decided to finally give her what she wanted. We chained her ankles and wrists to the wall so she was completely helpless. A magic wand was positioned and bolted down, resting on her sensitive pussy. All we had to do is turn it on and sit back to enjoy the fun! Stella got what she asked for, but maybe a bit too much?