All updates for
August 2010
The iron crown returns! This time it takes Vanessa by surprise. The tightly chastity belted girl does not seem to like this device much. We don't understand, we love the iron crown!! What is not to like about having your wrists rigidly connected to your neck, leaving every part of your body completely vulnarable? We made this replica of a medieval restraining device for educational purposes, of course. Iron crowns had almost vanished from memory, so we had to keep history alive! Vanessa just thinks it is a stupid piece of metal, and she is not happy. Little does she know how fabulous she looks, like a queen… wearing her crown :-)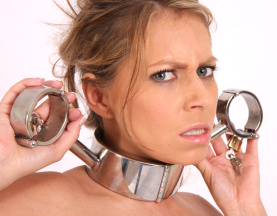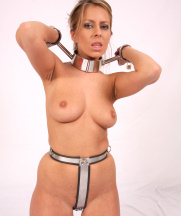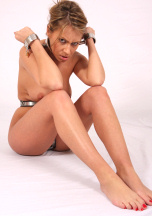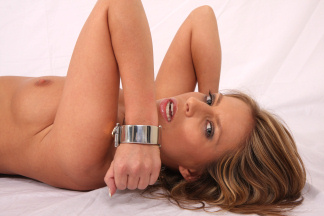 Please welcome raven haired Carie to MetalBondage.com! As with most new models, we take it easy on her. Just getting her used to wearing heavy metal, so she will know what to expect next time… or so she thinks… Carie is collared in our custom made heavy collar, but we have some brand new toys for her too: a pair of tight cuffs with a fixed heavy chain and a nice long spreader bar for her ankles. Carie feels right at home here at MetalBondage.com, although she does not believe her bondage is inescapable. Oh well… let her try… she will calm down eventually!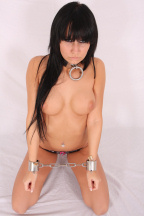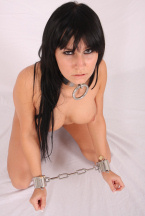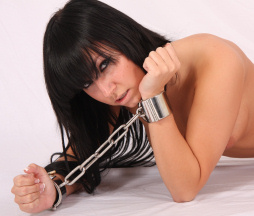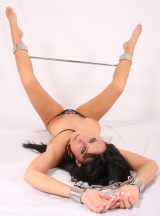 It seems we have neglected to gag our models lately… we were probably too busy with all the new girls and gear we had! Unfortunately for Janna, this time we remembered to use a ballgag – a huge one, which almost none of our models can take! Janna tries, and she manages to get it into her mouth. We quickly locked her into the RigidSpreader before she can take it out again! Janna Grace is definitely one of the upcoming fetish models on the internet. Look how easily she can do the RigidSpreader hogtie, a very hard position, even when there isn't a huge ballgag strapped tightly into your mouth!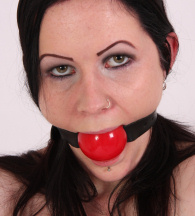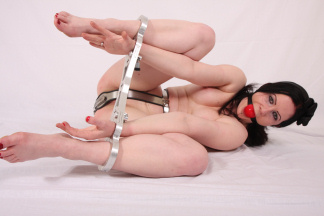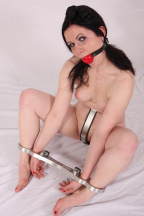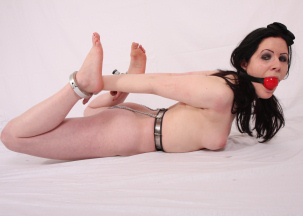 Yes! They are back! Tracy and her trusty tanned friend Ashley Bulgari decided to visit us again! These girls can't stop touching each other. with all this kissing and fondling each others boobs, we thought it would be good to give them a MetalBondage.com obedience training. This means chastity belts, of course, and matching locking collars. It also means kneeling and patiently waiting for your master. Well, that's where it all went wrong… The bar separating these two pet slaves wasn't long enough, and they soon found out they could just reach over enough to kiss. And fondle. And giggle. And struggle in their collars. Sigh…. We guess more training is needed…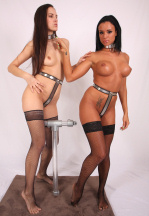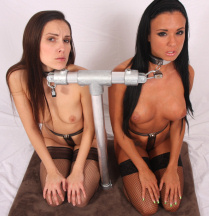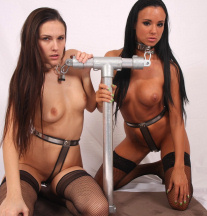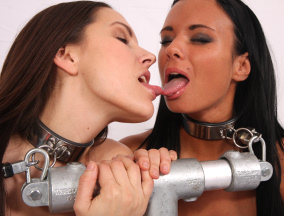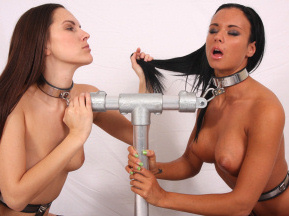 A custom made very heavy stock and Angela… it's really all you need to make life a little more bearable. Angela could be a spokeswoman for this thing, she would sell thousands of them in no time! Once locked into the stock, Angela humors us by trying to reach the cute little padlocks with the keys. Does she know it's impossible? Or does she really want to be the first model ever to unlock this thing? Maybe she just feels so vulnarable that she is in a hurry to get out. Who knows? All we know is: it's Angela. In a stock. Can't go wrong there. Must. View. Video.