All updates for
February 2015
See, here at MetalBondage.com we don't care where you are from or who you are! We just want to lock you in tight metal bondage (and preferably a chastity belt). Even famous UK page 3 girl Emma Green gets the same treatment as anyone else. She is locked to a frame, to give her a great posture, in a chastity belt, and heavy restraints. But with her big natural boobs out like this, we couldn't resist nipple clamping her. With clover clamps of course, the worst possible kind. Emma tries to pull them off, but that doesn't work with these clamps. Watch the video to see how tight these clamps were on her nipples, she was sweating!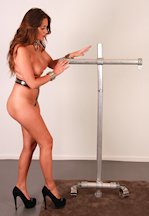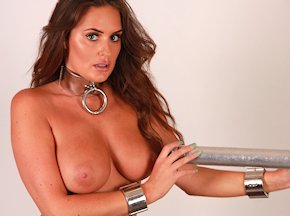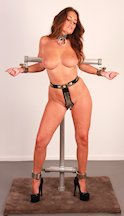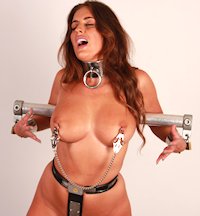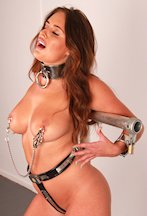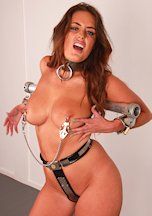 Who can resist 18-year old little Julia! Locked collar, chastity belt, cute gap between her teeth… so young and so curious! Remember her awesome introduction to Metal Bondage? Curiosity brought her back to try a new challenge, one that restricts her even more!
We locked her in the RigidSpreader, padlocks on the insides, away from her little prying fingers. Still, Julia was incredibly determined to escape. She even said 'don't help me, don't help me!', when she seemed unable to open the padlocks. Even before we gave her the keys she was testing the spreader's rigidness, falling onto her back and onto her side to test all of the positions that she could assume. That would have left her wide open, but fortunately she was wearing a tight chastity belt, so she was safe.
After an epic struggle, Julia actually managed to escape from this predicament! How awesome is that! And when we finally took off the chastity belt, it was dripping wet! Now here's a girl who loves metal bondage!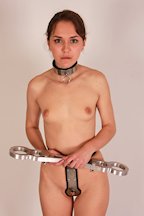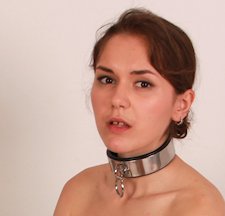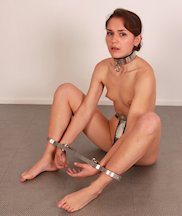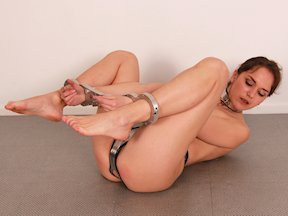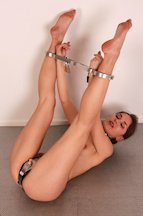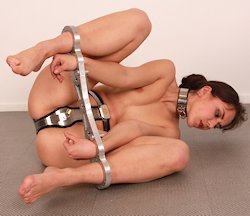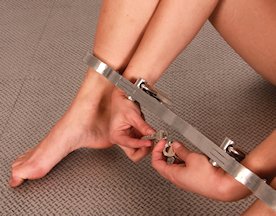 300 updates! We made it! Thanks to your loving support, we have locked hot girls in cold steel for almost 6 years now! To celebrate, we wanted to revisit the most popular update of the last months: Hannah Claydon Boob Cuffed. That wasn't so easy, because TV glamour star Hannah was a little shocked at having her boobs cuffed last time. She said she would never do this again. But we really wanted another boob cuff update, so we managed to convince her once again to come over. This time in a standing frame (like requested), with her boobs chained with heavy chains overhead, and her wrists cuffed behind. One slip in those high heels and she would be dangling by her boobs!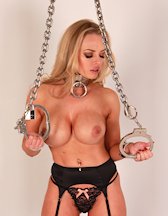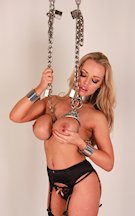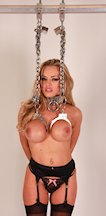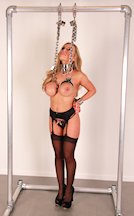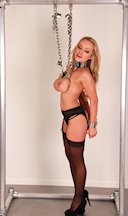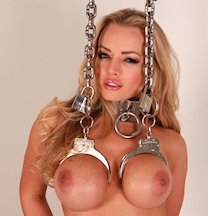 Cute bombshell Melissa returns to test our newest piece of equipment: the Gimp Cage! As always, she is in a chastity belt, and this time she is even locked in a chastity bra as well! Melissa is used to that, so that's no problem. She was really intrigued by the cage! It is very small, but Melissa manages to get inside, her head sticking through the top bars, the rest of her trapped inside. We even handcuff her wrists to the cage, so she is really stuck. The cage closes with some hex screws, so Melissa will need a handcuff key and a hex key to get out. She works very hard to free herself again… only to realise she is still in full chastity :) For which she gives us the finger… of course.