Tall Latina dancer Britney is back! She is all arms and legs! Super long slender arms, long legs, and awesome flexibility and grace. She is not into bondage though, which might explain why she doesn't really like us using her flexibility for some extreme elbow bondage. Her neck is chained to her waist with heavy chains. Her wrist are locked to her waist. So far so good, but then we locked her elbows all the way together! Suddenly Britney was in a very harsh predicament, struggling to get out. She had no chance fighting all this heavy steel!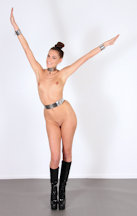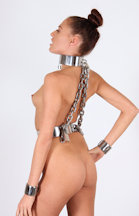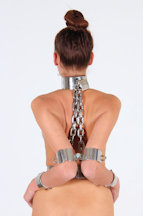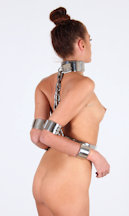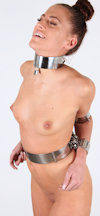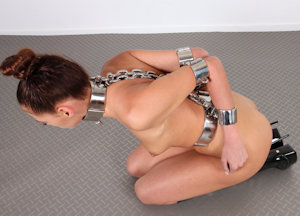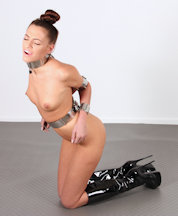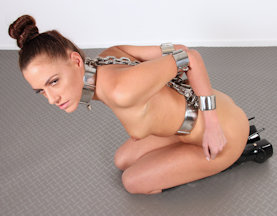 Cherry English is such a cute British submissive! Today she will experience what it is like to be impaled by our custom built One Bar Prison. It is called a One Bar Prison, because it does not need any other restraints to keep a girl in place. Just one bar. When inserted, a girl wearing high heels will not be able to escape, even though her hands and legs are completely unrestrained. It is psychological torture, because you feel free, but you literally can't move. Cherry is very much stuck, as she finds out during the shoot. She is told to put her dress back on and just stand there until we think it is time to lower the dildo pole again.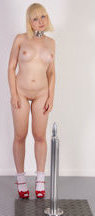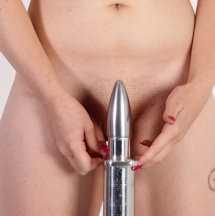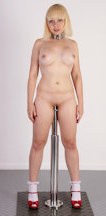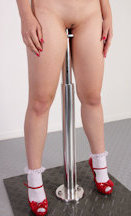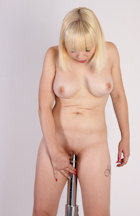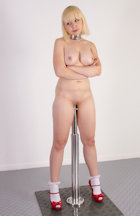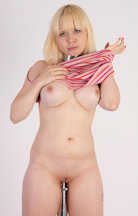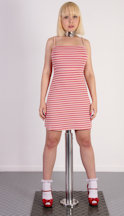 One of the world's most famous girls in one of our unique custom made pieces of heavy metal bondage gear! Just a stunning (and completely naked) Little Caprice trying out this bondage device. Hot girls in cold steel, that is our slogan. And it doesn't get much better than the super cute Caprice struggling, completely helpless with her arms up, in this heavy contraption. She didn't know whether to like it or hate it. But after a while she really got fed up with the position, and she tried getting the keys from the floor to plot her escape. Which is impossible of course, but it is so much fun to see her try!