Tall slender Britney wakes up nude and chained to the wall. She is locked in very heavy metal restraints. To make matters worse (and more awkward), her ankles are spread apart and her wrists are attached to her waist belt by spreaders too. This means Britney has a very limited range of motion. Still, she tries to reach the padlock on the wall. It won't budge. She also discovers her chain leash is double padlocked to her collar for extra security. Who would do this to her and leave her there completely naked and uncomfortable? It's terrible!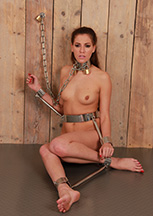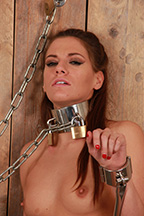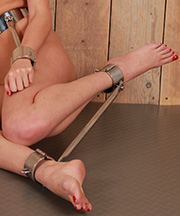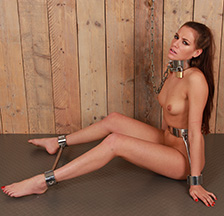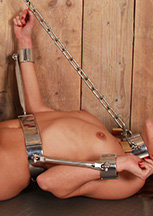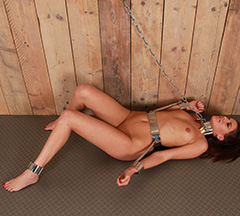 Don't search any further for your favorite bondage scene. This is it! Little Caprice in metal bondage, locked onto a Sybian! This machine is way more powerful than it needs to be, in fact it is the most powerful vibrator in the world. And Little Caprice is a very sensitive cute girl. Her waist and neck are locked to the metal frame, and her arms are attached to her waist, elbows folded over the metal bars. Her ankles are chained behind the Sybian, so she can't get up. The only thing we have to do is switch it on and turn up the speed! Caprice is in for the ride! It was a little too much for her perhaps, she couldn't even stand after this ordeal. Do not miss this, it is awesome!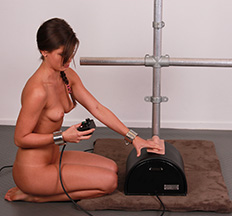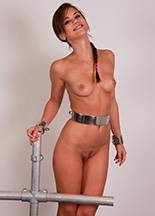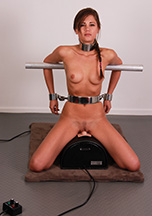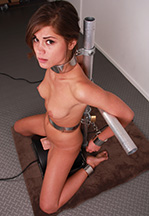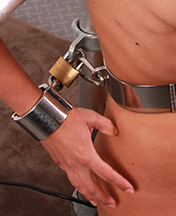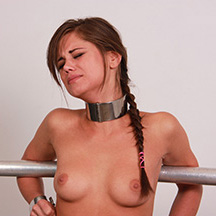 You have seen the RigidStock TL, it is quite common (but expensive). But did you know there was a unique version created that is triple the thickness and weight? There is only one on the planet and we got our hands on it to shoot with our beautiful babes. A few years ago, we already did a few updates with this device, but when the tiny gorgeous Melisa Mendini visited us, we just couldn't resist. How great would she look in these ultra heavy stocks? Well, see for yourself! She could barely lift them, and once she was locked into them, she had trouble maintaining her balance and had to rest one arm on the floor to support herself.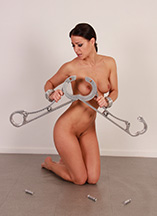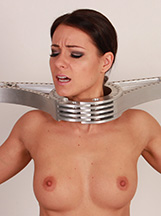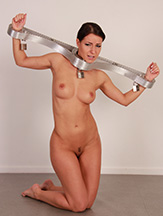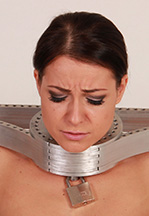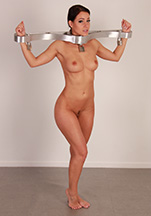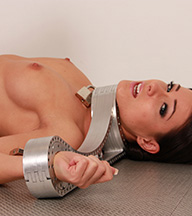 Gorgeous Natalia Forrest has such a nice ass! Fortunately for us (and you), we have just the device for her to display that round booty of hers. With the Wheel of Steel, Natalia has to bend over a little bit, so we can all have a nice view. Her wrists are locked to the sides of the ring, and there is a cross bar in front so she can't get out. It's just great! But of course, Natalia does not think it is so great. She does not like this position, with her ass sticking out for everyone to admire. She complains about it, but what can she do?