All updates for
August 2022
A ballerina submissive is so much fun! Ella challenged me to lock her in a super stretched position, she just LOVES it! I locked one leg to the pole, as high as possible. Now Ella was balancing on one high heel, and she didn't even have trouble maintaining the position. I knew I needed to do a bit more, so I chained her wrists up, and told her it was an escape challenge now. Ella was confused. How would she be able to get out this predicament? Check the video to see if she managed!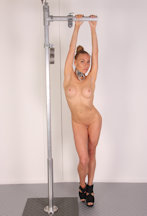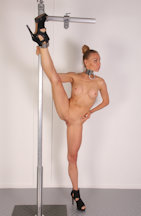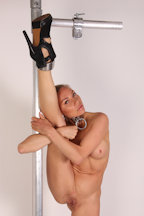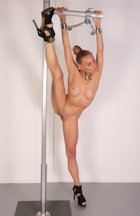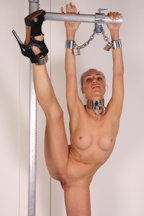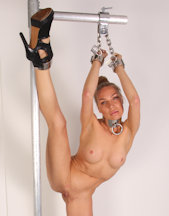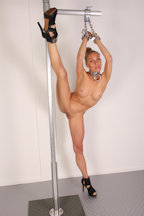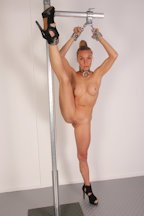 I have several pairs of stainless steel high heels, as I have commissioned different manufacturers to make a pair. It was never perfect, but it is interesting to see the different designs. Stainless steel heels are awesome torture devices. They can be locked and they are very hard to walk in. Nelly and Nina didn't know that, they were happily coming in for a shoot, joking around, until they got locked in these devices. They tried to stand and walk, and pose in these brutal heels, but it wasn't easy. But Nelly and Nina are always cheerful, so I got some great shots of these two! It's a beautiful day when I get to shoot two naked collared girls in steel high heels!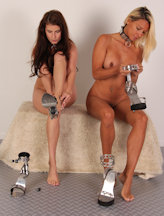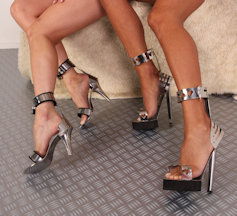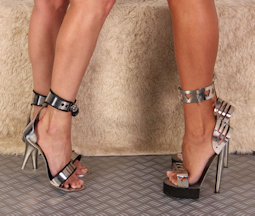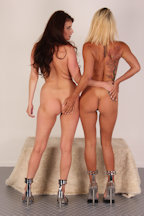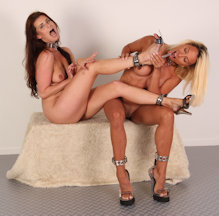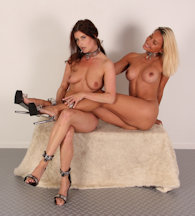 New girl Nikki Riddle tried the One Bar Prison! Why does no one believe me when I say it is inescapable? No other bondage needed, no leg restraints, no wrist cuffs, just a pair of high heels. It is just One Bar. Literally. Yes, a girl can be held in place by this device, she will not be able to escape. Nikki was just standing there, with the One Bar Prison inserted VERY deep. I teased her a bit, but in her heels there was really no way she could lift herself up more. She was completely stuck, held in place only by her pussy. So exciting and surreal!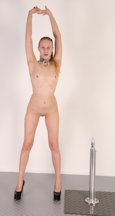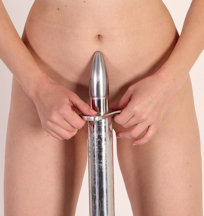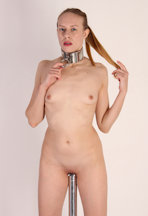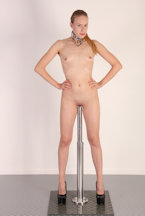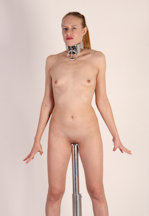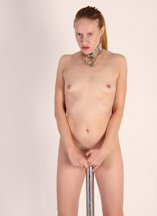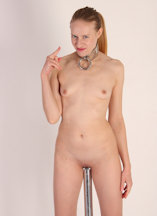 Fit and strong Medusa laughed at the small Posture Trainer. Indeed, it's small compared to my other training devices, but it is still inescapable and very restricting! Even Medusa wouldn't be able to break it. She didn't believe me, so here we go: the fierce Latina girl was locked in the device for a good while. I threw the key on the floor, but she couldn't even reach it. Also, because she laughed at me, I used the HUGEST padlock I could find for her waist belt. Just to feel better about myself. And I did, sitting back, watching Medusa struggle in the Posture Trainer! She learned a lesson today!