All updates for
November 2013
We found the tightly chastity belted Nelly in our studio, carrying around our RigidStock TL with a big smile on her face. 'What is this?', she exclaimed, proceeding to take the stock completely apart. We think curiosity should be rewarded, so we let her play around with all the metal parts for a while. It's so good to see that she is not scared anymore, she even came to our studio all by herself this time (she always took a friend in the past). When she figured out that the big scissor-like part went around her neck, we helped her a little… and made her regret her curiosity! After we locked her in the RigidStock, we told her she now had to figure out a way to get out again. Surprisingly, Nelly was a whole lot less enthusastic about that part of the afternoon…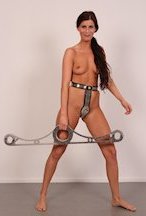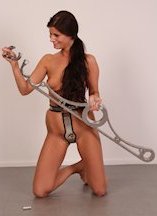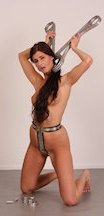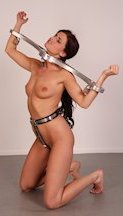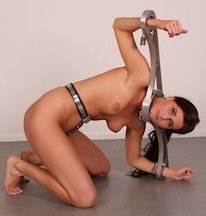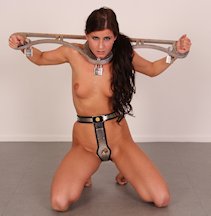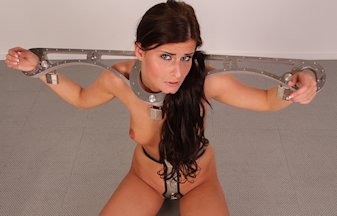 Please welcome the spectacular Honeyhair to MetalBondage.com! Getting ready for her first shoot, she decided to wear a tiny latex thong and very high heels! A perfect opportunity for us to get her hands out of the way to get a good view of her prized assets! Honeyhair was surprised by the Iron Crown, thinking it wasn't that bad at first. But when we chained her ankles to her waist so she could not even get up anymore, she started to hate her predicament more and more. Tossing her the keys, and watching a frantic struggle of boobs and chains, we decided she was a keeper! This is a girl we would love to see in a chastity belt, and more metal. A lot more metal! Welcome, Honeyhair!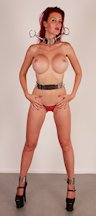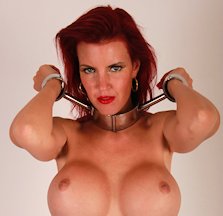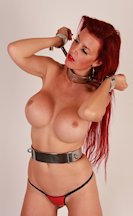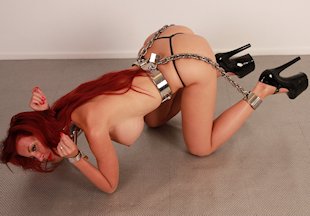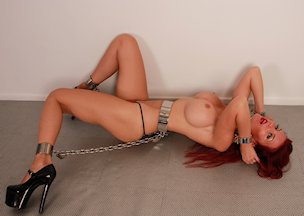 We love Natalia Forrest! She is a regular model here at MetalBondage.com, although she doesn't seem to like it very much. Or does she complain only to hide her secret desires? We will never know why she keeps coming back, but it allows us to create the most devious predicaments for this feisty girl! Natalia always looks great in a chastity belt, so there is no chance she will ever appear again without being locked in a tight belt, even though she had some bad experiences with that. This time, we used our modular Connect-A-Model system to create a device that will squeeze Natalia into a metal ball tie. Interestingly enough, her legs are too long to get them out, even though they are not restrained at all. Sitting down, Natalia hunched into a ball shape. Lying down, she has to keep her head up because the distance between her collar and knees is very short. Brilliant device! We can think of many more additions and variations to this one! Can you? Please comment!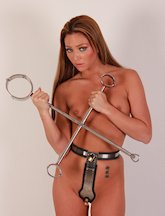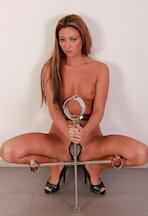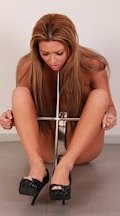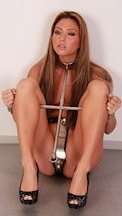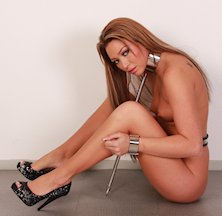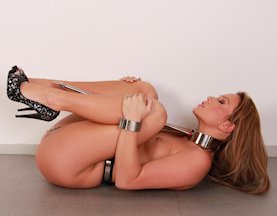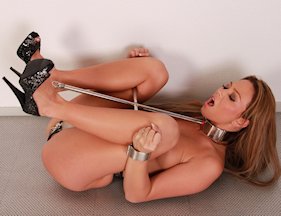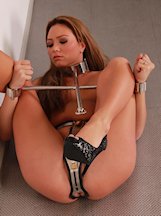 Remember our super 'bend over' frame we tried on the tiny Cory? It attaches a girl's upper body at the waist and neck, which is then tilted forward, forcing the poor victim to bend over a horizontal bar. We thought it would be even more fun if we replaced the waist belt with a chastity belt! The incredibly gorgeous Yasmine was our test subject, and she was a little hesitant about this (to say the least). The upper body frame is not fixed, so if the model has enough strength, she can pull herself upright using her waist and neck. However, we made some improvements this time. Yasmine has to stand on her toes (unlike Cory) and the chastity belt crotch band is resting on the cross bar, which makes for a perfect pivot point. Soon enough, Yasmine was too tired to move, and she was stuck in this INCREDIBLE position! Look at the posture! Butt sticking out, boobs forward, on her toes, perfect arch… A sculpture, a piece of art!!