All updates for
August 2014
We trained Satin Bloom to do everything you see in this update, and she loves to play our little metal bondage puppy! Her huge steel collar is locked on with a pin and padlock, and her chastity belt never comes off (of course), but we taught her how to put on her own wrist and ankle restraints! These heavy restraints have a unique push pin locking system, meaning you can lock them on, but they can not come off without using a tool. Satin is a perfect pet, great boobs and flexible legs! She has a bit of naughty humor, but she listens very well! She knows how to lock herself into the small dog cage, and will patiently wait to be let out again. Good girl!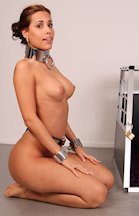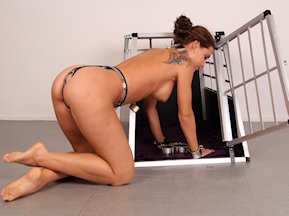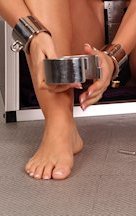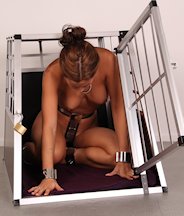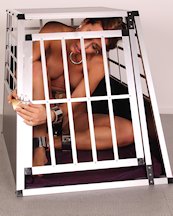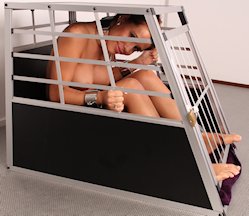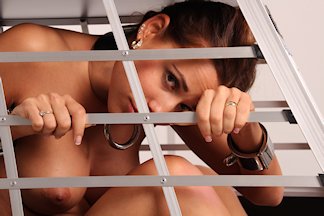 Fetish model Amarantha LaBlanche came to ChastityBabes.com to make an incredible Deal: she handed in the keys to her own hip-style My-Steel chastity belt to let the members decide when she would be released. Go over there now to follow the ongoing story!! She was still belted this weekend, so we thought we'd have her over for a quick metal bondage shoot, as she was already locked in chastity anyway! We added the very heavy custom stocks to her neck and wrists, and strapped a tight ballgag into her mouth! Poor Amarantha was soon drooling all over the place, completely helpless and vulnerable… well, at least she was in her trusty My-Steel, so she was pretty safe anyway! We've got a feeling she won't be out of that belt any time soon!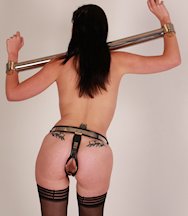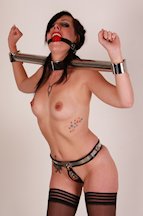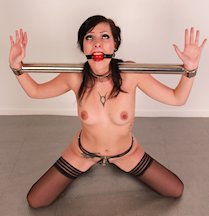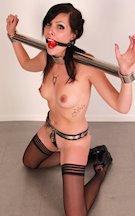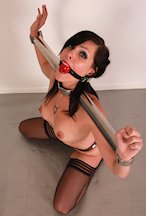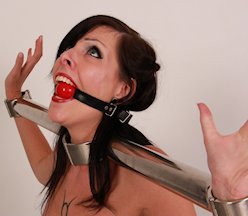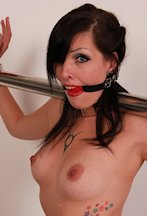 Mischievous Laetitia has been on our website for over 3 years, she is a great pet to test some metal contraptions with! This time she asked us: 'can I bring my friend?', showing us a picture of a hot blonde named Candy. Why, of course! But since this isn't Laetitia's first time, she knew she had to be belted and that meant Candy would be belted on her first appearance! That's quite a punishment for these girls who love to play with each other! And to make things worse, we separate them by a neck spreader bar, cuffing their hands behind their backs. This duo is way too intimate, and they will have to be trained a lot more!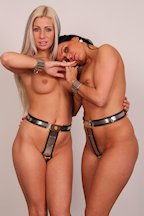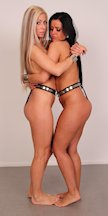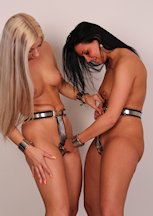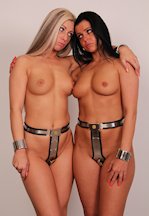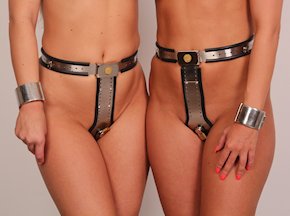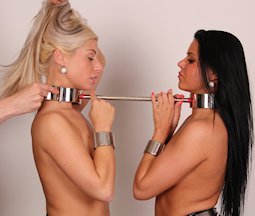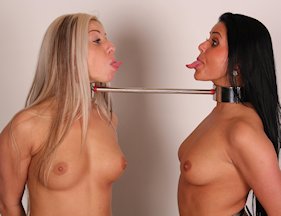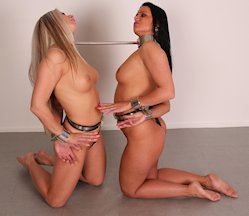 We received an email from a young girl from India, named Emily. She was really curious about being locked in metal, especially since her other bondage experiences had all been quite disappointing. She loves to test her bonds, and she has escaped from ropes, leather, and even handcuffs before. So Emily was looking for something more… solid. The tiny Emily looks so incredibly cute locked in our big heavy metal gear! Her big eyes tell us that she will never give up struggling, not even when there's a few kilos of steel locked onto her! We ring gagged her, but that didn't really last long… this girl is clever! Next time we have to make things extra secure! And add a chastity belt, of course! Welcome, dear Emily!!