All updates for
October 2023
Latex Rapture desperately wanted to try the One Bar Prison. She couldn't believe it was possible to trap a girl with only one pole. Well, if you wear high heels, it is impossible to escape from a One Bar Prison (just think about it), but just to be sure I locked her wrists to a massively heavy steel waist belt. Of course, I gave her the key to lower the One Bar Prison, but she couldn't even bend down, so there was no hope. Latex Rapture gave it a good try though, she tried to lift herself off the dildo but she just couldn't do it. Be careful what you wish for, you might be stuck for a while!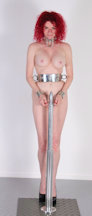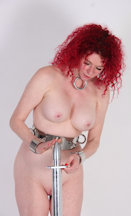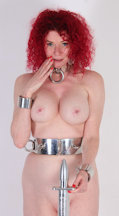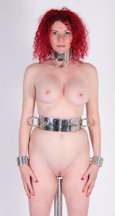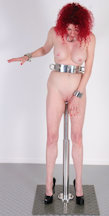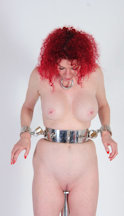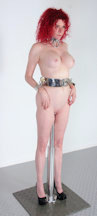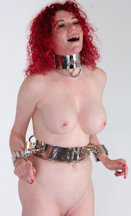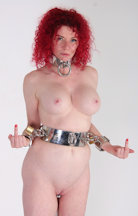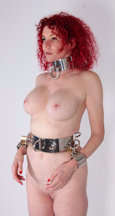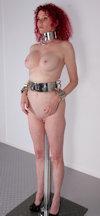 I love working with Aubrey way more than she loves shooting with me. She doesn't like chastity belts, heavy collars, or anything uncomfortable. I don't know why she keeps coming back, but I just love putting her in inescapable predicaments and watch her silently curse me. Aubrey is a stunning playmate model, and I think she always looks awesome in heavy steel, even if she doesn't think so. Her elbows in heavy cuffs are hoisted up to the ceiling. There is no other bondage but she will never be able to escape this. She can't even kick off her heels, so she just stands there, trying to keep her balance.
If you want to make Aubrey's life hard (or even harder), I would encourage you to order a custom video, it's so much fun to see her frustration when there's no escape!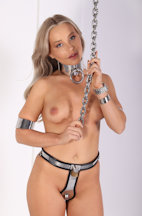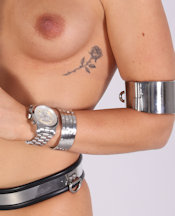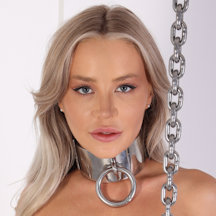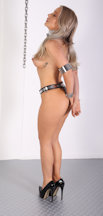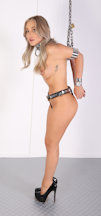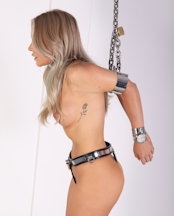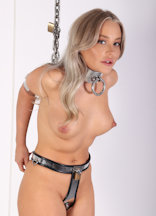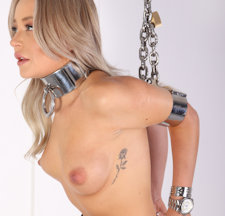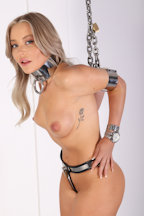 I don't know about you, but when I was in school, this was what I imagined my big boobed teacher to wear under her blouse. Tightly locked boob bands! With the chain around the back of the neck, it actually makes a very good bra for Cleo's massive natural boobs. She needs the support! Cleo introduces herself by writing her name on the blackboard, before I make her life more difficult by locking her cuffs together. Aaah I wish I was back in school!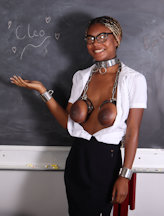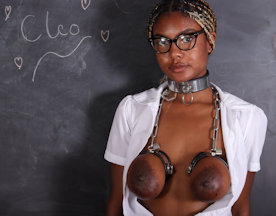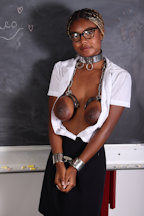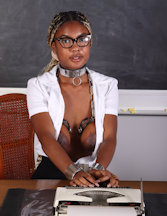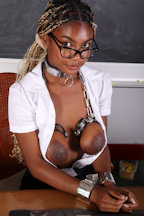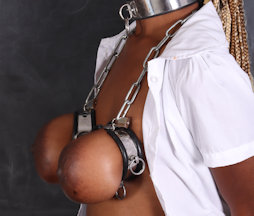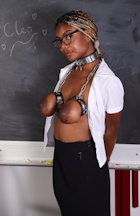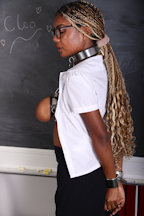 Marina Gold is a brand new MetalBondage.com model! She is a tiny fun girl, always up for a challenge. I gave her a Lush vibrator to insert and she was super excited about that! She already knew this little device is very powerful and a lot of fun for girls. Soon she was also locked in a RigidSpreader, which was fine at first. Marina had a lot of fun rolling around in the rigid metal restraints, but when I turned up the power of the Lush vibrator, she realized there was nothing she could do to stop the vibrations. Now the real fun started!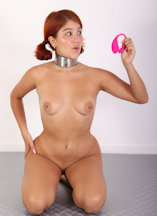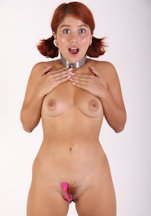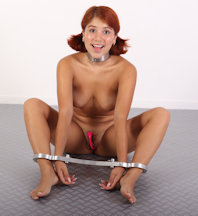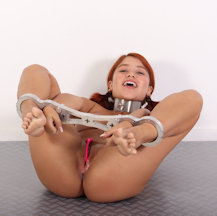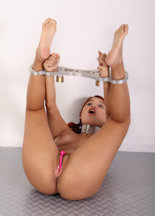 Darina is a very tough girl! She has been in many MetalBondage updates and she is always amazing! Fun, flexible, able to challenge herself, Darina is the perfect submissive to test my gear on. The dreaded serving tray is her next challenge. Clover clamps already hurt a lot, but hanging a wooden tray from them and then putting some cups on the tray will seriously test the strength of Darina's nipples. Don't worry, Darina can handle it!