All updates for
September 2021
Tiny cute submissive Adele! She will try nipple clamps for the first time today, and we get to see her reaction. Not many people actually know how much clover clamps hurt, they are very stingy! Get a pair and try them, you will appreciate bondage videos a lot more after that! For a new girl like Adele to try these clamps, it takes a lot of courage and dedication. She is very submissive, but even Adele started to take them off after only a few minutes. We had to lock her into the Iron Crown to prevent her from removing the clamps! Poor Adele, totally helpless while her nipples are pinched for a long time!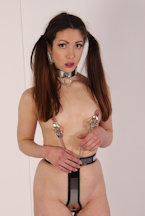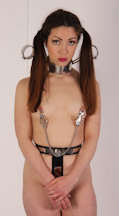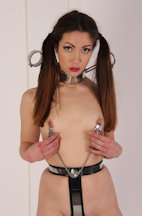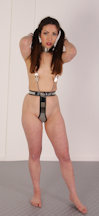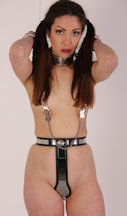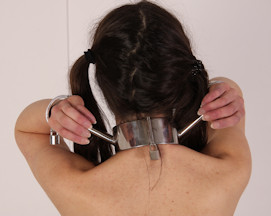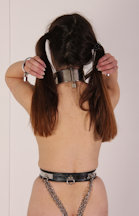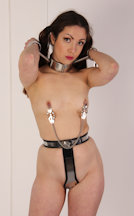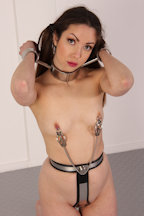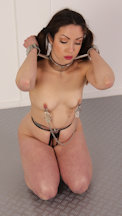 Super model Alisa is back! Remember her updates from a few years ago? She is so stunning! Now she is back, and she looks better than ever! I had just finished designing the all-new MetalBondage Wall Cuffs, so I thought it would be the perfect opportunity to test these heavy steel devices. Admittedly, Alisa is not the best with DIY-work, her drilling skills are quite bad and a bit scary, but she managed to secure the new cuffs to the wooden wall. Hey, who needs handiwork skills when you look like Alisa! Wearing a HUGE custom metal collar and secured against the wall with the new cuffs, she is probably the best decoration to ever have graced my wooden wall.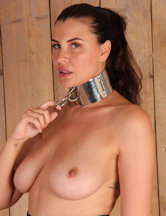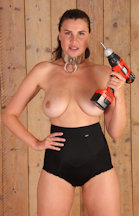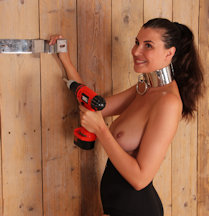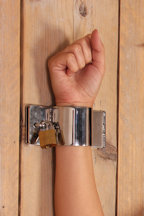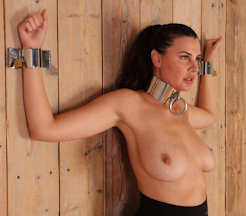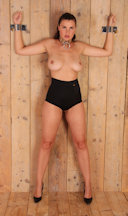 The doll stand was such a great vulnerable and restricting position, I just wanted to do it again. This time with the gorgeous Yasmine! The concept is quite simple: lock a scold's bridle to an overhead pipe. Then lock the wrists to a steel belt. Finally, hinged handcuffs on elbows! There's no escape from that, and the girl will be on full display, completely helpless. Like a doll, held in place. On high heels of course, Yasmine is a playmate and she can stand in heels forever, so no problem there! Let's just admire her and watch her get more and more frustrated!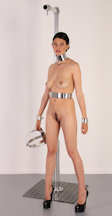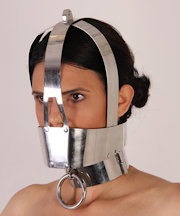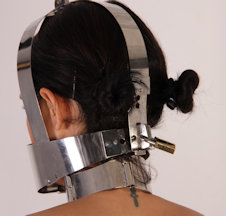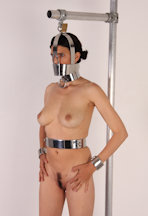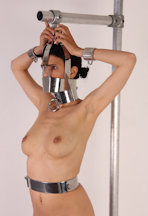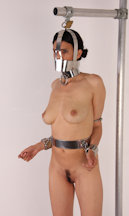 Super tiny Lina Roselina is 1.50m tall weighing about 40 kilograms. This gave me a nice predicament idea: what if I would handcuff TWO 12 kilo chains to her wrists and put the key high above her? She would have to lift 24 kilos to reach the handcuff key! There's no way Lina can lift this much steel, so it was very frustrating for her to see the key dangling from the ceiling. So close! Lina tried with all her might, but the further she lifts the chains off the floor, the heavier they get. It was a perfect predicament!