All updates for
February 2023
The gorgeous Ivy Red is back! This delicate girl looks a lot more innocent than she really is. Ivy is very kinky! She loves struggling in bondage, even though she is not very strong. But struggling in metal is a new challenge for her, and it can be very hard. Ivy will have to remove her nipple clamps AND get out of the Wheel of Steel to complete the challenge. It's so much fun to see her work hard, straining her elegant body against the cold steel.
Ivy Red is available for custom videos!!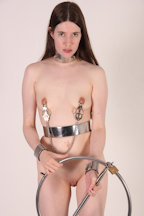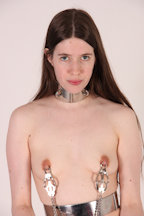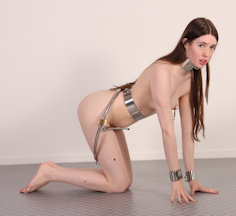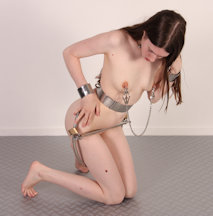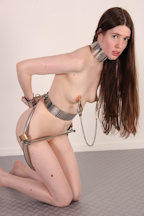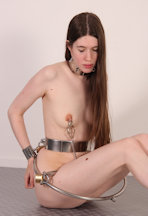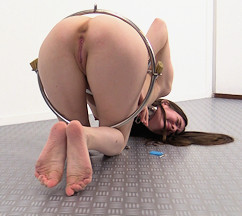 I showed nurse Cindy Dollar my latest creation: a low cross with heavy cuffs attached to it. She was not impressed. Especially because she spotted two pairs of clover clamps and Cindy has incredibly sensitive nipples. She wasn't going for it. In fact, she gave the whole contraption the finger as she walked away. Of course, moments later, Cindy found herself locked to the frame anyway. In a very hard squat position (in heels) with clamps on her nipples and labia. How terrible! I even gagged her and hung a padlock on her nipple clamps. Because it's Cindy Dollar, and she just looks so good in heavy steel!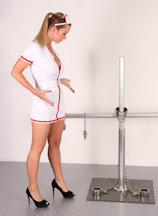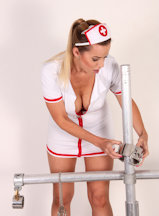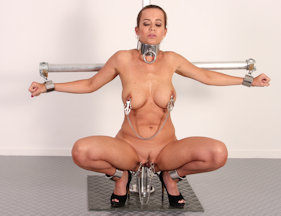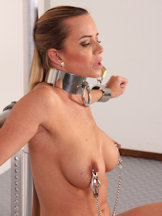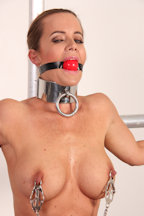 Tiny redhead Olivia is so curious! She couldn't keep her eyes (and hands) off the Sybian, so I decided to build her a nice bondage frame. Olivia was very excited to go for a ride, she slid right onto the dildo, and planted herself on the Sybian. I let her play with the controls for a bit, but then I secured her wrists and ankles in place. Now I got to play with the controls! The red button controls the vibration and the green one controls the rotation of the dildo inside her. It was a wild ride! Good thing I secured her in place! Olivia is so awesome, you don't want to miss this cute metal bondage update!