All updates for
April 2018
The gorgeous Lauren Crist came back! She was always here with a friend, first with Victoria Sweet, and then with Celeste. Now she was brave enough to come by herself. This tall stunning babe has a perfect body, so we got out a device we haven't used in a long time: the Wheel of Steel! It will prevent her from standing up straight, so she will have to stick her butt out at all times. Very sexy and also very frustrating. Lauren did not really know what to do, but the Wheel was locked on so she could only try to get as comfortable as possible. Not very easy!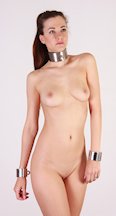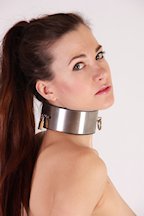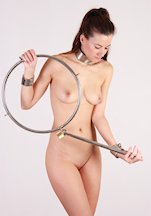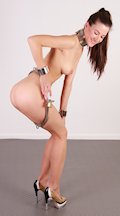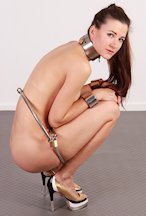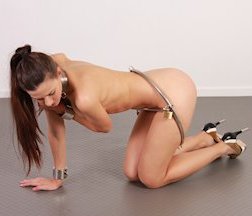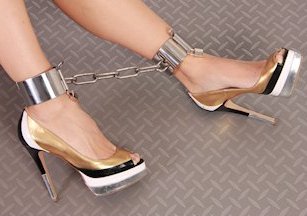 This famous cute babe is always horny. If you don't believe that, just google her! She is literally touching herself all the time. But not today! Caprice is locked in a super heavy and tight custom made chastity belt. She can't even get a finger between the belt and her skin. Still, we think this is not secure enough for her, so we locked her hands in steel mitts. Very frustrated, Caprice still tries to touch herself, but all she can do is bang her mitts against her belt. There will be absolutely no sensation for her, she can't even feel anything. This might seem a little extreme, but trust us, it is the only way to stop Caprice from being a naughty girl all the time.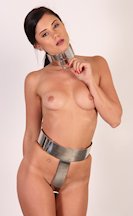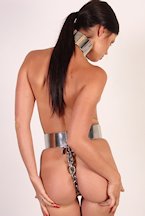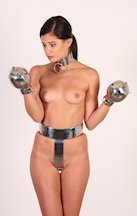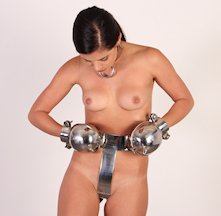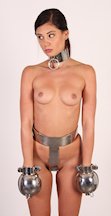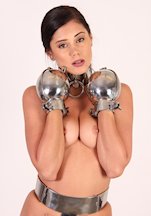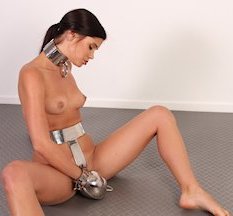 When we had Nicky over for her chastity belt casting, we thought we might as well lock her in some heavier metal bondage. Why not! She's new to all this, but look at her perfect face and even more perfect natural boobs! She needs to be locked in metal! We added a heavy collar, wrist cuffs, and ankle cuffs, and we locked her to a kneeling frame. On all fours, Nicky looked a bit terrified, but there was absolutely nothing she could do. Good thing she was wearing a chastity belt!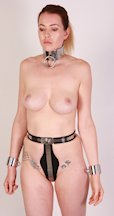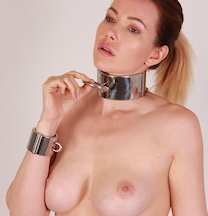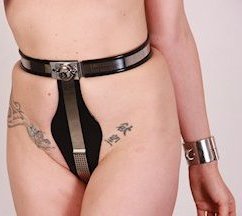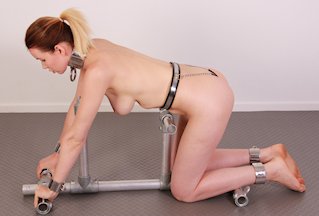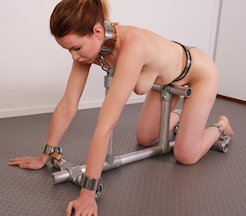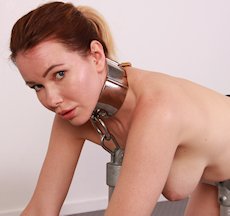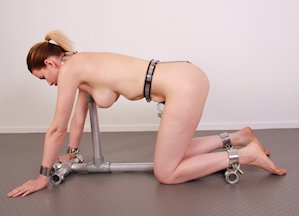 Wow, Cindy Dollar is back! We didn't see her for a few years, but she still looks exactly the same! And better yet, she brought a friend! Nicole Vice was a bit concerned about Cindy so she decided to tag along to see what goes on in a MetalBondage shoot. Well, we had planned to put Cindy on the One Bar Prison, but since Nicole was with her, we might as well impale her too! One Bar Prisons are better with friends! Nicole didn't blink, she even helped to impale Cindy before being put on her own One Bar Prison. No escape for those two! Well, we gave the allen key to Cindy for a moment, but she is very flexible so we quickly took it away and told the pair to turn around for us and get dressed. Perfect helpless mannequins! We just let them stand there for a while…