We love using our Connect-A-Model restraints system! It consists of little metal bars, collars, wrist cuffs, and ankle cuffs, so anything is possible! When we connected two models by a collar spreader bar last time (the wonderful Claudia and Nelly), some of you felt the bar was a little too long. They could not kiss each other, but if the bar was just a little bit shorter, they still could not kiss and it would be even more frustrating! So we try that today. Best friends Tracy and Nicole are soooo close, yet so far. They will have to escape their collars before they can kiss. And they will have to escape their wrist cuffs before that. And their chastity belts? No way, they stay firmly locked on, we never give keys to chastity belts in an escape challenge. Ever.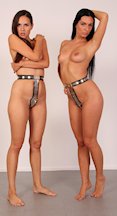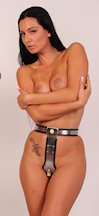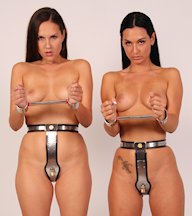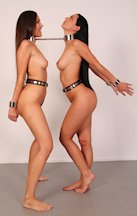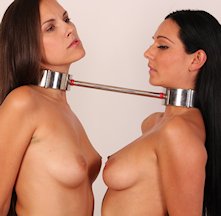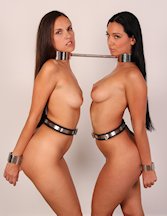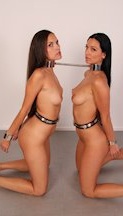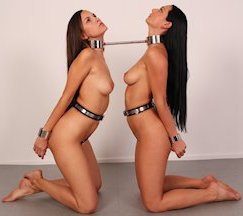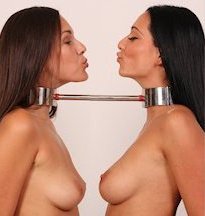 See no evil, hear no evil, speak no evil! The cute Asian trio is back! Ting, Maya, and Nancy are locked in tight chastity belts and very heavy collars, ready for their next assignment: three pairs of clover clamps (the ones that really grip and hurt)! These real-life submissives will do anything we tell them to do, so we leave their hands free to nipple clamp themselves and each other. Nancy seemed to have the hardest time, having the most sensitive nipples, but cute little Maya is in the middle so she is an easy torture target for the other two. Uttering loads of high pitched moans, the girls leave the clamps on for longer and longer, as they start to realize that taking them off hurts even more than leaving them on. Possibly one of the greatest sets we have ever shot!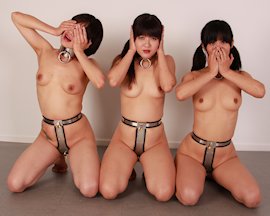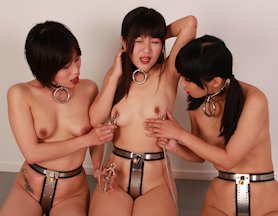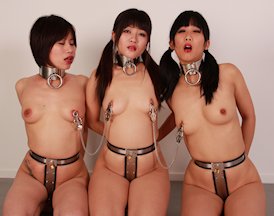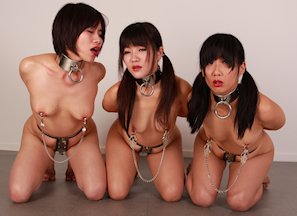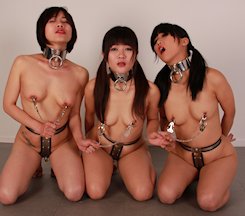 We love Jenni C! She keeps coming back for more bondage, even though she knows it is always going to be a very hard afternoon for her. The blonde hair, blue eyes, perfect ass girl is curiously attracted to being restrained, you can find her on bondage websites from all over the world now! But no website will put her into the heaviest custom steel gear like we do. Even the chains are seriously heavy. Jenni C looks wonderful in our chastity belt, her wrists chained to her collar. All the gear weighs down on her, with the collar, cuffs, and chains combined weighing well over 4 kilos, so it is just a matter of time before the fun turns into an endurance challenge!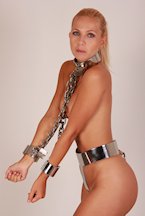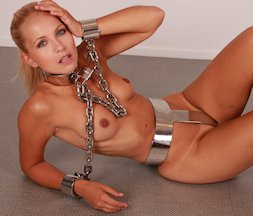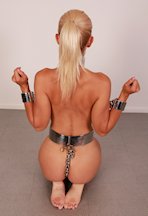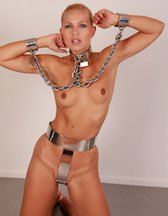 Young redhead bondage talent Alexia Valentine is tough! And it is hard to keep her still, she is always wriggling and struggling about, even in metal bondage. So let's see how she will do in our improved metal hogtie frame! Locked in a chastity belt and chastity bra, and gagged with a nice harness gag, Alexia patiently awaits what we have in store for her. Lying on her stomach, we attach her ankles, wrists, elbows, and head to the metal frame. But she is still wriggling too much, so we raise her wrists and elbows to a hard strappado position in an effort to keep her still. It seems to work, Alexia is almost completely immobile! Almost…