All updates for
April 2012
The most famous Dutch fetish porn star, Leyla Gold, has been on our website for some time now. She has been trained by us to prolong her ability to wear a chastity belt, a ballgag, and even nipple clamps! This time we tell her she will be wearing nothing at all! Just a little bit of metal we like to call six-point restraints. Leyla thinks it will be an easy shoot, but we have a devious plan: we lock her wrists to her waist band and then we add a shiny tight red ballgag. She can not reach the gag, so she is powerless yet again!! What would you do with her if you found her like this?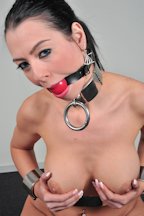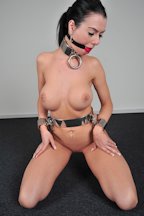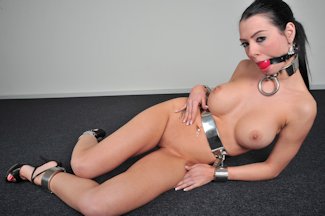 This new girl calls herself Victoria Sweet. And she looks the part, young, innocent, and a tight hot body! But it turns out she is not so sweet at all! She is protesting and debating every little thing, so we decided to punish her by locking her in a chastity belt from her very first shoot. We don't normally do this, but for Victoria, there was no other option. We keep her hands rigidly locked in front of her by using a RigidFiddle model 8, and by keeping her locked like this for at least one hour we try to make clear to her that she needs to calm down. Wow… that didn't work :)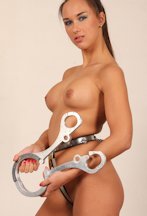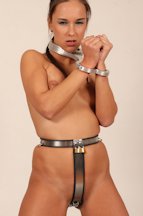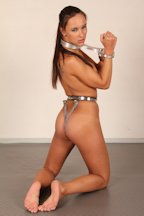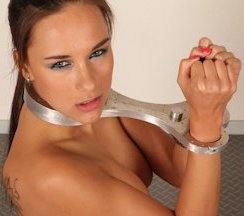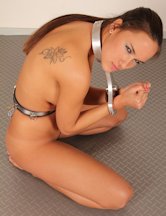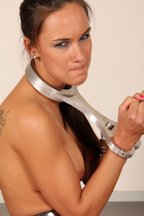 Marloes is getting used to the training here at MetalBondage.com. She knows she always has to wear a chastity belt, and to do the things that she is told to do. Now she is even starting to show initiative, by locking herself into the heavy steel cage. She even locks her own neck in the cage door collar! She can see no keys for these padlocks, so she is probably trusting us to let her out again at some point. But we are not satisfied yet, we lock her wrist cuffs to the top corners of the cage, so we get a clear view of those big natural boobs, leaving poor Marloes totally defenseless. For about an hour… or more… we're not sure yet ;-)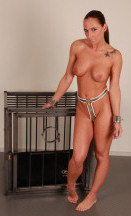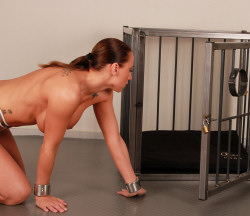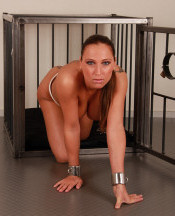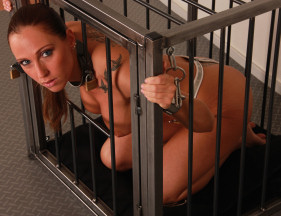 Poor Melissa!! We custom built this new metal torture bondage device quite some time ago, but until now none of our models fit into the Steel Armbinder. We need a small girl with the perfect flexibility, very thin upper arms, very small wrists, the right distance between wrists and upper arms, and the list goes on. We thought we were never going to use this device, but brave Melissa gave it a try and it worked! One of the most cruel devices we have, the position is really hard, and even painful. There is absolutely no hope for escape. Sorry Melissa, you always seem to get the extreme stuff that no one else can do!