Remember Bella? The girl who is afraid but curious? This time our brave slave girl does some research on our RigidSpreader. And she is doing an incredible job! It may not look like it is hard, but the RigidSpreader puts a girl into a sitting position that does not really work when you are in a rigid chastity belt! Bella does not seem to mind, she keeps rolling over and stretching her legs out in the air. Investigating the RigidSpreader's escape possibilities is not so successful, however…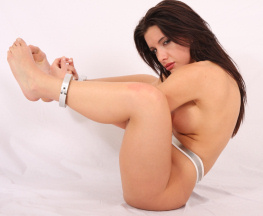 We have wondered for a long time: 'What if we could build our own chastity belt, MetalBondage style, what would it look like?'. Well, today you can finally see the answer to this question! It is the most fearsome, sturdy, protective, and heavy chastity belt ever. Young pet slave Laetitia is the first of our girls to try it out. Surprisingly enough, she thinks it is great fun, calling it a 'big metal diaper'. She is dancing around, smiling, shaking her ass, occassionally calling out silly obvious things like 'but how can I have sex in this thing?!'. Check out the long behind-the-scenes video of this very cheerful photo shoot! Laetitia is so much fun!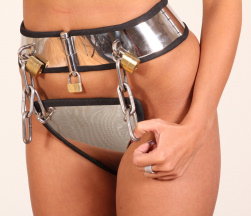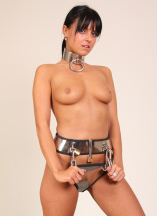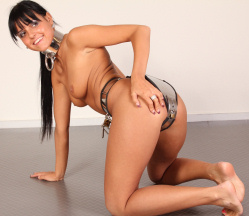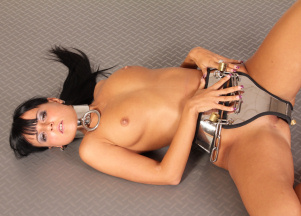 Wow, Leyla wants to take two steps at once! We told you she was very eager to be a MetalBondage.com model (see her first update here), so she wanted to get to the chastity belt stage in the second shoot already. And if that is not enough, she was really curious if she could handle nipple clamps. Not the weak sliding pinchy things, but the real deal: clover clamps! We decided to let her test them for herself. Watch as Leyla finds out how much these clamps hurt her huge boobs. Will she be able to keep them on her nipples for a while? Great stuff!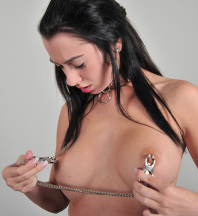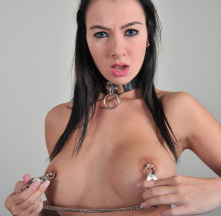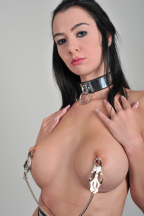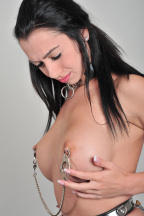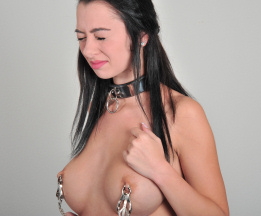 It is still hard to teach our girls to stop trying to get out of a chastity belt. A belt is made for 24/7 wear, but most of our girls don't even like it for a few minutes. Fortunately, we have some great metal gear to stop the girls from tugging at their belts. The Iron Crown is probably the most perfect device for chastity belt training. This replica of an age old design keeps the wrists locked to a collar in a very rigid and vulnarable way. Our tallest girl Penelope is definitely not happy in this position, but we think she should be glad she is wearing a chastity belt! Who knows what may happen to her when the Iron Crown leaves all her sensitive areas fully exposed!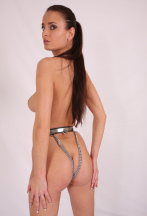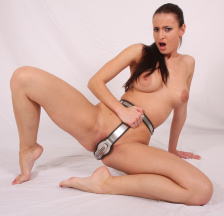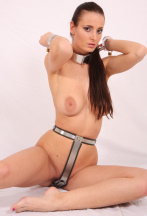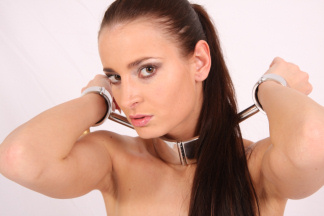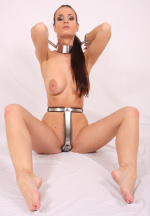 Another new model at MetalBondage.com! The very funny and stunningly beautiful Melissa joins our ranks! Funny? Well, just watch the escape attempt in the video clip, you have never seen such a smile in bondage! Especially when she finds out the RigidFiddle lock is out of reach, a wonderful moment! We are sure we can get this little vixen into a chastity belt, it would look so hot on her, but for her first shoot you will have to enjoy her in RigidCuffs, not a bad thing at all, this beauty should be locked in metal for the rest of her life! It looks so great on her!