All updates for
August 2023
The mysterious Anc1lla returns! This time she gets locked to the wall, sitting on a steel pipe frame with her legs apart. Her wrists and ankles are locked in place, so she can't move away. Time to give this big boobed mystery girl some orgasms with the magic wand secured in place! Wall mounted orgasms are very intense, there is nowhere to go but to surrender. Anc1lla fights a bit before giving in to many orgasms as the magic wand speed is turned up to the max! What a perfect submissive she is! Anc1lla is starting to like coming over to the studio, so if you want a custom video with her, just write me!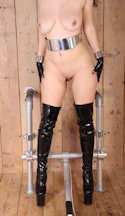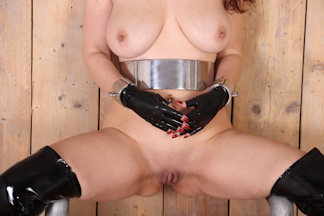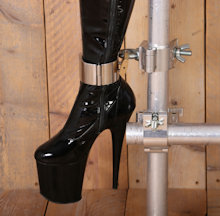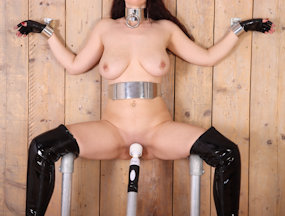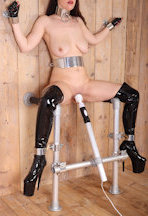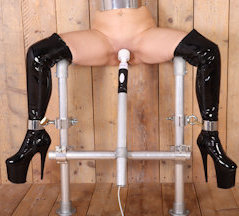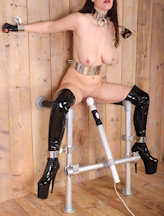 Look at this cute new girl I found! It's Nina Nightbloom and she is a submissive from the Netherlands! Cute face and very long hair, as well as huge boobs! In fact, Nina likes her boobs to be played with. Experimented with. She's curious what can be done with her ample breasts. Well, I had just received the Ultimate Breast Press from HotSteelToys, so this was a great opportunity to test out this evil device. Not only does it squeeze the breasts all the way down, it also comes with a clover clamps attachment to stretch out the nipples in a very painful way. I cuffed Nina's wrists to the device as well, to make her helpless and vulnerable while her boobs were squashed and stretched. She loved it so much! I am sure Nina will be back soon, I have many plans for her. If you have a custom request for Nina's boobs, just write me and you might be able to get your dream video with her!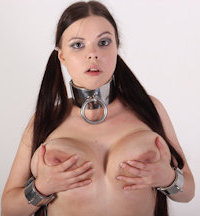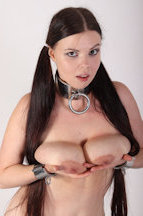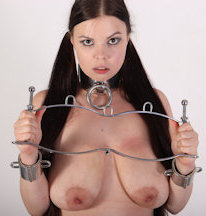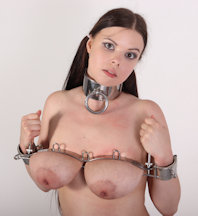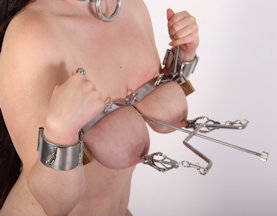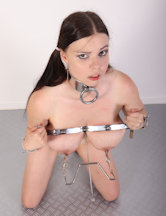 This funny girl was doing a Casting at ChastityBabes.com, so I took the time to shoot some more pictures and video with her, as she was waiting her 4 hours of Casting to be over. Electra didn't seem to take anything serious, lounging around in her chastity belt and thigh bands, hanging from my frame with a bored face. Of course, I locked her ankles and wrists to the frame. 'Hey!', said Electra, who was not expecting that. She tried to struggle, but she was completely stuck, spread eagled to the metal frame. Maybe this will teach her a lesson… probably not.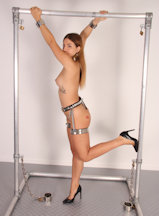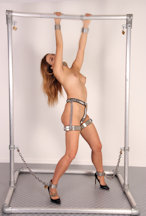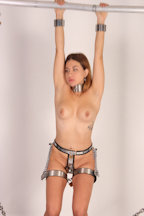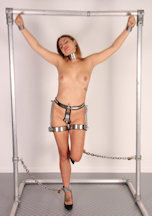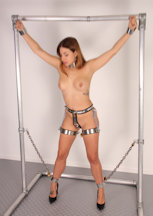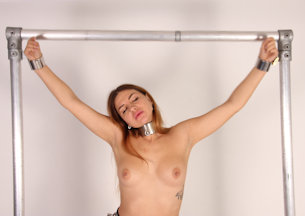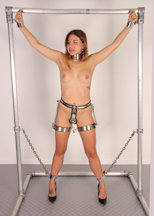 Remember the Portable Fucking Machine prototype? Check out this update if you need to catch up. It is an automatic wearable fucking machine and it was a lot of fun to test. But it needed an extension cable to power the machine, which kind of limited the model's movement. Now it has been upgraded with a (blue) battery pack! It means that you can get automatically fucked everywhere you go! Hands free! It will be so useful for maids doing chores around the house, or even outside under a dress! The possibilities are endless now. Of course, the prototype is still not finished, there are a few things I need to tweak, but I had a lot of fun testing this version on Cindy Dollar!