All updates for
December 2017
Tiffany has been with us for almost 7 years! She has willingly tested the craziest metal bondage devices and she has been in chastity belts for long periods of time. We love her down to earth personality, she knows she will get tested when she comes over, and she doesn't mind! Today we put her in two of our most extreme creations: the super heavy chastity belt (with chain back) and the Ballet Stocks! The total weight of the items would be hard for Tiffany to lift, but once she is locked into them the weight becomes a little bit easier to bear. But don't be mistaken: the Ballet Stocks are hard! They can wear a girl out very quickly! Let's see how Tiffany gets on with our unique contraption today!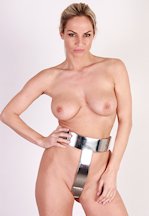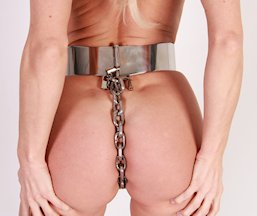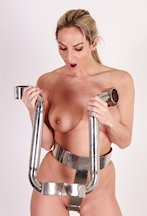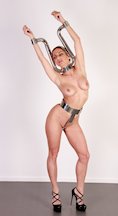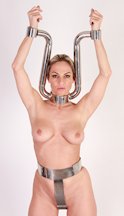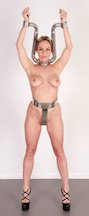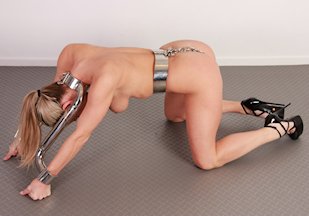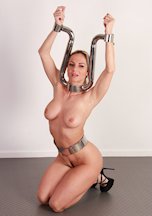 Stella Cox is back for more! And we have more! Some new items for this perfect bondage pet girl today, like a brand new gag with silver strap, a pair of cuffs on her boobs, and an ass hook that is locked to her large steel collar! We love playing with Stella, she is a true submissive, and anything goes! She absolutely loves to squirm around in the tightest bondage and the craziest gear, she is super flexible, cute, and her natural boobs are perfect for bondage! Definitely one of our best models, and she is in an interesting predicament today! Drooling, painful nipples, and a straight posture! Watch her struggle!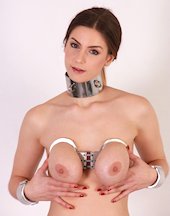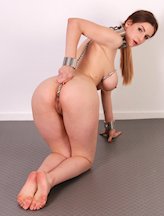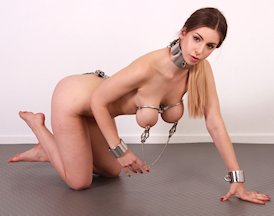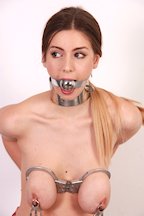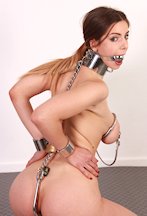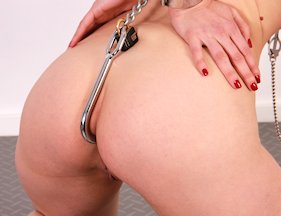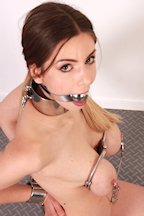 Mea was very curious about the eyes and the little T-bar that were bolted down to the floor. 'What is this?', she asked. Well, she shouldn't have. It's her own fault for being so curious. Locked in very heavy cuffs and collar, Mea soon found herself locked to the floor on all fours. A heavy chain prevented her from lifting her head too high, and she couldn't really see what was going on behind her. But she soon found out! A magic wand was installed and turned on… first at a low speed, then higher and higher. Mea couldn't get away from it, she had to go for the ride: the MetalBondage Magic Wand Challenge!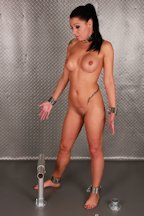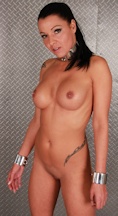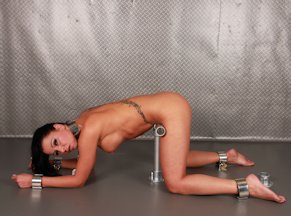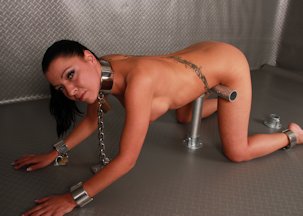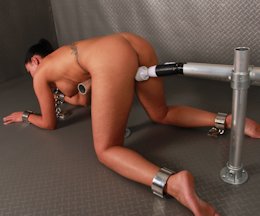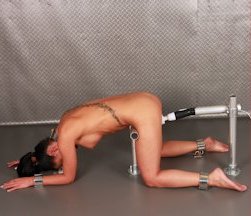 A new girl on the block! Quite literally, because Muriel is new to our website and she has never been locked into a heavy Neck Block before (no one has, because it's a new piece of gear). But Muriel is not new to bondage. In fact, this German girl is an experienced bondage model and she loves to try new things! Well, we have just the thing for her today. This new Neck Block has a very small opening so it is going to be very tight. But most importantly: it is super heavy. Muriel discovered she can't really lie down to take the weight off, but she was doing quite well… until we locked her wrists to the sides of the block. Now it was a challenge!