All updates for
February 2017
Sometimes, a local girl in a local shop just catches your eye. Aubrey is such a girl. You can just imagine in your mind how good she would look completely naked, locked in heavy steel restraints. Then there's always this problem: asking her to model for this website. What will she say? Will she think I'm crazy? Or will she be curious? I think you can guess what Aubrey's answer was. She was intrigued! The next day, she came shuffling into the studio, a bit shy but still determined. She was nude and locked in heavy metal in minutes! Heavy collar chained to a slave post, wrists connected to the sides of her heavy steel belt, elbows connected to a spreader bar behind her back. Aubrey settled down immediately, she's just so gorgeous in steel, don't miss it!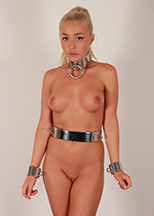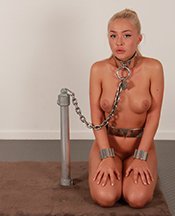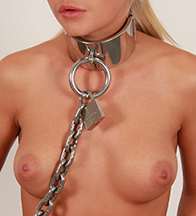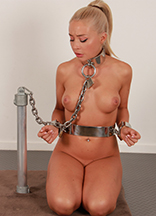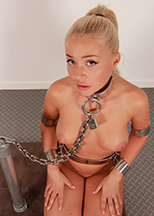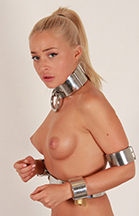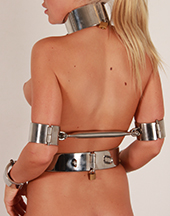 Beautiful tall Sophie in her chain style NeoSteel chastity belt! She was doing some challenges for ChastityBabes.com, so we figured we could lock her in some metal devices to give her something to do! We locked her into the collar, wrist cuffs, and ankle cuffs of the Connect-A-Model (TM) System. The red parts you can see are rubber bushings to make the connections more rigid. Sophie had no clue what was going to happen. We connected her wrists to her neck, and still she did not guess what position she was going to end up in. Only when we connected all 5 points into a stork (or scavenger's daughter) device, Sophie realised that it was not going to be easy to spend any time in this, sitting on the floor in her chastity belt!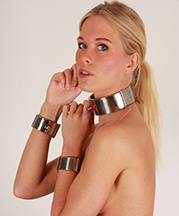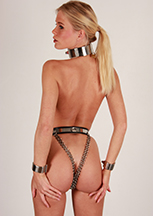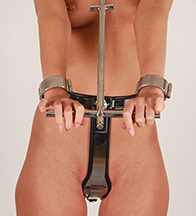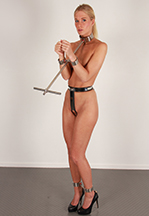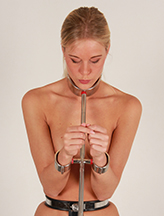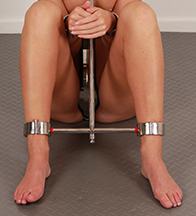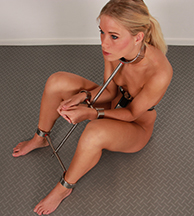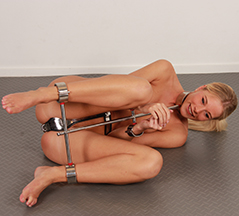 It's been a while since we had two girls! It can be so much fun to make them cooperate to escape their metal predicaments. The gorgeous Lauren Crist brought her friend Celeste, and we had them nude and locked in metal before they knew it. Tight padded collars, heavy waist belts, and heavy steel cuffs. They didn't know what would happen to them, but they figured it out when we locked them in a steel hug, one girl's wrist cuffs to the back of the other's belt. The keys were on the floor, but they couldn't even reach the floor with their fingers, they would have to cooperate and coordinate to escape these restraints! Fun to watch!