All updates for
March 2023
Tiffany was doing her makeup in the bedroom when she suddenly discovered the Posture Trainer I had hidden away. Well, I did that on purpose of course, because Tiffany is curious enough to ask if she can try it. She was locked into this rigid device before she knew it! It's a brilliant design. Tiffany enjoyed it for about two seconds and then wanted to be let out. I told her the key was on the table, and wished her the best of luck! Poor Tiffany!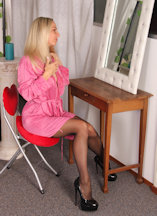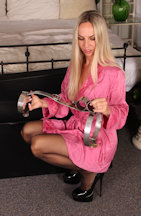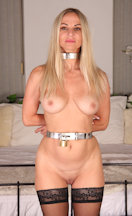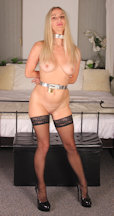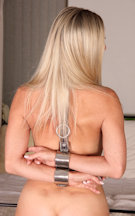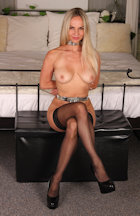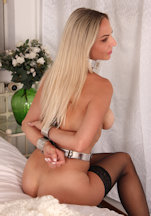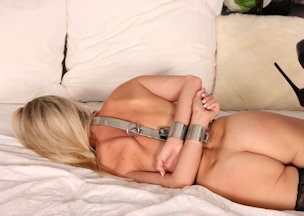 Natalia Forrest!! She likes to be in control all the time. She just keeps talking, even if she clamped to the wall. Natalia is in no position to make any demands though, she will get vibrated until she cums!! There will be nothing she can do about it, and it is beautiful to watch. Especially because it is Natalia Forrest. Sometimes she just deserves a controlled orgasm in steel bondage. It will not change her or teach her a lesson, but it puts her in her place for just a little while.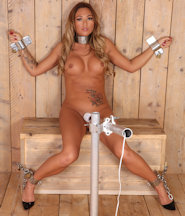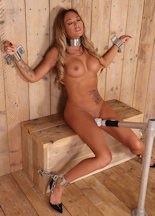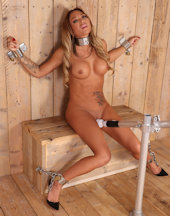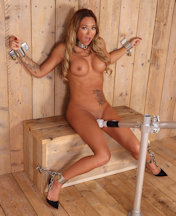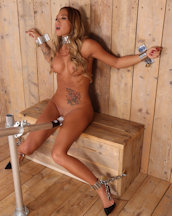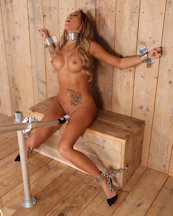 My new resident model River is so gorgeous! She hasn't been in bondage much, but that's all going to change of course if she keeps modeling for me! River is very enthusiastic about trying out all of my equipment, so she will have plenty to do in the next years! These short stocks are very restrictive, as River finds out. All she can do is sit on the floor, nude and helpless. Even when I threw her the keys, she couldn't get out of this contraption!
River is available for custom shoots of course!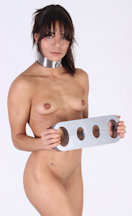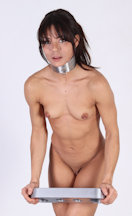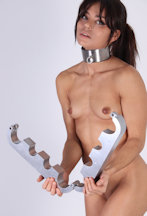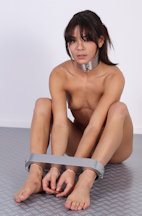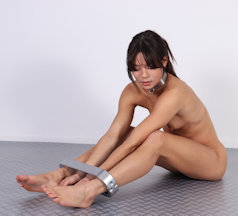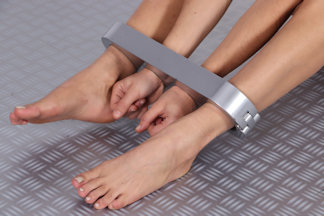 The frame is back! This heavy steel frame locks a girl on all fours, securing the wrists, ankles, and neck. The stomach bar makes sure she can't move at all. Latex Rapture really wanted to try this position, including a fucking machine! Lots of fun of course, controlled orgasms are the best! There was absolutely nothing she could do, locked in cold steel, as the machine kept going and going! Latex Rapture already wrote me she wants to come back for more. Much more!!