All updates for
April 2015
Our One-Bar-Prison is generating a lot of buzz in the female bdsm community!! Is it really true? Can one bar hold a girl in place without any additional restraints? Is it really inescapable? Body builder submissive girl Angelica drove all the way from Germany to find out. This German girl is tough! She wanted to take on the challenge, and see for herself, as she was convinced she could escape from this device!! We just told her to bring her tallest heels (required for this challenge) and go for it! Angelica failed, and she really truly could not escape. She was stuck, and we told her to put her dress back on, so she could stand there for a while, like a life size mannequin.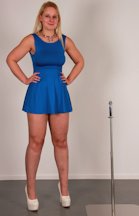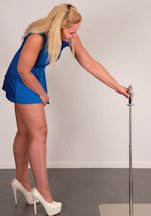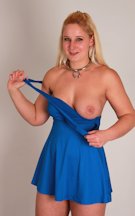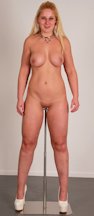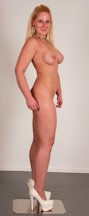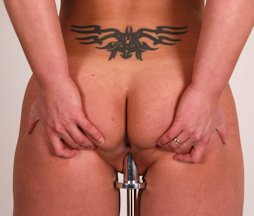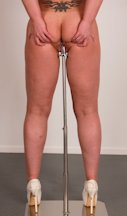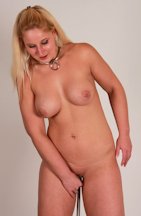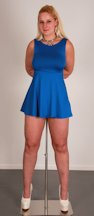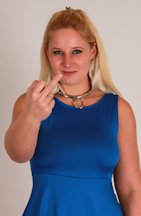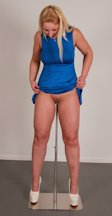 It's been a long time since we dug out our custom built Steel Hobble Dress! It is an insane creation, super heavy, and a torment in itself! All in all, a perfect piece of equipment for our lovely victim Sarah Jain! This US swimsuit model usually expects something easy when shooting with us, but ends up in the heaviest and most impossible bondage situations, just because her struggling and complaining is so great to watch! She was not happy at all when she was locked in this dress for much longer than she anticipated. It is impossible to sit or kneel, so all Sarah Jain could do was pose for us. And complain of course.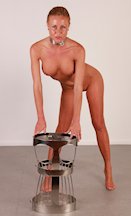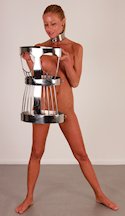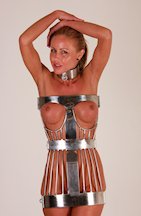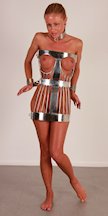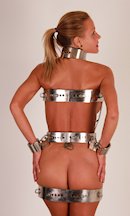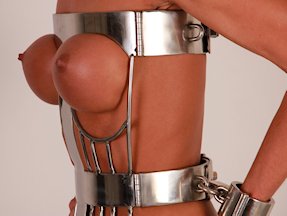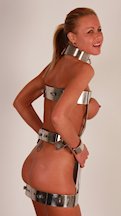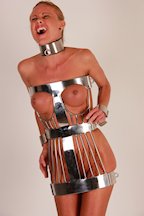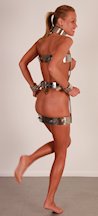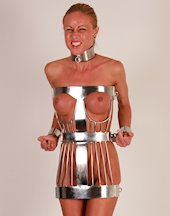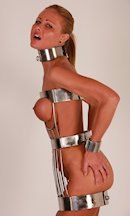 Cindy Dollar is back! She is so much fun, her reaction to being locked in a tight chastity belt again was very silly and relaxed! She also loved the tight collar! And her elbow cuffs… until we padlocked those together behind her back, that was a little extreme! But Cindy is so flexible and determined. We used spreaders to keep her wrists and ankles apart and threw all the tools and keys on the floor. Plenty to choose from if she wanted to attempt an escape! We all know that's impossible, but you have to admire Cindy for trying!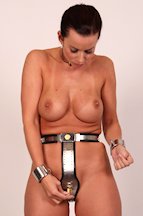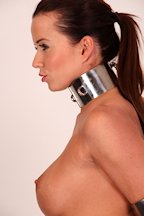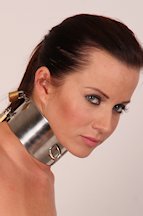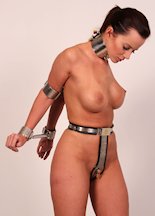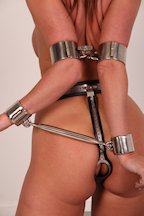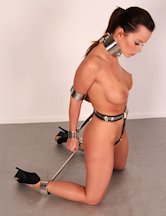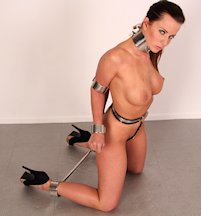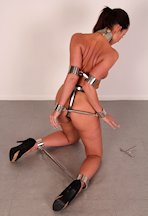 We love to test Ariel Anderssen! This tall blonde bondage diva can handle a lot and she likes to come over to try new and exciting metal bondage positions! Of course, she knows she will be locked in a chastity belt whenever she is visiting (and not just for the duration of the shoot), but we suspect she secretly loves that as well! This week, we suspend her reverse prayer to the ceiling! This is a very tough position, even for Ariel Anderssen! To prevent her from standing up, her ankles are locked together! It is a real predicament, because she is getting more and more tired, and she wants to bend down, but that will pull her wrists up even more. Don't you just love to watch a little suffering?