All updates for
September 2012
Wow, this girl could be the new bondage discovery of the year! Nicole is the kind of girl who says: 'Just belt me from the first shoot, that looks like fun!'. Amazing! And what's more: she is fun, very flexible, and she wants to try everything we have! We actually had to slow her down a little, and make her try our classic fiddle escape first. Not that anyone ever escapes (except for Cory, of course), but it is just so much fun to watch new girls struggle around in a RigidFiddle. And a chastity belt of course, which incidentally looks AMAZING on Nicole… Geez, some girls have it all! Needless to say, Nicole will be back for more… much more!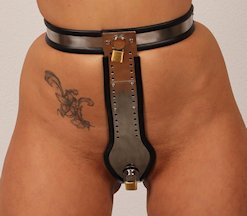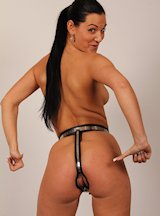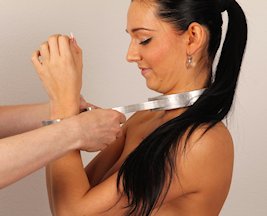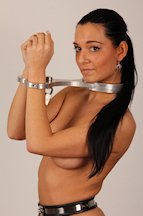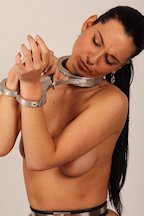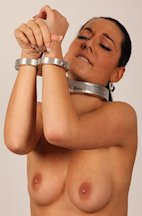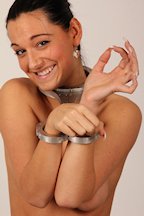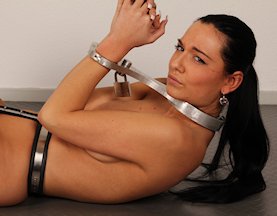 Yes, it is really her: the famous bondage queen Ariel Anderssen was lured by our collection of metal, curious and looking to be challenged. Of course, we had to come up with something very special to welcome Ariel, it is not easy to impress this experienced bondage girl! This is what we came up with: we fixated her (naked!) to a standing metal frame, using 10 heavy and tight steel restraints. She is locked by her neck, upper arms, wrists, waist, thighs and ankles with very heavy chains. She was completely stuck, although she managed to lift herself off the ground, hanging from the thigh and waist bands! Now this is serious device bondage! We can't wait to play with Ariel Anderssen some more, she needs a chastity belt sooooo bad!!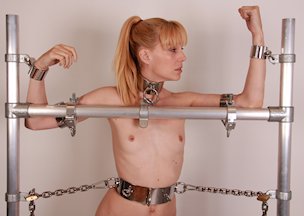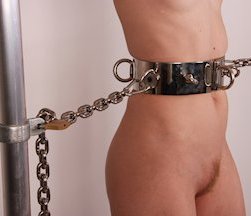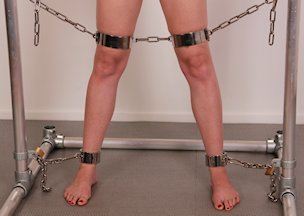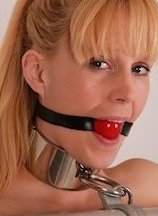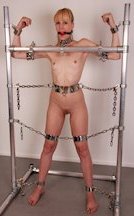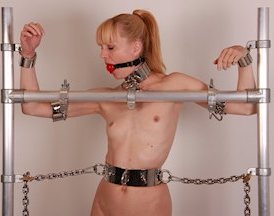 We promised you to test Lily's super flexibility skills to the limit, and here is a good start! It is her third shoot, so no excuses, she is in a chastity belt and staying locked! True submissive Lily does not mind, she loves our gear, especially her collar! And when we told her to attach her own ankles to the longest spreader bar in the world, Lily thought it was great fun! After all, she was only using snap hooks and with her incredible gymastics skills she could unhook herself any time the stretch would become too much to bear. But Lily did not count on us adding one evil padlock: we locked her heavy wrists cuffs together behind her back! Now Lily is completely stuck, and spread as wide as anyone can ever be! Good thing she is wearing a chastity belt!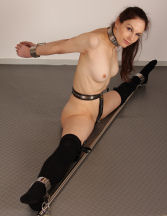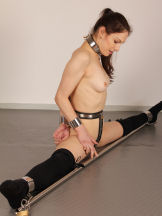 We had this unique custom posture collar designed so it could be fitted with two different types of gags: a steel muzzle and a 'tape' gag. Browsing back, we noticed we only used this tape attachment once! That is a waste of custom gear, so we had to use it again, even though all models seem to be afraid of this device. We don't know why, maybe because it looks scary, but it is actually quite model-friendly! The models can still speak (somewhat) and there is nothing inside their mouth. The hard part is that it is attached to the posture collar, so it does not move at all, as Jenni C finds out… she can not even turn her head. Oh… and eating is impossible, that could be a problem for long time wear ;)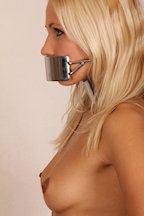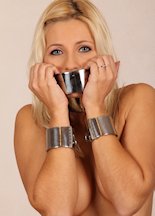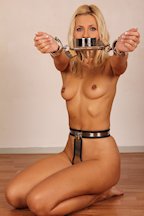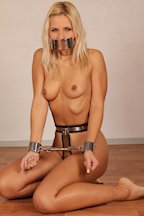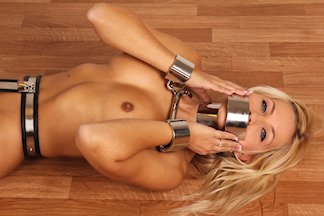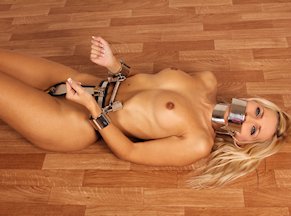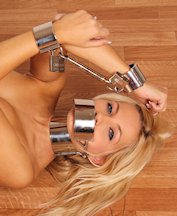 Our resident pet slave Ashley Bulgari decided to introduce yet another one of her hot friends to MetalBondage.com! The only problem is: Ashley has already been belted and so is not permitted to shoot without a chastity belt, which means her friend will be belted on her first shoot! That's kind of a hard introduction for poor Tea, but don't worry: the big boobed friends are having a lot of fun with our new dog cage this week! Putting each other in the cage turns both of them on, they both like the power play and the submissive role! Great to watch this duo play, hot picures and video!